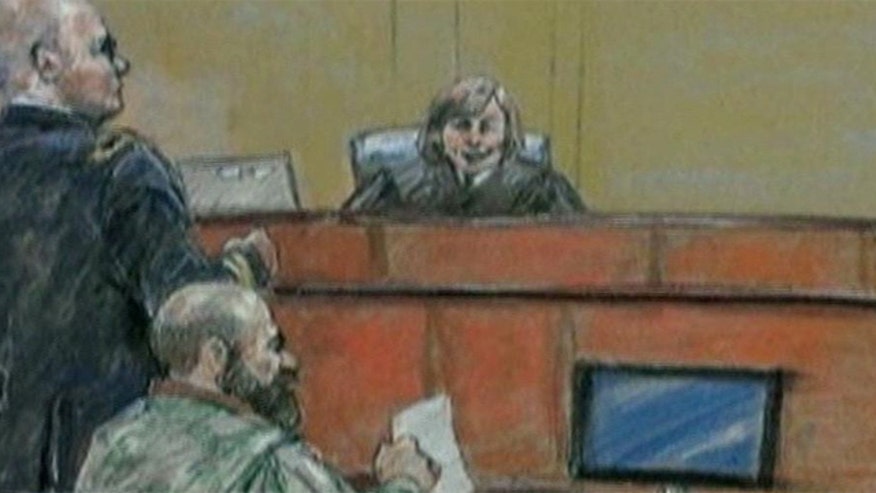 Victims and witnesses at the court martial of Fort Hood shooter Nidal Hassan Friday delivered emotional descriptions of how they felt when shot and described running a zigzag pattern to avoid the bullets but the former army psychiatrist again declined to cross-examine any of those on the stand.
Meanwhile, attorneys who are advising the soldier accused in the 2009 Fort Hood shooting rampage intend to challenge the judge's refusal to scale back their duties.
Hasan is representing himself as he faces numerous charges for the attack on the Texas military base that left 13 dead and 30 injured.
The military lawyers ordered to help Hasan believe he is trying to win himself a death sentence. They said supporting such a "repugnant" defense strategy violates their rules of professional conduct, and asked the judge to scale back their duties or let them take over the case.
But Col. Tara Osborn, the judge presiding over the case, refused their request Thursday, allowing them to prepare an appeal Friday.
Meanwhile, more emotional testimony was given Friday in the court martial of Hasan, who a day earlier sat emotionless as witnesses and victims described a horrific scene of blood and chaos during his shooting rampage at Fort Hood.
Hasan declined to cross-examine any of those who took the stand Thursday at his court martial despite a ruling by the military judge earlier in the day that he could continue to represent himself.
He also didn't question the roughly dozen witnesses who testified Friday.
Capt. Brandy Mason recalled being shot but initially thinking it was only a sharp pain.
"I kind of sat there looking dumbfounded," Mason told jurors. "I didn't think it was real. We sat there and looked at (Hasan), like 'Really?' Then somebody started screaming, 'Training or not, get down! Get down!'"
Staff Sgt. Joy Clark said she checked for vital signs of soldiers lying dead near her. "I had thought about possibly throwing a chair at the shooter but witnessed someone else do that and get shot," Clark said.
Sgt. 1st Class Paul Martin recalled bolting out a set of double doors and then running a zigzag pattern to make him a less easy target. "I said he'll have to shoot me again, but I know I'm getting out of this building," Martin testified.
Hasan objected only to one witness, Logan Burnett, as the former Army specialist described how he had undergone 20 surgeries and had three more to go after being shot three times during the attack.
Hasan interrupted Burnett, saying "aggravation evidence has its place," meaning the testimony wasn't about the alleged crime but rather its impact, which is more appropriate to cite during sentencing. Osborn sustained that objection.
The lawyers assisting Hasan, called "standby attorneys," claim he is trying to get the death penalty and have said it would be "morally repugnant" to help him achieve such a sentence. Hasan admitted in his opening statement that he was the shooter, appearing to be trying to get himself convicted.
Osborn said Thursday she believes this is "nothing more than their disagreement with Major Hasan's trial strategy," and ruled that the defense attorneys are required to stay on the case. The ruling prompted Hasan's lawyers to say they would appeal, claiming the judge was forcing them to violate professional rules of conduct.
Hasan's apparent death wish, which brought his court-martial to a temporary halt Wednesday, came as no surprise to veteran prosecutors who have handled high-profile cases involving terrorists.
Hasan is charged with 13 counts of premeditated murder and 32 counts of attempted premeditated murder. He faces the death penalty if convicted. No American soldier has been executed since 1961.
The trial is expected to take weeks and possibly months, as many of the more than 30 people wounded in the deadliest attack on a U.S. military installation could take the witness stand.
Fox News' Casey Stegall, Jennifer Girdon and the Associated Press contributed to this report.