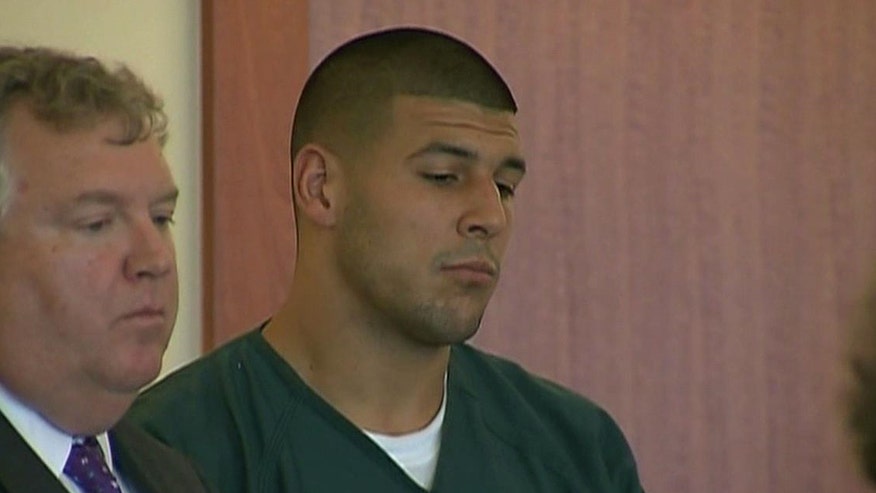 A third suspect wanted in the murder case involving ex-Patriots player Aaron Hernandez has turned himself in, authorities say.
Ernest Wallace, who police had been searching for since Thursday night, turned himself in to Florida police Friday.
Wallace reportedly had seen news reports about the case and went to authorities, a Miramar police spokesman said. He is wanted for accessory after the fact of the murder of semi-pro football player Odin Lloyd last week in North Attleborough, Mass., near Hernandez's home.
Massachusetts authorities had recovered a car linked to Wallace Friday afternoon. Police had said Wallace should be considered armed and dangerous.
Wallace is believed to be a resident of Hernandez's hometown of Bristol, Conn., MyFoxBoston.com reported.
Meanwhile, a judge in Bristol ordered Carlos Ortiz, who was arrested Wednesday as part of the murder probe, to be turned over to Massachusetts authorities.
Ortiz, 27, was charged in Connecticut as a fugitive from justice.
Hernandez has been charged with murder for what prosecutors say was Lloyd's execution-style killing. He has pleaded not guilty and is being held without bail.
A source told MyFoxBoston.com on Thursday that investigators are looking into Hernandez in connection with a double homicide that happened on July 16, 2012, in downtown Boston.
The source told the station that a fight broke out at a club between the two male shooting victims and a group that reportedly included Hernandez.
An email and phone call to Boston Police from FoxNews.com were not immediately returned.
Hernandez's lawyer argued at Thursday's bail hearing that his celebrity status means even if he wanted to flee he couldn't and that the case against him is circumstantial.
"He wants to clear his name," lawyer James Sultan told the judge.
But Bristol County Assistant District Attorney Bill McCauley called the evidence in the June 17 slaying of Lloyd overwhelming and said police had made discoveries Wednesday when they searched a condo Hernandez leased and a Hummer registered to him that was parked there.
Hernandez appeared in court with his hands cuffed in front of him and occasionally looked at his fiancee during Thursday's bail hearing. She cried when Bristol Superior Court Judge Renee Dupuis denied the request, but Hernandez showed little emotion.
The judge said that it is rare for someone charged with first-degree murder to get bail and that Hernandez had the means to flee if he chose to do so. She acknowledged the prosecution's case was circumstantial but said it was "very, very strong" and called the scenario the prosecution described "cold-blooded."
The Patriots cut Hernandez shortly after police arrested him on Wednesday.
A jogger found Lloyd's body in a remote area of an industrial park about a mile from Hernandez's home in North Attleborough 10 days ago. Lloyd was a semi-pro football player from Boston who was dating the sister of Hernandez's fiancee.
Prosecutors said Hernandez orchestrated the killing because Lloyd talked to the wrong people at a nightclub. Hernandez, a 2011 Pro Bowl selection who signed a five-year contract with the Patriots worth $40 million, could face life in prison if convicted.
In laying out more of the government's case Thursday, McCauley said prosecutors believe that the murder weapon was a .45-caliber Glock and that a gun Hernandez is seen holding on his home surveillance video, a weapon they haven't found, appears to be a Glock.
The prosecutor said that inside the Hummer investigators recovered an ammunition clip for .45-caliber bullets and that ammunition was found inside the condo. McCauley said a photograph had emerged online of Hernandez holding a Glock.
Hernandez's lawyer said Thursday that as far as he knew there was no eyewitness testimony and the prosecution had not given evidence that shows who shot Lloyd or whether there was a plan to kill him. He said Hernandez has no criminal record, owns a home and lives with his 8-month-old daughter and fiancee.
"Mr. Hernandez is not just a football player but is one of the best football players in the United States of America," Sultan said, adding, "He's young man who is extremely accomplished and hardworking in his chosen profession."
Prosecutors have said that on June 16 Hernandez and two unidentified friends picked up Lloyd from his Boston home in a rented silver Nissan Maxima, took him to a remote area of an industrial park and shot him five times.
Lloyd, in the minutes before his death, sent a series of texts to his sister, who had seen him get into the car.
"Did you see who I was with?" said the first, at 3:07 a.m. June 17.
"Who?" she finally replied.
"NFL," he texted back, then added: "Just so you know."
Prosecutors have said they used cellphone tower data, text messages and surveillance video, including video from the security system Hernandez installed inside his home, to reconstruct his movements that night.
Fox News' Molly Line and The Associated Press contributed to this report.
Click here for more from MyFoxBoston.com.