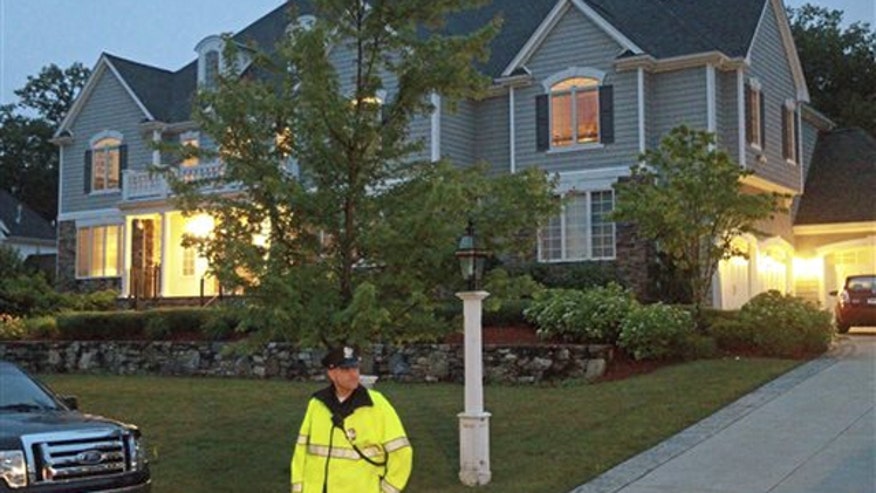 Massachusetts authorities combed an industrial park in North Attleboro, Mass., Thursday, in an apparent search for evidence in the killing of a semi-pro football player within a mile from the home of New England Patriots' tight end Aaron Hernandez.
Hernandez, who drove his SUV to Gillette Stadium Thursday, appears to be directly tied to the homicide, MyFoxBoston.com reported, citing an unnamed law enforcement source. On Tuesday, authorities executed a warrant and searched the star's $1.3 million home.
Police said they are searching for a silver mirror cover which is believed to have been broken off a vehicle and may be visible along a route of travel between Dorchester and North Attleboro.
The body of the victim, Odin Lloyd, 27, who played football for the Boston Bandits, was discovered after a night out with Hernandez and two other men, the source told the station.
The four men left in a car together, driven at one point by Hernandez, but only three men returned to Hernandez's home at the end of the night and Lloyd was not one of them, the source told the station.
Sources told MyFoxBoston.com that there is video evidence of Hernandez and two other men wearing hooded sweatshirts walking into Hernandez's home within minutes of neighbors hearing gunshots between 3 a.m. and 3:30 a.m.
About an hour before Hernandez was seen on the video, Hernandez was seen at Lloyd's home in Dorchester. The hard drive of Hernandez's home surveillance system was heavily damaged when state police arrived at his house, MyFoxBoston.com reported.
Police have not named any suspects and Hernandez and his lawyers have not addressed the media.
Police have also issued a "BOLO" or "be on the lookout" for a silver Chrysler 300 rental car with Rhode Island registration which may have a connection to the homicide. A 2013 Chevrolet Suburban rented in Hernandez's name emerged as a key piece of evidence in the investigation.
The vehicle was registered to Enterprise Rent-A-Car.
MyFoxBoston.com confirmed Hernandez has hired a lawyer and is being represented by Ropes & Gray.
A courier from the Boston law firm delivered an envelope to the home Tuesday.
Hernandez is represented by the Athletes First agency, which said it has no comment "on the Aaron Hernandez situation."
Hernandez, a University of Florida Graduate and native of Bristol, Conn., was drafted by the Patriots in 2010. He had five touchdowns for the Pats during the 2012 season.
He is also reportedly the subject of a lawsuit alleging he shot a man at a Miami strip club in February.
The Boston Herald reports that Alexander Bradley claims in court filings that Hernandez fired a gun at him during an argument, destroying his right eye and causing extensive damage resulting in several surgeries "to reconstruct his face."
Bradley, a Connecticut resident, claims in the lawsuit that he has become "substantially disabled" as a result of the alleged shooting and will require medical care for the rest of his life, the newspaper reported.
Police in Florida reportedly closed the case without filing charges after investigating the incident. Bradley did not name Hernandez as the shooter at the time, according to the Herald.
Click for more from MyFoxBoston.com
Click for an additional report from MyFoxBoston.com.