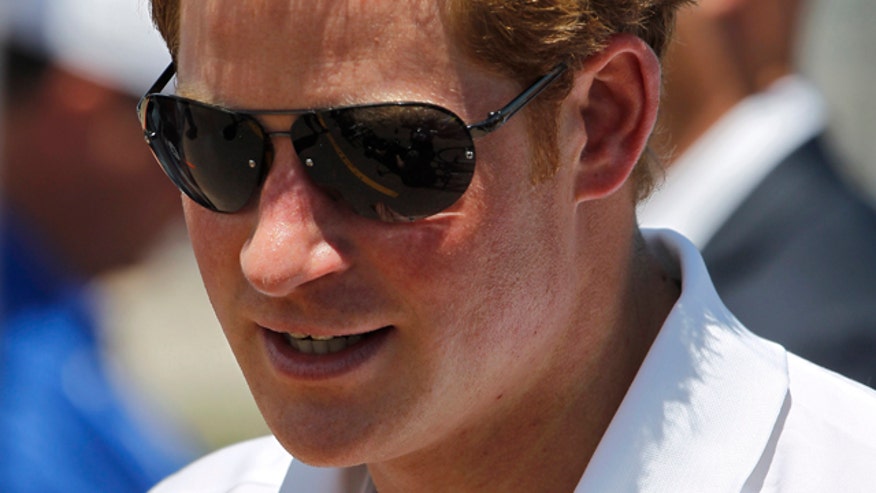 Britain's Prince Harry toured two New Jersey shore communities devastated six months ago by superstorm Sandy, viewing some of the damage that remains amid crowds gathered for a glimpse of the young prince.
In Seaside Heights, where the MTV reality show "Jersey Shore" was taped, he walked down the rebuilt boardwalk with Gov. Chris Christie and both took part in a game of chance, winning stuffed animal prizes, which they handed over to children. Crowds pressed against metal barricades draped with the red, white and blue British Union Jack.
"It's great exposure for the Shore," said Roger Gibson, 27, a manager of a boardwalk staple, Jimbo's Bar & Grill. "It lets people know we are open and ready for business."
Visible in the ocean behind them was the towering frame of the Jet Star roller coaster, washed out to sea by Sandy.
Crews will start work on Tuesday to dismantle and remove the Jet Star and other amusement park rides submerged nearby. "We are here to say goodbye," said Kim Stone of Bayville, N.J. Her husband, Mark Stone, said the sight of the Jersey Shore landmark stranded in the ocean would certainly leave an impression on Prince Harry. "I'm sure he doesn't want to see it like that," he said.
In both Seaside Heights and Mantoloking 10 miles north, his first stop, the prince shook hands with emergency personnel. Harry also greeted construction workers who have been working on rebuilding Seaside Heights' famous boardwalk, now about two-thirds complete.
The motorcade carrying the prince and Christie arrived about 10:15 a.m. in Mantoloking, where some residents were flying Union Jack flags and one handwritten sign read: "Prince Harry please come back when we're restored."
Christie showed Harry a spot where the Atlantic Ocean had cut Mantoloking in half, creating a channel to the back bay and taking out a bridge and houses. The channel has since been filled in.
"This used to be a house?" Harry asked at one barren spot.
Every one of the wealthy town's 521 homes was damaged or destroyed by Sandy last October. Scores remain as piles of rubble.
Among those waiting for Harry were members of the Bowden family, four siblings who shared a summer house that was destroyed by the storm in October.
A member of the family, Camilla Bowden, 17, said she had visited London and studied royal history, but came to see Harry for one reason: "'cause he's my future husband."
"We appreciate Harry showing care and support during such a difficult time for our family and community," said her aunt, Becky Guenther.
Christie posted on his Twitter account that he greeted Prince Harry in Sea Girt, where Harry arrived by helicopter, "the best way I know how; with his own Royal Fleece." Christie wore a blue fleece jacket everywhere he went in the weeks after Sandy.
The prince spent about a half hour in Mantoloking before the motorcade headed to Seaside Heights.
Along the route, signs were posted welcoming Harry, including one on a laundry basket attached to a pole.
As the motorcade passed Lavalette Elementary School, dozens of schoolchildren stood on the front sidewalk, waving American and British flags.
The prince began a weeklong visit to the U.S. on May 9. From Seaside Heights the prince was headed to New York City to promote British trade and tourism and a community baseball program. He's then due to throw a pitch to promote a community baseball program involving a new partnership with the Royal Foundation of the Duke and Duchess of Cambridge and Prince Harry.
New Jersey sustained about $37 billion worth of damage from Sandy. Mantoloking and Seaside Heights took the worst pummeling by Sandy's storm surge.
The storm killed more than 130 people throughout the U.S. Northeast. About 360,000 homes or apartment units in New Jersey were damaged by the storm.
The Associated Press and Reuters contributed to this report.