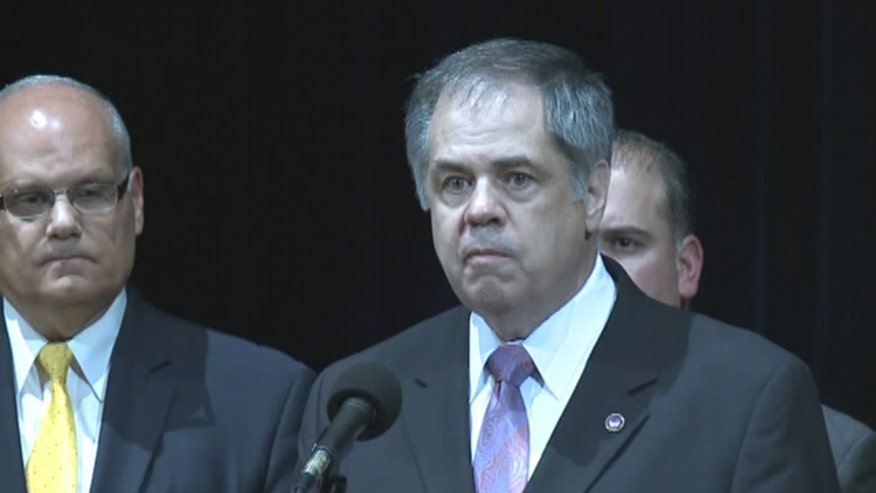 A Cleveland man was charged with kidnapping and rape Wednesday after investigators say he held three young women captive for years, binding them with ropes and chains in his home and only allowing them out a few times in disguise.
Ariel Castro, 52, is charged with four counts of kidnapping, covering the captives and the daughter born to one of them, and three counts of rape against all three women, prosecutor Victor Perez said. He will make his first public appearance in court Thursday.
A city councilman briefed on the case said the women were subjected to prolonged sexual and psychological abuse and suffered miscarriages, never finding a chance to escape until this week.
Councilman Brian Cummins said that many details remain unclear, including the number of pregnancies and the conditions under which the miscarriages occurred. He also said the women were kept in the basement for some time without having access to the rest of the house.
"We know that the victims have confirmed miscarriages, but with who, how many and what conditions we don't know," Cummins said. He added: "It sounds pretty gruesome."
Law enforcement officials left many questions unanswered, but Deputy Police Chief Ed Tomba said the women could remember being outside only twice during their entire time in captivity. "We were told they left the house and went into the garage in disguise," he said.
The women were not kept in the same room, but knew they were not alone, he said.
None of the women, though, gave them any indication that Castro's two older brothers, who've been in custody since Monday, were involved, Tomba said. Prosecutors brought no charges against the brothers, citing a lack of evidence.
"Ariel kept everyone at a distance," Tomba said.
One thing that remains a mystery, he said, is how the women were kept in the house so long.
"As far as the circumstances inside the home and the control he may have had over those girls ... I think that's going to take us a long time to figure that out," he said.
He also said a paternity test on Castro was being done to establish who fathered the now 6-year-old child of captive Amanda Berry.
Berry, Gina DeJesus and Michelle Knight disappeared separately between 2002 and 2004 and were found Monday after one of them screamed for help to escape and contacted police.
Knight, 32, told police she had become pregnant five times and that each time Castro starved her and punched her in the stomach until she miscarried, according to a police report reviewed by The Wall Street Journal.
Berry told authorities she had given birth to her daughter in a plastic pool. Knight said she delivered the baby and revived her with mouth-to-mouth resuscitation, reportedly under threat of death from Castro, the newspaper reported.
Two of the young women, meanwhile, were welcomed home by jubilant crowds of loved ones and neighbors with balloons and banners Wednesday. The families of DeJesus and Berry protectively took them inside, past hundreds of reporters and onlookers. Neither woman spoke, and their families pleaded for patience and time alone.
"Give us time and privacy to heal," said Sandra Ruiz, DeJesus' aunt. Ruiz thanked police for rescuing the women and urged the public not to retaliate against the suspects or their families.
Knight, the third captive, was reported in good condition at Metro Health Medical Center, which a day earlier had reported that all three victims had been released. There was no immediate explanation from the hospital.
In a development that astonished and exhilarated much of Cleveland, the three women were rescued on Monday after Berry, 27, broke through a screen door at the Castro house and told a 911 dispatcher: "Help me. I'm Amanda Berry. I've been kidnapped, and I've been missing for 10 years and I'm, I'm here, I'm free now."
In newly released police audio tapes, a 911 dispatcher notifies officers that she's just spoken to a woman who "says her name is Amanda Berry and that she had been kidnapped 10 years ago."
An officer on the recorded call says, "This might be for real."
After police arrive at the house, women can be heard crying in the background. Then an officer tells the dispatcher: "We found `em. We found `em."
Neighbors said that Ariel Castro took part in the search for one of the missing women, helped pass out fliers, performed music at a fundraiser for her and attended a candlelight vigil, where her comforted her mother. As recently as 2005, Castro was accused of repeated acts of violence against his children's mother.
On NBC's "Today" show, Police Chief Michael McGrath said he was "absolutely" sure police did everything they could to find the women over the years. He disputed claims by neighbors that officers had been called to the house before for suspicious circumstances.
"We have no record of those calls coming in over the past 10 years," McGrath said. On Tuesday, some neighbors said that they had told police years ago about hearing pounding on the doors of the home and seeing a naked woman crawling in the yard.
DeJesus, who disappeared in 2004 and is in her early 20s, arrived home in the afternoon Wednesday to chants of "Gina! Gina!" Wearing a bright yellow hooded sweatshirt, she was led through the crowd and into the house by a woman who put her arm around the young woman's shoulders and held her tight.
Her father pumped his fist after arriving home with his daughter, and he urged people across the country to watch over the children in their neighborhoods -- including other people's kids.
"Too many kids these days come up missing, and we always ask this question: How come I didn't see what happened to that kid? Why? Because we chose not to," he said
Berry arrived at her sister's home, which was similarly festooned with dozens of colorful balloons and signs, one reading "We Never Lost Hope Mandy." Hundreds cheered wildly but weren't able to get a glimpse of Berry as she went in through the back.
A 2005 domestic-violence filing in Cuyahoga County Domestic Relations Court accused Ariel Castro of twice breaking the nose of his children's mother, knocking out a tooth, dislocating each shoulder and threatening to kill her and her daughters three or four times in a year.
The filing for a protective order by Grimilda Figueroa also said that Castro frequently abducted her daughters and kept them from her.
In 1993, Castro was arrested on a domestic-violence charge and spent three days in jail before he was released on bail. A grand jury did not return an indictment against him, according to court documents, which don't detail the allegations. It was unclear who brought the charge.
Meanwhile, the aunt of a 14-year-old girl who disappeared in 2007 near the house where the missing women were found said the girl's mother has spoken with the FBI.
"We're hoping for our miracle, too," said Debra Summers, who described her niece, Ashley Summers, as not the type of girl who would leave without coming back.
The FBI did not immediately return a call about the case and whether it was connected to that of the three missing women.
The Castros' brother-in-law Juan Alicea said the arrests of his wife's brothers had left relatives "as blindsided as anyone else" in their community. He said he hadn't been to the home of his brother-in-law Ariel Castro since the early 1990s but had eaten dinner with Castro at a different brother's house shortly before the arrests were made Monday.
The Associated Press contributed to this report.
Click here for more from The Wall Street Journal.