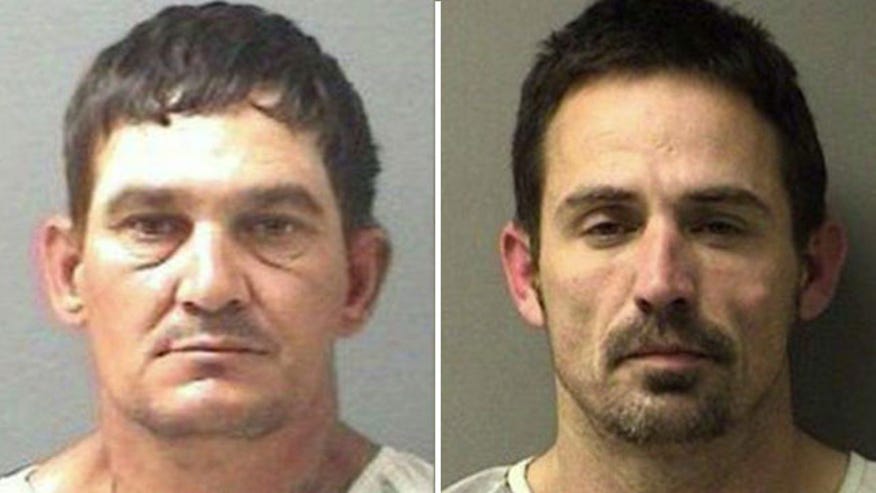 Texas authorities continued the manhunt Wednesday morning for two escaped inmates they called "extremely dangerous," while at least two area schools will remain on lockdown until the situation is resolved.
The Hopkins County Sheriff's Office says Brian Allen Tucker of Sulphur Springs and John Marlin King of Cumby escaped from the Hopkins County Jail on Tuesday morning. The two men are believed to be wearing white T-shirts and boxer shorts, Deputy Alvin Jordan said. Their black-and-white jail uniforms were found on rail tracks a short distance east of the jail. The area of focus is just to the northeast of Dallas
Tuesday night, sheriff's deputies combed through the woods east of the jail and have set up a perimeter around the area, Jordan said. Authorities are using dogs and a helicopter in the manhunt.
"Right now, we're focusing on the southeast side of town," Alvin Jordan, a deputy from Hopkins County, said.
Jordan told FoxNews.com Wednesday morning that authorities have no specific leads in the investigation and at daybreak, foot patrol units will begin surveying the area.
Sgt. Brad Cummings from the Hopkins County Sheriff's Office told Fox News that the men managed to "manipulate" the fencing surrounding the facility.
Local schools were placed on lock down as a precaution. Students were released from classes at their normal times but no students were permitted to walk home from campus.
Cummings said at this point there appears to be no connection between this jail break and recent killings of prosecutors in Kaufman County, which is south of Hopkins.
Tucker was being held on $1 million bond in the 2011 death of Bobby Riley of Mahoney. Riley was strangled in his home and some music instruments and firearms had been stolen. Tucker is awaiting trial on a capital murder charge.
King was being held on an evading arrest charge. Further details weren't immediately available. Schools in Sulphur Springs have been locked down.
Tucker, 44, who has been in jail since 2011, is 5'7 and about 170 pounds. He has tattoos on his neck. King, 39, for his part, is 5'8 and 165 pounds.
Fox News' Edmund DeMarche contributed to this report
Click for more from MyFoxDFW.com