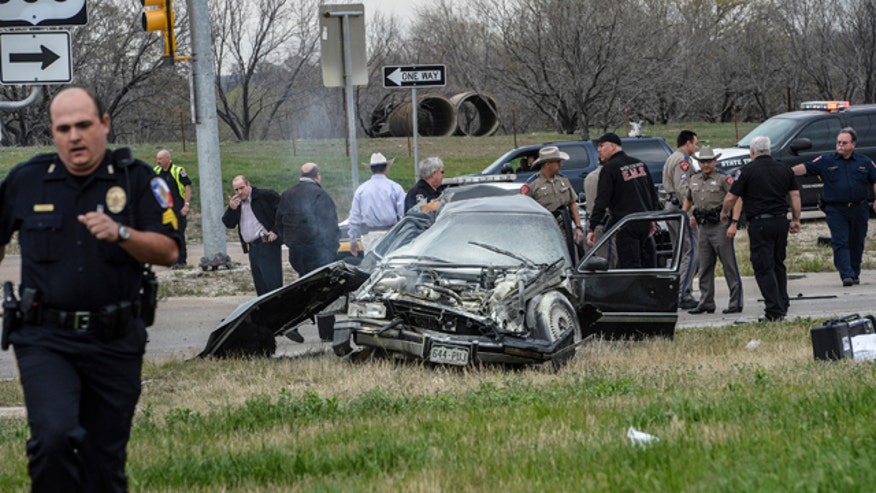 Shell casings found at the scene of a car chase and police shootout in Texas appear to match casings from the killing of Colorado's prisons chief, adding more credence to theory that a former Colorado inmate was behind both outbreaks of deadly violence.
The gunman in the Texas shootout Thurday died later at a hospital. Police have tentatively identified him as Colorado parolee Evan Spencer Ebel, 28, though his identify still is being confirmed by fingerprint analysis.
The shootout followed a harrowing 100-mph car chase with police. The black Cadillac driven by Ebel, with Colorado license plates, matched the description of a car spotted outside Colorado Corrections director Tom Clements' home in Monument, Colo., just before he was shot and killed while answering his front door Tuesday evening.
Investigators later determined shell casings found are the same make and caliber as those found at Clements' home. The information comes from an application to search the wrecked car.
Authorities also say they found a Domino's pizza bag and a jacket or shirt in the car's trunk. Denver police say they're confident Ebel, a white supremacist, was involved in the killing of Nathan Leon, a Colorado pizza deliveryman, though they are continuing to investigate Leon's death.
Investigators say whoever killed Clements may have used the uniform as a disguise to convince him to open the door, FOX31 Denver reported.
The car chase started when a sheriff's deputy in Montague County, James Boyd, tried to pull over the Cadillac around 11 a.m. Thursday. Authorities wouldn't say exactly why he was stopped, but called it routine.
Ebel led police on a 35-mile chase down U.S. 287 and at times pointed a gun out the window, firing at officers.
"He shot at me at least four times," Decatur Police Chief Rex Hoskins told FOX31 Denver. Hoskins was shot at while trying to set up a roadblock.
Boyd was wounded in the shooting and taken to a hospital. Ebel then fled south before crashing into a semi as he tried to elude his pursuers.
He got out of the vehicle and continued to shoot at deputies and troopers who had joined the chase.
"He wasn't planning on being taken alive," Hoskins said.
Ebel was gravely wounded in the shootout with police, and died from injuries at a hospital Friday. Authorities had said he was not expected to survive and was hooked up to equipment for organ harvesting.
The Denver Post first reported Ebel's name, and that he was in a white supremacist prison gang called the 211s. A federal law enforcement official confirmed his identity and gang affiliation to The Associated Press.
Authorities are also looking into whether Ebel is connected to the murder of a Texas county prosecutor earlier this year.
Kaufman police chief Chris Aulbaugh said Friday the FBI is checking to see if the January shooting death of Kaufman County Assistant District Attorney Mark Hasse is connected to killing of Clements.
Hasse was killed about 100 miles away from where Ebel died.
Aulbaugh calls the investigation routine for attacks that appear similar. Both targeted law enforcement officials. Authorities have investigated whether Hasse's death could be linked to a white supremacist gang.
The killing of Clements, 58, shocked his quiet neighborhood in Monument, a town of rolling hills north of Colorado Springs, for its brutality: He answered the door of his home Tuesday evening and was gunned down. Authorities wouldn't say if they thought the attack was related to his job, and all Clements' recent public activities and cases were scrutinized.
Scott Robinson, a criminal defense attorney and media legal analyst, represented Ebel in 2003 and 2004. He said Ebel had been sentenced to a halfway house for a robbery charge in 2003 before he was accused in two additional robbery cases the following year that garnered prison sentences of three and eight years.
"I thought he was a young man who was redeemable, otherwise I wouldn't have taken the case," Robinson said, saying he didn't recall the details of the case.
Robinson said he knew Ebel before he got in trouble. He said Ebel was raised by a single father, Jack, and had a younger sister who died in a car accident years ago.
Vicky Bankey said Ebel was in his teens when she lived across from him in suburban Denver until his father moved a couple of years ago. She remembers seeing Ebel once jump off the roof of his house. "He was a handful. I'd see him do some pretty crazy things," she said.
"He had a hair-trigger temper as a kid. But his dad was so nice," Bankey said.
Jack Ebel, an attorney, testified before the Colorado Legislature two years ago that solitary confinement in a Colorado prison was destroying Evan's psyche.
When Jack Ebel's longtime friend, Gov. John Hickenlooper, was interviewing a Missouri corrections official for the top prisons job in Colorado, he mentioned the case as an example of why the prison system needed reform. And once Tom Clements came to Colorado, he eased the use of solitary confinement and tried to make it easier for people housed there to re-enter society.
Hickenlooper confirmed his relationship with Jack Ebel to The Denver Post and KUSA-TV Friday evening, and state records show Ebel donated $1,050 to the governor's 2010 campaign. But there's no indication that Hickenlooper's relationship with the Ebels played a role in the shooting.
Hickenlooper denied that he had any role in Evan Ebel's parole. State prisons spokeswoman Alison Morgan said Ebel was paroled Jan. 28 as part of a mandatory process after serving his full prison term. He had most recently been sentenced to four years for punching a prison guard in 2008, according to state records.
Hickenlooper said he never mentioned Ebel's name to Clements or anyone else connected with the prisons system. He said he only heard about the role of his friend's son Thursday night.
"I didn't know Evan was out," said the governor, adding that he called Jack Ebel and told him about the connection. "He was distraught, he was devastated. I've never heard him so upset, and he's had some hard things in his life."
Hickenlooper agreed that Evan Ebel was dangerous. "He just had a bad streak," the governor said. "Jack and his wife did everything they could. ... Nothing worked."
Jack Ebel did not return multiple phone calls seeking comment.
Clements came to Colorado in 2011 after working three decades in the Missouri prison system. Missouri Department of Corrections spokeswoman Mandi Steele said Thursday the department was ready to help in the probe if asked.
"Tom regularly commented that corrections is inherently a dangerous business, and that's all that I'll say," Morgan, who worked closely with Clements, said earlier.
Officials in positions like Clements' get a deluge of threats, according to people who monitor their safety. But it can be hard sorting out which ones could lead to violence. A U.S. Department of Justice study found that federal prosecutors and judges received 5,250 threats between 2003 and 2008, but there were only three attacks during that time period.
The last public official killed in Colorado in the past 10 years was Sean May, a prosecutor in suburban Denver. An assailant killed May as he arrived home from work. Investigators examined May's court cases, but the case remains unsolved.
Click for more from FOX31.com.
Click for more from MyFoxDFW.com.
The Associated Press contributed to this report.