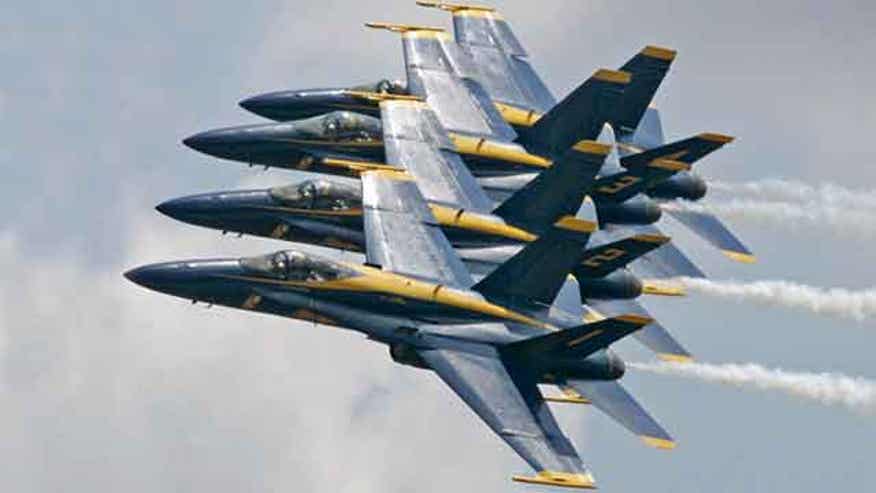 KEANSBURG, N.J. – Santa made an early flight to New Jersey for storm victims this year with the help of the Blue Angels.
The aerobatics team used its C-130 support plane "Fat Albert" as a "sleigh" -- picking up Toys for Tots donations at a Lockheed Martin aircraft assembly facility in Marietta, Ga., and Reagan National Airport in Washington, D.C., before delivering them to Joint Base McGuire-Dix-Lakehurst in New Jersey. There, a human chain of service men and women offloaded and sorted the toys for delivery to coastal communities in New Jersey and New York that were hard hit by Superstorm Sandy.
The plane's occupants, clad in blue jumpsuits and one red Santa suit, received enthusiastic cheers from a gathered crowd of service personnel, dignitaries and a few of the families receiving the gifts through the Marine Reserve's Toys for Tots program.
"I really like the military and everything," said 11-year-old Cole Sabey of Toms River, N.J. "So, it was awesome meeting everybody and getting to talk to everyone and also getting the presents."
Cole's father, a volunteer firefighter, helped his department perform rescues during the storm -- even as his own home was taking on water. Now he finds himself in the unusual position of accepting help from others.
"It's very humbling to be on the other end of it," Pete Sabey said. "I'd much rather be doing the giving and the helping than receiving it. But it's nice to know that there's so much love and appreciation out there from everybody."
In addition to helping families, this Toys for Tots effort is assisting many local charities, which put their own toy drives on hold while tending to immediate emergency needs, such as providing food, water and shelter.
"Families still want to have a holiday regardless of where they're staying," said Tara Maffei, vice-president for community outreach with the United Way of Monmouth County. "Whether they're in a hotel room, or whether they're couch surfing with family and friends, they still want to have a holiday. So, this is really gonna help us to provide that holiday to people."
Gail Dennis is receiving Toys for Tots donations for her three grandchildren through Project Paul, a non-profit organization serving the needy in Keansburg, N.J.
Dennis said, "There's nothing like having a smile on a child's face on Christmas morning when they start tearing open presents and it's exactly what they want."
Although this Blue Angels mission involved no aerobatics, C-130 pilot Capt. A.J. Harrell said delivering Toys for Tots is in keeping with the team's purpose of showcasing the capabilities of the Navy and Marines.
"We get to go all over the world and do a lot of missions to help people out," Harrell said. "It's very, very special to come to our backyard and our neighborhoods and do that same thing for these folks. So, bringing some toys to kids, you just can't get much better than that."
Jonathan Serrie joined Fox News Channel (FNC) in April 1999 and currently serves as a correspondent based in the Atlanta bureau.