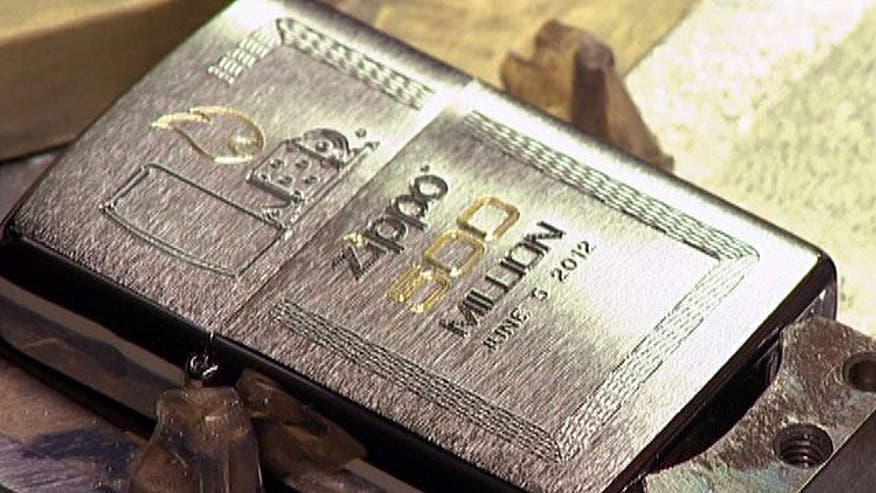 Zippo Manufacturing Company has been making its signature metal-cased lighters with their distinctive "click" lid for 80 years.
Now this American icon can boast another milestone: the 500 millionth Zippo, produced and engraved on the birthday of the company's late founder, George Blaisdell.

The one-of-a-kind piece has a classic brushed chrome finish with two-tone engraving, a distinctive bottom stamp, a time stamp on the front and an individual serial number "1". It's been placed on permanent display in the company's museum. Sixty thousand more lighters made the same day feature similar engraving and finish and are being sold as collector's replica editions, available online through the company's website.

"It spells success in really, really big letters" says Greg Booth, Zippo's president and CEO.  "It says that American workers can, in fact, manufacture in the U.S. and can compete successfully globally and we've done it and done it well."

When the company was launched, it produced about a dozen lighters a day. Now they make 60,000 a day, about12 million a year. Made famous in World War II after being distributed to our troops, Zippo windproof lighters are now sold in 160 countries around the world, including China, the company's biggest market outside the U.S. But despite offers to move Zippo's production overseas, potentially saving millions of dollars in costs, owner George Duke, the founder's grandson, says the company isn't leaving the small town in northwestern Pennsylvania that it's called home since 1932.

"A lot of companies have had opportunities to go overseas and take advantage of lower labor costs and gain more profit, but I've said we'll go out of business before this factory makes a Zippo pocket lighter anywhere but Bradford, PA."

Zippo employs 620 people at its Bradford factory and museum.  The company was forced to trim its roster from more than 700 to about 470 a few years back because of the bad economy and slumping sales, but since then it's seen a turnaround and revival in the marketplace and the CEO says every single person laid off has been offered their old job back.

Zippo offers thousands of designs and can even put customer-supplied images on lighters while continuing to offer its famous lifetime guarantee: "It works or we fix it free."

"It's a testament to a low-tech but, nevertheless, very functional, very durable lighter" says Duke. "All Zippo lighters have a lifetime guarantee regardless of who bought it, regardless of when it was bought. .. When my grandfather came out with the idea people said 'are you out of your mind?' and he said 'no, if I can't build this product to last for a very long time then I shouldn't be in the business."

Even with a troubled economy and pressure on the tobacco industry, Zippo's sales are increasing. Some buyers are collectors, some spend lots of time outdoors, and many, like owner George Duke, are smokers.

"I get attached to a lighter" Duke says. "I think the same thing goes on with any smoker. He sees a Zippo he likes, it has an attractive design on it, he buys it and he uses it. It's something that's with him every day and it functions for him on a regular basis. It's something he can count on, something that he goes through life with, even the ups and downs. You really build up a friendship with that lighter and I know it sounds a little crazy" Duke says with a smile, "but that's kind of what it is about a Zippo."
Rick Leventhal currently serves as New York-based senior correspondent for Fox News Channel (FNC). He joined the network as a correspondent in 1997.