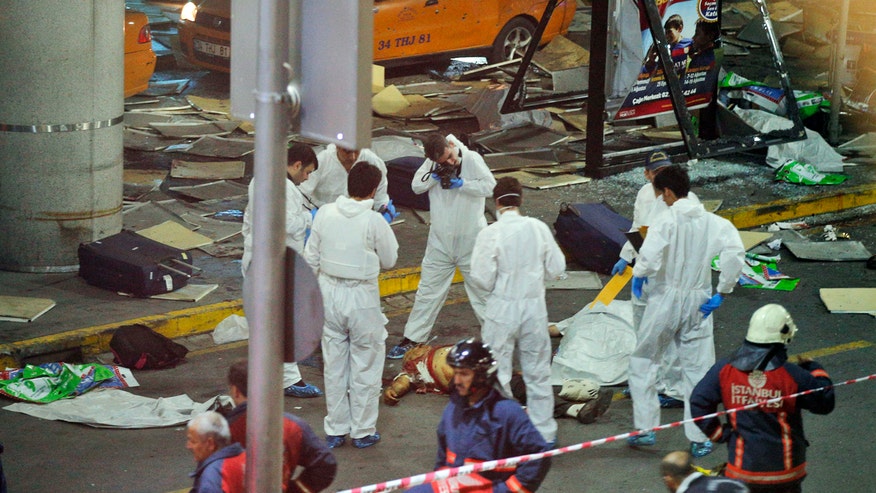 The terror attack Tuesday in Turkey that killed at least 41 people and injured hundreds more is one of a spate of recent incidents that may deal an even bigger financial blow to key European cities as American tourists second-guess their summertime travel plans to the region.
The U.S. Federal Aviation Administration temporarily suspended all U.S. flights to and from Atatürk Airport in Istanbul following the bombings, but as of Wednesday most major carriers, including United, had resumed regularly scheduled flights.
Still, attacks in the past year have already contributed to a steep decline in Turkey's tourism – which accounts for around 11 percent of the country's GDP and helps employ more than 1 million people, according to The Wall Street Journal.
"This attack will instantly cause fear and hesitation, globally, when passengers are faced with the thought of transferring through Istanbul," said Anthony Berklich, a travel expert and founder of luxury lifestyle site Inspired Citizen. "An attack on Istanbul's Ataturk Airport is a massive blow to the global travel industry because it's where East meets West."
The attack on Ataturk Airport signals a major blow not just to leisure and business travelers to Turkey, but throughout the world.
The airport serves as a major connection point for those flying from the U.S. to many African and Asian countries, and in 2015 was the 11th busiest airport in the world (it is Europe's third busiest airport, behind Heathrow in London and Paris' Charles de Gaulle) with 61.8 million passengers, according to Airports Council International. It is also one of the fastest-growing airports in the world, seeing 9.2 percent more passengers last year than in 2014.
Though the airport reopened just hours after the deadly attacks, Turkish Airlines, the largest carrier operating out of Istanbul, may feel the ramifications of fewer bookings in the near future. The airline recently announced new routes between several major American cities, including Miami and Atlanta. That business, say experts, is likely to take a major hit in the wake of Tuesday's attacks.
"It's [Turkish] a fabulous airline, but passengers will lose trust that such a major, 'traveled-through' hub could miss red flags that would lead to an attack like this," warns Berklich. "Even the smaller international airports serving Istanbul, like Sabiha Gökçen, the Pegasus Airlines' hub, will be affected."
The effects of these attacks may be felt throughout the region at nearby airports like Athens, Tel Aviv and larger Western European hubs that are easily accessed through Ataturk, according to Berklich.
Turkey has already suffered several bombings in recent months linked to Kurdish or Islamic State militants, and the events have affected the country's once-thriving tourism industry. The bombings include two in Istanbul targeting tourists that authorities have blamed on the Islamic State terror group.
The attacks within the country—and those across Europe and the Middle East – have increased in scale and frequency, scaring off tourists and hurting the economy, which relies heavily on tourism revenues. Turkish hotels and resorts have been forced to cut prices and reduce staff to compensate for a 40 percent drop in bookings compared to the 2015 tourist season, according to reports from the BBC.
A spokeswoman for British Airways confirmed to FoxNews.com that the airline canceled several flights to Istanbul Wednesday after the bombings and is offering flexible re-booking plans for customers with planned trips to Turkey through July 3. London Heathrow would not comment on specific security measures, but did say airport authorities remain vigilant and continue to work closely with police, international travel agencies and other authorities.
"We are closely monitoring the situation at Istanbul's Ataturk international airport and are working with our airline partners to determine what effect this may have on flights. We ask passengers traveling to Istanbul to first check their flight status with their airline," said the airport.
In the U.S., the Port Authority of New York and New Jersey, which operates the three New York City-area airports, said it would increase high visibility security in collaboration with local and federal authorities.
In March, the State Department advised American travelers to exercise caution in Turkey due to heightened threats. The agency reiterated that warning Monday, before the attacks at Ataturk.
For Americans and others planning travel through or around Istanbul, the next few weeks may require extra vigilance, if not patience. Few hubs provide the same access to various parts of the world as Ataturk.
Says Berklich, "American travelers should not cancel trips, but should use intelligence when choosing their route. Weigh the risks of your transfer point or destination, and evaluate real versus perceived danger."