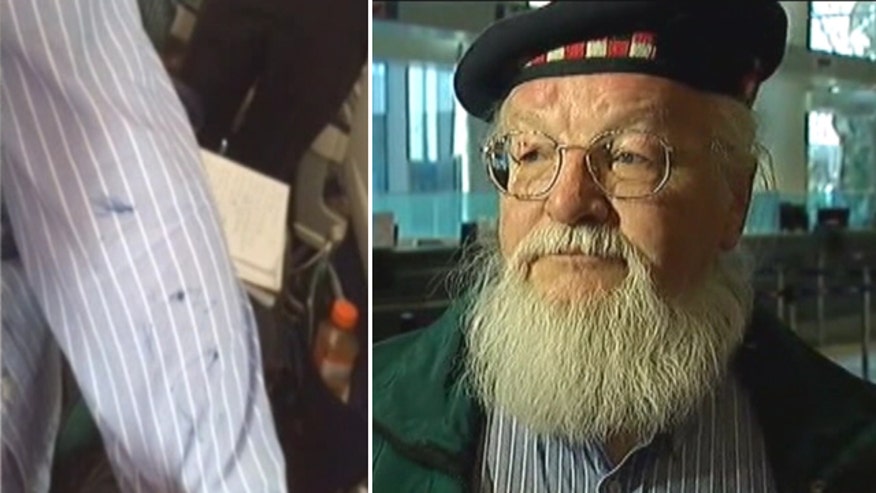 Step away from the pen.
A passenger was removed from a Southwest Airlines plane Thursday after a passenger allegedly stabbed her seatmate with a pen to stop him from snoring.
The passenger on Flight 577 to Manchester, New Hampshire created a "disturbance" on board a jet at Midway Airport which delayed the flight by almost two hours, according to a statement from Southwest Airlines.
Lenny Mordarski, 68, said he was asleep as the flight was taxiing down the runway when he started feeling pain in his arm that felt like stinging bees.
"Yeah, my arm hurt because I was being stabbed by a pen. And that's why I made a lot of noise and the attendants came," Mordarski told ABC News. The encounter left ink marks on the sleeve of his shirt.
Mordarski's friend Michael Sutton said he didn't hear snorting. "His arm brushed up against hers on the armrest. She took her pen and stabbed his arm several times causing him to yell out in pain," Sutton said.
A 67y/oman was stabbed with a pen while taxiing on a #Southwest flight from Chicago.He may have fallen asleep on her pic.twitter.com/lU1rqDxsKb

— Malini Basu (@WFXTMalini) April 17, 2015
The pilot ordered the plane back to the gate and the woman was escorted off the flight for endangerment. Mordarski suffered some injuries - mostly bruises - before he continued on the flight to New Hampshire where the cabin crew gave Mordarski and Sutton free gin and tonics.
"They were super nice. They were making jokes at the end of it, said 'Everyone keep your pens, keep your writing utensils to yourself,'" Sutton said.