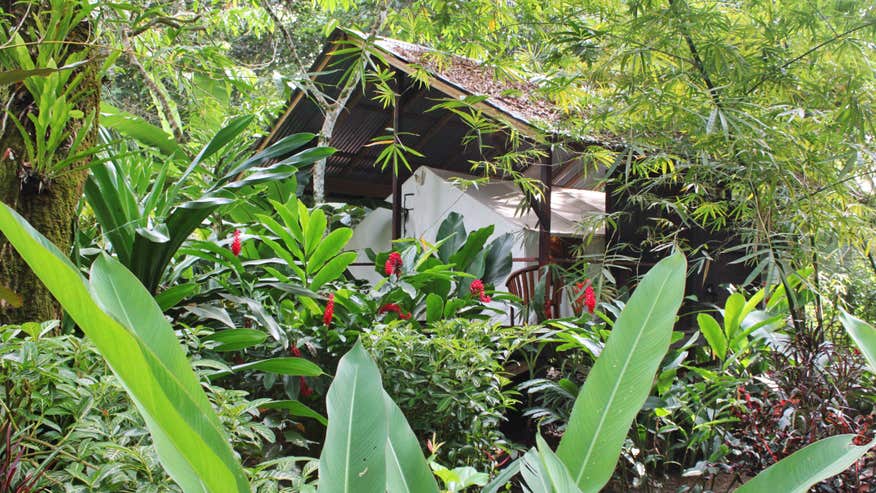 You have to earn the privilege of staying at Red Frog Bungalows-- an eco-ocean resort located in Bocas del Toro, Panama. But once you're there,  you'll be glad you made the trek.
My journey included a six-hour flight from Los Angeles to Panama City, Panama, an hour flight to Bocas Del Toro, an island grouping in the Caribbean, a 15-minute boat ride to Isla Bastimentos, and a quarter-mile walk through the rainforest to get the lodge.  
The Red Frog Bungalows is steps from the beach and caters to surfers, adventure seekers and vacationers who want to get away from the crowds.
Scott Balogh, owner, concierge and surf guide, has created a resort with the perfect balance of relaxing adventure.
The rustic hideaway has made up of two Balinese bungalows, a tentalow, which is a canvas safari-like tent, a rec room/dining area and lush gardens. The maximum visitors capped at 15 –keeping the focus on personal attention-- and a chef prepares guests world-class meals three times a day.
Bocas Del Toro or simply Bocas, as it's fondly referred to, is still an untapped location for world-class surfing. There are multiple breaks, some reef, some sand. Balogh, who has surfed in Australia, Galapagos, Costa Rica, Indonesia, and Hawaii, is a master at picking the best spots to maximize your surf experience.  
Along with surfing, Bocas offers a multitude of other activities, such as zip-lining, snorkeling, fishing, kayaking and sunbathing.   
If you can tear yourself away from the paradise of Panama, then halfway down the continent of South American, in Peru, another extraordinary adventure awaits.
Between Cusco and Machu Picchu lies the Sacred Valley, the heartland of the Inca Empire.  In the middle of the valley is the most unusual lodging experience I've experienced.  
Ario and Natalia of Natura Vive—an adventure tour operator -- have created hanging modules that are suspended 1200 feet up off the side of the mountain.  Getting to the plexiglass capsules is half the adventure.  They have developed a via ferrata, or system of metal rungs that have been inserted into the mountain along with a guide wire, that allows average thrill seekers the experience of mountain climbing without the risks.  
The two-and-a half-hour climb ends at the Skylodge Adventure Suits, hotel rooms dangling off the cliff.  
Two of the modules are used to house-paying guests.  Each one sleeps up to four people, and offers a semi-private bathroom.  The third one is where dinner and breakfast is held and where the guide sleeps.
If staring at the ground 1200 feet below while lying in bed is your thing, these suites are something you should experience.
It's a trip in every sense of the word.
Getting down the mountain the next morning is the third part of this adventure, which includes a six-station zip-line with a final rappel caps off a most extraordinary overnight.