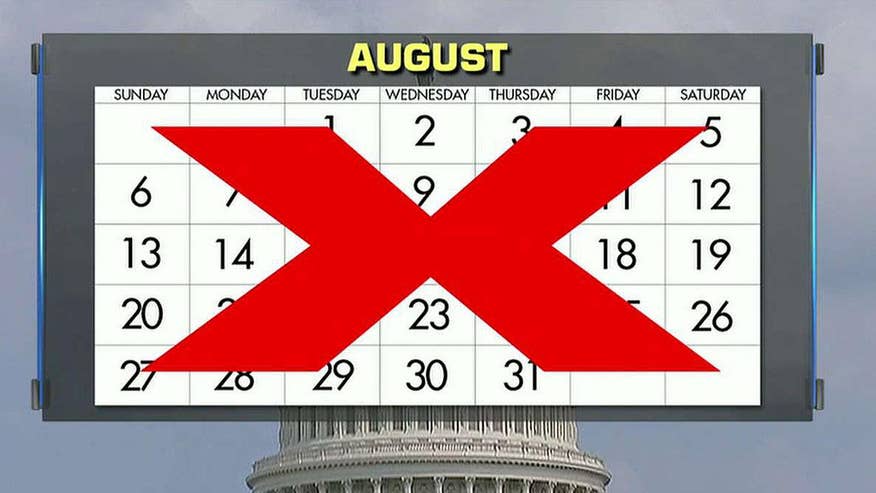 DISCLAIMER: THE FOLLOWING "Cost of Freedom Recap" CONTAINS STRONG OPINIONS WHICH ARE NOT A REFLECTION OF THE OPINIONS OF FOX NEWS AND SHOULD NOT BE RELIED UPON AS INVESTMENT ADVICE WHEN MAKING PERSONAL INVESTMENT DECISIONS. IT IS FOX NEWS' POLICY THAT CONTRIBUTORS DISCLOSE POSITIONS THEY HOLD IN STOCKS THEY DISCUSS, THOUGH POSITIONS MAY CHANGE. READERS OF "Cost of Freedom Recap" MUST TAKE RESPONSIBILITY FOR THEIR OWN INVESTMENT DECISIONS.
Tax Reform, Health Care in Focus Heading Into Second Half of the Year
GARY B. SMITH: I think there's gonna be a common consensus, I hope, amongst this panel, is that anyone in Congress doesn't work nearly enough even when they do work it seems like there's a lot of goofing around. These people were hired for a few things, one to drain the swamp, tax reform, repeal and replace ObamaCare, cut back on government regulations. They've done none of that. If they did do that Dagen, here is the shocking thing. It would help spur the economy.
EMILY JASHINSKY: This is a really urgent issue for people around the country. Let me tell you. Here in Washington, people who work on the hill, they plan their year around august recess. So it's gonna be hard to even get them to truncate it, to even get them to shorten it. Absolutely, people around the country are looking at them saying "please, it's a month, it's the month of August, please get in there and do what we need you to do."
ADRIENNE ELROD: I don't think that staying any longer in August is going to make any sort of difference on this healthcare bill. Republicans have been running on repealing ObamaCare for what, seven, eight years. They can't get their caucus united. They can't get the conservatives and the moderates united. Why? Because the American people do not want to see this bill repealed.
JOHN LAYFIELD: Yes, absolutely. Look, we're the only advanced country in the world that doesn't have mandated, by law, vacation days. The problem you have right now, is no democrats are willing to work with the republicans, no republicans were willing to work with the democrats when you had ObamaCare. It's 100 percent partisan because both of these sides, all they want to do is get reelected. They do not care what happens to the American people. They have run on promises of repeal and replace ObamaCare and they're not doing it.
JONAS MAX FERRIS: At the end of the day, I don't think people want to repeal this. They had all the vacations when they did the fake repeals, they had those votes all the time, can't they just do one for real and just repeal it? I don't see what the big deal is. They got plenty of time. The problem of the matter is that people really, this is the sad part, they like the ObamaCare features. They don't like the part where you pay for it with higher taxes and higher premiums.
New Calls for Hearings Into Former Attorney General Lynch's Actions During Clinton Email Probe
EMILY JASHINSKY: I don't know, maybe, I mean look at the evidence that we have on Loretta Lynch right now. We have the testimony of James Comey that Loretta Lynch asked him to refer to an investigation as a matter rather than an investigation. We know that he was on the plane on the tarmac and we have reports that there was an e-mail sent from Debbie Wasserman Schultz that sort of implied that there was help, there was assurance from the justice department that the Clinton e-mail investigation was not going to go too far. So this evidence is strong and it in fact Loretta Lynch should want to testify, so she can clear it up.
JOHN LAYFIELD: Of course it's time to get to the bottom of this. Putting Congress in charge, it's just foolish and nothing will get done. All these guys want is a dog and pony show. They want to get their partisan agenda across whether their Republicans or Democrats. We got a special prosecutor dealing with the Russia, the collusion. Any type of interference going on and Robert Muller, he's fantastic, he's very independent. Put something in charge like that, put a professional in charge.
JONAS MAX FERRIS: Just for it to seem fair, maybe, but we're not going to find out much. Because at the end of the day, Hillary Clinton did not get elected partially because some men have an odd attitude towards women in power. And those men are Bill Clinton, who walked on this plane, and Anthony Weiner who did even unmentionable things with a laptop. Those two things made a major hit to her probably more than the Russian hacking. Comey was un-gettable, the guy's a Boy Scout. I don't know what Lynch could've done anyway.
ADRIENNE ELROD: If an investigation is what is called for in Congress, fine. I think Loretta Lynch has made it very clear that she is willing to come forward and share her information, but at the end of the day you are literally comparing apples and oranges if you're trying to compare the Russia situation and their influence in our democratic process versus President Clinton speaking to Loretta lynch for a few minutes.
GARY B. SMITH: It's grandstanding, yes the Democrats will get up there and rail and then the Republicans. So, we end up spending a lot of money. Nothing's gonna happen; this is gonna be one of those he said she said. What we think Bill Clinton is going to say "yes, she talked to me and I did exert influence," that's not going to happen. So now, someone says, you're gonna have a dog and pony show and a waste of taxpayers' money.
New Debate as House Passes Bill Defunding Sanctuary Cities
GARY B.SMITH: It is a federal law that you can't have these sanctuary cities, but unfortunately the feds cannot commandeer or make the states enforce the law at their own expense. The states can kind of do what they want. They formed the government, if you will, so the only tool the government has is the carrot. That's why this funding law under case law is so important. It's really the only way for the federal government to go if they want to get what they want.
EMILY JASHINSKY: Creating pockets where the federal law is not applied evenly kind of incentivizes people to concentrate in those pockets and it's obviously unsafe. If you don't like federal law the best solution is to change federal law, not to apply it unevenly and sort of incentivize people to concentrate in those pockets where they know the laws are a little less stiff.
JONAS MAX FERRIS: You just can't coerce a state with financial punishment when all the states are on the take essentially from the federal government to get your thing through. Even though it seems like the right way to go, it's going to get turned against you at the wrong time. You're not going to like it then either.
ADRIENNE ELROD: It's a shame that it was passed. I think it's gonna have a really hard time in the senate. At the end of the day Democrats believe that local law-enforcement officials know their communities best, they know how to best keep them safe. That's where we should put the power on this.
JOHN LAYFIELD: Sanctuary cities are symptoms; the problem is immigration, what do you with 10-20 million people that are illegally here in this country? You need to deal with that in a smart way. The sanctuary cities take care of themselves.
Predictions
GARY B SMITH: TWITTER
JOHN LAYFIELD: DELTA AIR LINES
JONAS MAX FERRIS: ISHARES JAPAN