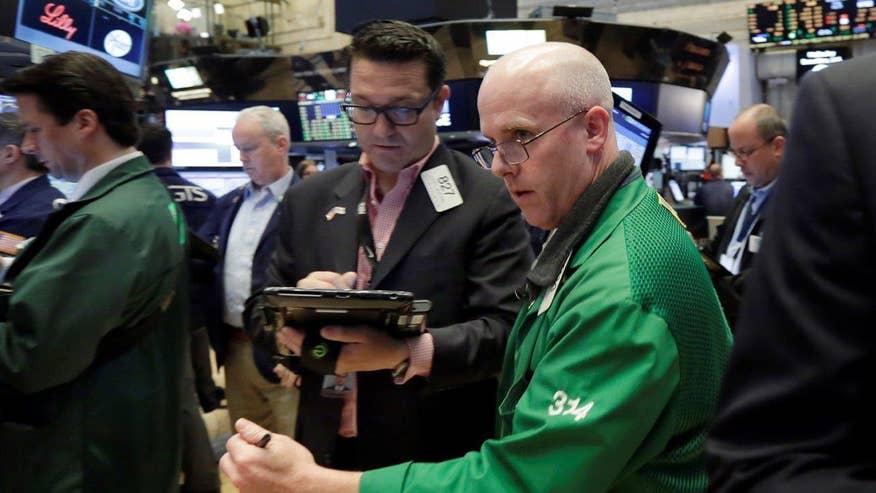 DISCLAIMER: THE FOLLOWING "Cost of Freedom Recap" CONTAINS STRONG OPINIONS WHICH ARE NOT A REFLECTION OF THE OPINIONS OF FOX NEWS AND SHOULD NOT BE RELIED UPON AS INVESTMENT ADVICE WHEN MAKING PERSONAL INVESTMENT DECISIONS. IT IS FOX NEWS' POLICY THAT CONTRIBUTORS DISCLOSE POSITIONS THEY HOLD IN STOCKS THEY DISCUSS, THOUGH POSITIONS MAY CHANGE. READERS OF "Cost of Freedom Recap" MUST TAKE RESPONSIBILITY FOR THEIR OWN INVESTMENT DECISIONS.
New Look at U.S. Economy as Markets Continue to Hit Fresh All-Time Highs
Charles Payne: The media is in the business of showing train wrecks and car wrecks, but they're spending way too much time now trying to create these wrecks themselves. What is reporting in the stock market is phenomenal stuff. Our economy is starting to move on so many different fronts, and whether it is over 3 percent GDP this quarter, jobs growth particularly in construction and mining, these things are real. We saw earnings for the first quarter that were phenomenal. Stock market reflects that and most people hopefully are not dissuaded about whatever their dreams are or hopes are, even being invested, because things are going well.
Kennedy: It is a false abstraction, very dishonest. The president will pull out of the Paris climate accord, I don't think that will have a measurable difference on the climate. You wouldn't know that by the way the media covers this. That was one of the president's campaign promises. Another promise was to have GDP growth conservatively between 3 percent and 4 percent and if he is seeing that his second quarter in office, that is the kind of result everyone should be talking about because that means people are working, wages are going up and banks are lending money.
Danielle McLaughlin: It would not kill the mainstream media, and I think that these are great numbers. Particularly unemployment, it is the lowest since 2001. I will say that this is an inherited economy to some extent because we have seen what has happened in the previous 8 years, and we will see the policies kick in really when we see some legislation passed and some adjustment to Trump's policies.
Larry Glazer: For the majority of Americans when they wake up in the morning, they're thinking about so many different things, they are probably not thinking about the Russian scandal, they are thinking about the health and welfare of their family, their economy, and the irony is since a lot of these scandals and allegations have surfaced, the economy has shrugged everything off. Unemployment has come down and the stock market and consumer confidence has gone up, optimism in the economy has gone up, small business optimism has gone up, and the people who hire and put things to work. At the end the day you have to look at that data and the data shows that there's a real disconnect and there has been no measurable impact in the economy itself and that is optimistic, that is why you're seeing a raise in the forecast for the gross domestic product from the Atlanta Fed right now.
Hillary Clinton Continues Blame Game Over Election Loss
Kennedy: Look at the list of excuses and the people that she is blaming, it's like watching an opening for Star Wars. The democrats wish this were a new hope but it is not. It is the same old routine, it is so
incredibly selfish of her to be reciting this laundry list saying she always makes the excuse "I take full responsibility," and then she goes on and on and on.
Danielle McLaughlin: There are a number of reasons for the loss, it's a mosaic, and there is a cornucopia of reasons. A lot of reasons, certainly her decisions. I think as we're seeing more in the news about what is happening in the Russia investigation, perhaps she is feeling like she can talk about it from her own personal perspective. I think from a broader perspective, the democrats have to figure out a way forward, and that may include Clinton to some extent.
Charles Payne: Democrats lost these key states, Michigan, Pennsylvania. She almost lost Minnesota. I mean this is the heartland, she lost white blue-collar workers, they took them for granted. She didn't even visit these states. Like the clip we showed, she's chilling out with these rich Silicon Valley types. She's always in the Hamptons or at the shore somewhere chilling out and then she represents somebody struggling to pay their rent or someone who can't even afford to put their kids through college.
Larry Glazer: Not only did they feel like they were being taken for granted but these are traditional democratic strongholds, these are people who felt not only that they were being taken for granted but that there voice wasn't being heard. They weren't even part of the dialogue, and that these so called "swamp dwellers," in Washington, were treating them as flyover country.
New Proposal in California: Place Higher Taxes on Cars, Dining to Pay for Health Care
Larry Glazer: We have a broken health care system, but raising taxes on the middle class through things like sales tax and tax on small business is not the way to fix the problem or solve the issue. Nevada and Texas are going to be laughing all the way to the bank because California is going to chase the jobs right out of their state.
Charles Payne: They have Cuba envy. We like what we are seeing over there. It doesn't work in Europe or anywhere, it has been tried. It is a shame because you have a bifurcated place, and Kennedy knows this, very wealthy folks and a lot of people are struggling to make it day to day.
Danielle McLaughlin: There's a couple of things going on, a sales tax hurts low income people more than it hurts high income people. You're paying more for your bread, you're paying more for your milk, you know- getting on the bus. The payoff is ideally that you had more money because you were not paying out-of-pocket, not paying premiums, you're not under insured so that you go to the hospital and you have to pay $700 out of a $1,000 ambulance bill. So having come from a place where it is in full force, I can say that it worked pretty well.
Kennedy: It is job killing and Charles is right. California is more than Beverly Hills and Silicon Valley, and a lot of people in interior parts of the state that have been desperately hurt by a lot of these climate measures as well. And one of the things people in California, especially lawmakers, have to ask themselves is: Are we going to make health care free for illegal immigrants?