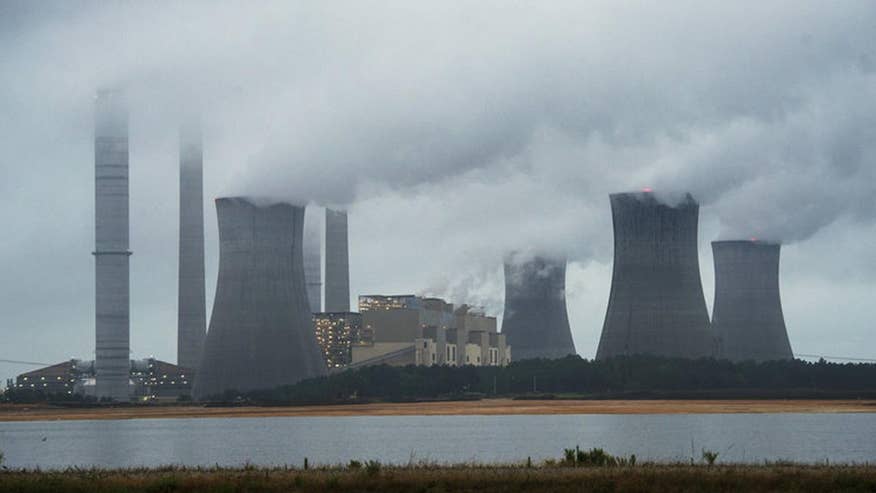 DISCLAIMER: THE FOLLOWING "Cost of Freedom Recap" CONTAINS STRONG OPINIONS WHICH ARE NOT A REFLECTION OF THE OPINIONS OF FOX NEWS AND SHOULD NOT BE RELIED UPON AS INVESTMENT ADVICE WHEN MAKING PERSONAL INVESTMENT DECISIONS. IT IS FOX NEWS' POLICY THAT CONTRIBUTORS DISCLOSE POSITIONS THEY HOLD IN STOCKS THEY DISCUSS, THOUGH POSITIONS MAY CHANGE. READERS OF "Cost of Freedom Recap" MUST TAKE RESPONSIBILITY FOR THEIR OWN INVESTMENT DECISIONS.
FIERCE DEBATE MOUNTING OVER PRESIDENT TRUMP'S DECISION TO PULL OUT OF PARIS CLIMATE DEAL
John Tamny: The U.S. shouldn't be doing in agreements that other countries won't abide, but the bigger thing is the economic growth is the ultimate environment enhancer simply because it leads to wealth creation. When people are wealthy they have the means to care about people around them. The agreement was anti-wealth, we needed to exit it.
Bruce Japsen: Well, listen, I don't know that I believe that. But let's just say that Donald says that he wants to renegotiate this. If you don't believe in global warming or climate change, then what's to negotiate? He said that people are laughing at the world, when he says stuff like that, people are laughing at him. I mean, I think it hurts our relations with our allies and that's not good for business.
Mike Ozanian: This accord was always about the redistribution of wealth. This was President Obama's baby. That's what the man stood for. Going over 80 years, do you really think you can predict how much the climate or the temperature is going to change? That's preposterous and on top of all that, the United States was going to pay a disproportionately high share of the money going to this and the U.N. is basically going to control it filled with crooks, dictators and tyrants.
Steve Forbes: Well, the fact of the matter is the U.S. does go by these agreements. And if we went by this one before President Trump withdrew, it would have a devastating impact on the U.S. economy. We're already reducing co-2 emissions better than any other country in the world so this would impose billions of costs on the U.S. Economy and cost millions of jobs for no result that helps the economy. We'd cripple ourselves while China and India get a free pass to pollute.
Sabrina Schaeffer: I don't think this is an administration that is great at controlling the narrative, but the political environment has become so toxic, that we can't even have a reasonable conversation about this anymore. What's being overlooked here is that this was a nonbinding agreement, right, as others have noted. What's really going to improve the environment in addition to a strong economy is the natural gas revolution, which is doing a whole lot more to reduce carbon emissions than anything that we signed on the dotted line about. So, I think that that's what's being lost here in all of the political rhetoric and heat and we're not actually having a conversation about what's happening. And on the other hand there's also on the left, they've been screaming about the big oil and gas companies like Exxon or Conoco Phillips, they actually are going to benefit from this because they're the number one producer of natural gas, not oil and gas anymore.
Rich Karlgaard: I agree with Trump on pulling out of the Paris accords, but I think he missed a historic opportunity to explain why. It's not about coal, it's about everything Sabrina talked about, that the level of innovation, technology, entrepreneurship is running so fast, it's making the Paris accords irrelevant. You know, even China and India are pulling out of coal. China has canceled a hundred coal plants because technology is moving so fast in fracking and solar and everything else, the marketplace delivers what we want. We don't need the U.N. and central authority to telling us what to do to get a cleaner planet.
TIGER WOODS' LUCRATIVE ENDORSEMENT DEALS IN FOCUS AFTER DUI ARREST
Mike Ozanian: I think if Tiger whose body has really broken down over the last few years, has a serious long-term addiction to pain killers, then I think the sponsors would actually be helping him by dropping him. Because I think if they keep sponsoring him, they'd be enabling his addiction.
Rich Karlgaard: I couldn't agree more with my friend Oz. I think Nike you know god bless them, they have a history of sticking with people, they stuck with Lance Armstrong, they were the last person, the last company to drop Lance Armstrong. But I agree with Oz, Tiger is in the deep woods here.
John Tamny: No, they did the exact right thing. Phil Knight's got a long relationship with Tiger Woods. Tiger Woods has elevated the brand a great deal, has made it a lot of money, Nike sticks by its athletes. We don't know the full story. What a shame if Nike were to turn tail on him now, good for them.
Steve Forbes: I think here you have a split decision; it's really good for Nike to stick with him since they started with him and they both have benefitted from that relationship. Other sponsors want to stay on the sidelines and say drop him, fine, but Nike with them gives Tiger Woods the ability if he can come back to come back.
Bill Baldwin: Well I think Nike would be quite within its rights to back away from Tiger Woods. Here's the thing if you live by something as shallow as pure celebrity, then you die by it. And one blotch on your record means your image is no longer valuable.
Sabrina Schaeffer: I think Nike is going to do what's best for its brand, and its brand is about living a healthy life style, and so that they may feel, you know a little ambivalent at points if this continues about having you know drug and addiction a part of that, on the flip side though, I actually think they made the right decision, because when you're an athlete doesn't mean you don't trip and fall sometimes and their motto is just do it. So hopefully he'll get back up again and that's a good image for the brand.
SOME VENEZUELAN PROTESTERS SLAM GOLDMAN SACHS FOR INVESTING IN NATION'S BONDS
Sabrina Schaeffer: I hope that if the Maduro government spends its last remaining dollars paying off bondholders rather than feeding its starving its people that that will further expose them as the corrupt government that they really are. I sure wish we'd see more people protesting in the street about the people suffering there than about the Paris accord this week.
Bruce Japsen: I think the shareholders at Goldman and their investors should be paying attention here. They're calling these hunger bonds and I think this is, we're shining light on something that I think is a bad investment given the price of oil and what the country relies on.
Steve Forbes: Yeah, legally they can do whatever they want. In in case with Venezuela, but morally it's absolutely wrong. They're giving this government $800 million that money is going to the government; they didn't buy these on the secondary market, these bonds. So they're giving a lifeline to an atrocious regime that is starving its people, killing its people, and they just shouldn't have done it for moral reasons and reputational reasons for the firm.
John Tamny: I'd say it isn't. Goldman is in the business of profit, but more importantly they're creating a market so that people can say if the Maduro regime continues in its socialist direction, Goldman will lose that will signal to investors to stay away. If it succeeds, it may be a sign that Venezuela is going in the right direction.
Bill Baldwin: I think Goldman could get a comeuppance. I mean the socialists could decide that when they pay off bonds at 50 cents on the dollar it's not 50 cents per face value dollar, it's 50 percent of what you paid. Goldman will wind up with a big loss wouldn't that be terrible.
Rich Karlgaard: I'm always an optimist and I think Goldman is not stupid and I think they see light beyond the Maduro regime and that's what they're betting on.
WORRY-FREE STOCKS
Mike Ozanian: UA
Bill Baldwin: ALLY