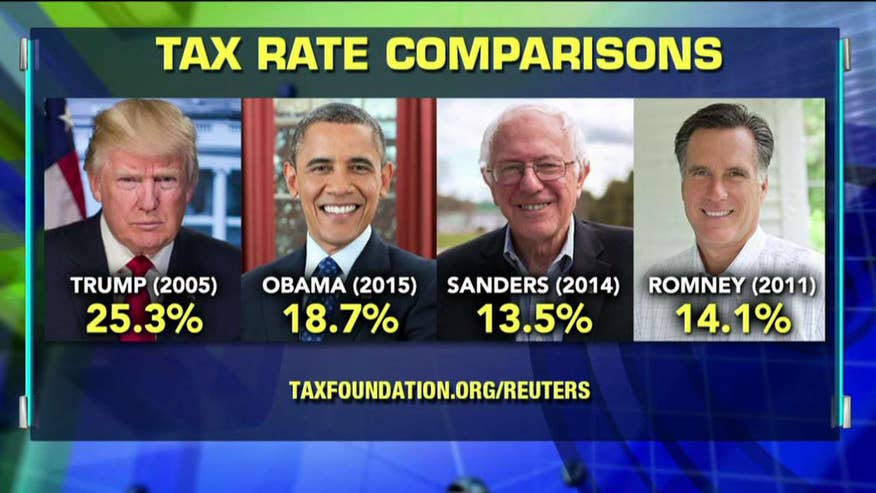 DISCLAIMER: THE FOLLOWING "Cost of Freedom Recap" CONTAINS STRONG OPINIONS WHICH ARE NOT A REFLECTION OF THE OPINIONS OF FOX NEWS AND SHOULD NOT BE RELIED UPON AS INVESTMENT ADVICE WHEN MAKING PERSONAL INVESTMENT DECISIONS. IT IS FOX NEWS' POLICY THAT CONTRIBUTORS DISCLOSE POSITIONS THEY HOLD IN STOCKS THEY DISCUSS, THOUGH POSITIONS MAY CHANGE. READERS OF "Cost of Freedom Recap" MUST TAKE RESPONSIBILITY FOR THEIR OWN INVESTMENT DECISIONS.
LEAKED TAX DOCUMENTS SHOW PRESIDENT TRUMP MADE $153M IN 2005; PAID $38M IN TAXES
Mercedes Schlapp: This is the biggest media flop story of the week. It was something that the liberals, as we know, including Hillary Clinton, Harry Reid and the gang, they all believed that if they could just simply get Donald Trump to release his tax returns that they were going to find something. Obviously, Rachel Maddow built this whole story up this week, she was teasing it on Twitter and everyone watching, and even those on the left criticized her when as we know, what happened was, president Trump is a successful business man, he paid a lot of taxes and there was no story there.
Gina Loudon: This is just, again, the left trying so hard to delegitimize the election that they blew all by themselves. The problem is, they're too small and too insecure to look inward at all and say, hey, what did we do wrong? They can't afford the ego capacity, I guess, they're too insecure. They're doing the same things over and over again in order to blow the next election. And here is what doesn't make sense, if they're so concerned about Trump's taxes because they're worried about some foreign interests he might have, why do they keep accusing him of being too nationalistic? For foreign interests he has to have a lot of globalism in him like they do.
Richard Fowler: This is a nothing-burger. I don't think that you can lump in Rachel Maddow with liberals. I'm very secure and very big and that's the end of both of those questions. But I do think this was a big mishandling and I will say this, Donald Trump is known for leaking his own stuff and I believe it showed up in somebody's mailbox and I think he did it.
Lisa Boothe: I think that president Trump should send Rachel Maddow a thank you letter and maybe some Trump wine because she helped him out. What did we find out? He's really rich; he pays a high tax rate, higher than corporations like MSNBC. He should send a thank you note. But here is the problem for someone like Rachel Maddow, she saw a 60 percent increase in viewership, four million viewers tuning in, but for what? To watch her fall flat on her face. And in their effort to undermine president Trump, they're so engrossed in it, they're undermining their credibility and that's exactly what Rachel Maddow did.
BILL GATES: WE SHOULD TAX ROBOTS THAT REPLACE HUMAN WORKERS
Gina Loudon: I don't agree, here is why, they always want to make victims out of people so they can give them something free so they can get their votes and tell what good little liberals they are. It doesn't make sense, they never want to talk about the jobs that creating robots would make. People can go from being workers to being part of a team that creates this artificial intelligence. So, they never want to talk about those jobs and that's what I think we should be focused on.
Richard Fowler: I actually think me and Donald Trump might agree on this one. Here is the thing; these jobs are taking away hard-working manufacturing jobs from Americans, like the carrier plant where they have been given a tax by the state of Indiana to automate. So if you're automating, you're losing American jobs. If these robots are taking an American job, then these companies should have to put some skin in the game for taking away an American job.
Lisa Boothe: The irony in what Richard is saying is then why would you support increasing the minimum wage? Because we've had CEOs of fast food companies, which is the direction that the fast food industry is going in, with automating a lot of those jobs, who are stating the reason for the desire to look towards automation is because of increasing wages across the country. I find it perplexing how liberals can be for increasing the minimum wage, because you are making it much more viable for businesses to look for automation. Those are entry level jobs. If you want to basically increase the price of labor, you're pushing those people out of the marketplace.
Mercedes Schlapp: It's a fascinating debate. In the European Union they're trying to define what a robot would be, if it would be an electronic person and what rights they would have. To actually tax the robot, that does stifle innovation and impedes capital investment. What you need to find is a place where the robots are complimenting the humans. This is what we saw back in the day with agricultural revolution, industrial revolution, where humans needed to adapt. We're going through the next revolution with automation and humans are going to be more of the thinkers and creators and having to work alongside many of these robots and I don't think by taxing it, it is a solution.
NEW CALLS ON SOCIAL MEDIA TO BOYCOTT RAPPER SNOOP DOGG OVER CONTROVERSIAL MUSIC VIDEO
Gina Loudon: Boycotts are a testimony to the free market. We saw them work when Starbucks got political and their stocks dropped. I created the "boycott" movement going way back and that's because I know that Americans like to talk with their pocket book. And we saw it again when Ivanka's brand tripled, and went up in sales when stores tried to drop her and Joy Villa, stepped out in the Trump dress at the Grammy's and her records went to number one. The left might want to give enough rope to hang itself so to speak.
Richard Fowler: Ted Nugent said, who was at a Donald Trump rally on November 7th, said the following, "President Obama is a piece of *expletive*, I told him to suck on my machine gun." That's Ted Nugent; he was at a Donald Trump rally and supporting the president and we are not boycotting him.
Mercedes Schlapp: Many young people listen to his music and watch his videos and the message he's sending out pointing a gun to the Donald Trump clown is atrocious, it sends the wrong message. If there's a threat to the president, the FBI investigates, and although they want to say it's politically incorrect, this takes it way too far.
Lisa Boothe: There is a complete double standard that exists. If you remember a Republican staffer in 2014 who wrote on her own personal Facebook page something critical about the way that President Obama's daughters were dressed. She became an international news story, there were TV stations camped at her parents' house and she was forced to resign. But what have we seen from the left and the entertainment industry? We've seen these comments by Bow Wow and Snoop Dogg shooting the president in a music video.