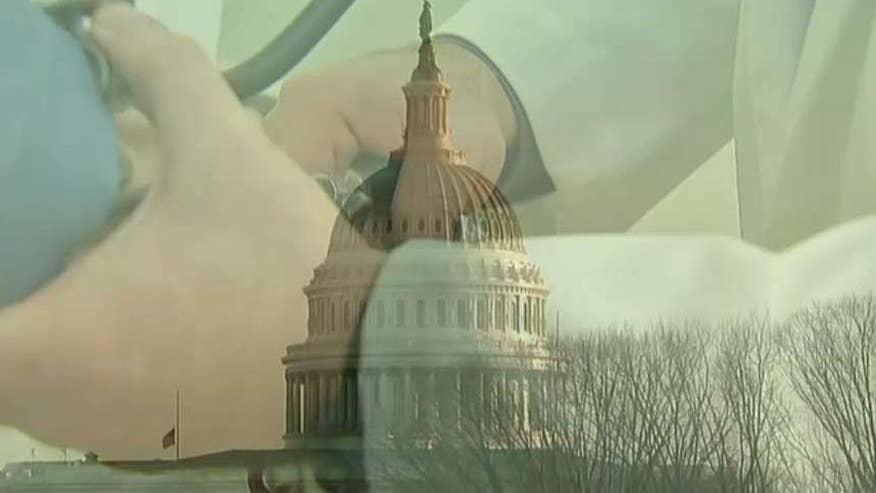 DISCLAIMER: THE FOLLOWING "Cost of Freedom Recap" CONTAINS STRONG OPINIONS WHICH ARE NOT A REFLECTION OF THE OPINIONS OF FOX NEWS AND SHOULD NOT BE RELIED UPON AS INVESTMENT ADVICE WHEN MAKING PERSONAL INVESTMENT DECISIONS. IT IS FOX NEWS' POLICY THAT CONTRIBUTORS DISCLOSE POSITIONS THEY HOLD IN STOCKS THEY DISCUSS, THOUGH POSITIONS MAY CHANGE. READERS OF "Cost of Freedom Recap" MUST TAKE RESPONSIBILITY FOR THEIR OWN INVESTMENT DECISIONS.
Battle Over ObamaCare Replacement Raising Concerns Over Timeline for Tax Reform
Kennedy: I think the administration really wants to have something substantial on policy reform within the next 50 days so that's why there are deadlines for a reason.
Charlie Gasparino: I think the markets are pricing in modest tax cuts and regulatory reform. The longer the administration is dithering around in this healthcare business, the bigger the drag on the markets will be. They should've started out with tax cuts first and then get to complicated issues like this after that. The markets will go down once they realize that they are not getting tax cuts right now.
Gary Kaltbaum: When you set expectations too high, and you don't reach those expectations you lose two things. Number one, the market goes down after those expectations are not met. Second, confidence especially consumer confidence goes way down as well. The priced for perfection model goes way down.
Ben Stein: I do not know how much more the markets can go up because they are already priced for perfection. It can't go up much more without going into extreme bubble territory. They're expecting tax reform which can be an unrealistic expectation.
Adam Lashinsky: The administration has committed the kind of mistakes that political neophytes make because that's what they are. That's how they ran and won, and now it shows. I think that the conservatives will not come around. They're all about not coming around which is they are standing on their principles. The irony is that they were obstructionists in the Obama administration and it looks like the same in this one as well.
New Debate Over Minimum Wage Hikes as Growing Number of Companies Cut Workforce
Kennedy: The technology is there and as soon as restaurants recoup what they paid for these robots, it is a no-brainer to go to this. Hopefully they will pass the savings along to consumers. Necessity is the mother of invention.
Charlie Gasparino: We have to expect that this technology was coming. What I worry about is the mom and pop businesses as it pertains to the raising of the minimum wage. Those restaurants are being crushed by the minimum wage.
Gary Kaltbaum: When you continue to demand more and more costs to both small and medium business owners, there will be consequences. Rather than paying these people who do not deserve to get paid this much $15/hour, it will be easier to pay for the robots to do that at a much cheaper cost.
Ben Stein: This is basic economics: I do not know why people are surprised by this. I worry about low wage earners will be able to find jobs with the robots taking their job.
Adam Lashinsky: Regardless of the minimum wage, this was bound to happen. Those mom and pop restaurants will just charge more for the experience rather than being served by a robot.
Mexico Releases Video With Tips for Illegal Immigrants in U.S. on Possible Detention
Kennedy: The economy is doing better in Mexico. It's less money for them to make a video urging them to stay in our country rather than having those Mexicans use their entitlement funds back in Mexico.
Charlie Gasparino: This is sick. This is perverted that a foreign country is telling their citizens to violate our country's rules.
Gary Kaltbaum: They lecture us about immigration but here they are telling their citizens not to come back into their country.
Ben Stein: It's almost unbelievable that they would be doing this. It's so staggering that I am speechless on what to say about this issue.
Adam Lashinsky: I think it's silly that we are getting upset about another country disrespecting us. It is not that big of a deal.