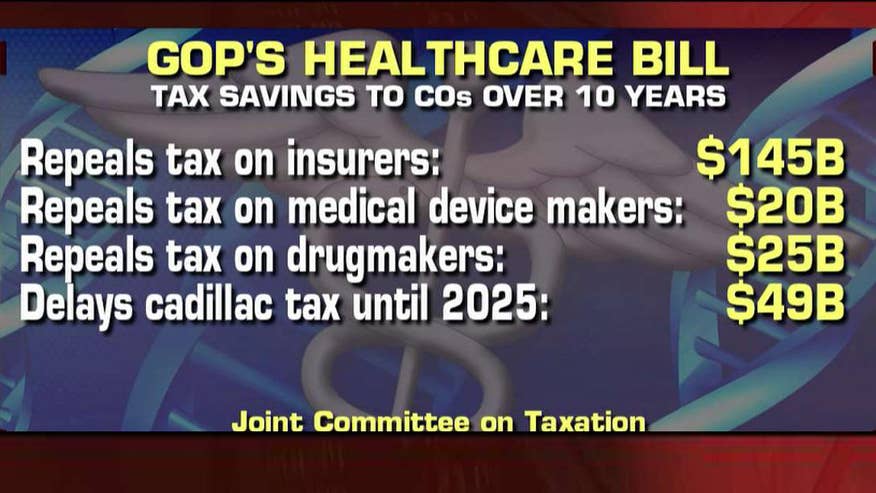 DISCLAIMER: THE FOLLOWING "Cost of Freedom Recap" CONTAINS STRONG OPINIONS WHICH ARE NOT A REFLECTION OF THE OPINIONS OF FOX NEWS AND SHOULD NOT BE RELIED UPON AS INVESTMENT ADVICE WHEN MAKING PERSONAL INVESTMENT DECISIONS. IT IS FOX NEWS' POLICY THAT CONTRIBUTORS DISCLOSE POSITIONS THEY HOLD IN STOCKS THEY DISCUSS, THOUGH POSITIONS MAY CHANGE. READERS OF "Cost of Freedom Recap" MUST TAKE RESPONSIBILITY FOR THEIR OWN INVESTMENT DECISIONS.
NEW HEALTHCARE BILL: BETTER FOR BUSINESSES OR PATIENTS?
Elizabeth MacDonald: I agree, I said last week, yes, we need to get this reform done. It seems to help companies. When have you ever heard yes, insurers, you're allowed to hike prices 30 percent if you go without coverage for a year. When have you seen search corporate entitlements bills on tax credits like this is. I get it, we need ObamaCare repeal and replace, but it seems like a boon for the insurance companies.
Sabrina Schaeffer: Yeah, David, look, I think we have to think about this along a spectrum, good, better and best, we may not be at the best plan, but I think we're moving in the right direction and I think a lot of Republicans are work to go sort of repair some of the most damaging parts of ObamaCare and using tax cuts to trying to equalize the employer versus individual tax situation, is very important. If government is going to be involved at all in subsidizing, I think it's important that they're not-- that they are not subsidizing health insurance and they're subsidizing health care and that's the direction we want to be continuing to move in.
Bruce Japsen: Oh, it certainly is. You have the situation with the insurance companies, a lot of people, Paul Ryan and Donald have brought up this whole idea that ObamaCare is in a death spiral because of what the Aetna ceo said. The reality is, his company wasn't able to successfully manage the costs of care. They pulled out of Florida, but Florida blue cross is in this, they're making money and screened their parents and got 800,000 customers, so, this is now, they're going to get to sell what they want, and it's not going to cover benefits and charge what they want. That's not going to change.
Steve Forbes: Not so much, David. In any bill, you're going to have interests weigh in. It would be a surprise if they didn't weigh in. And in the markets, less discrimination between young people and old people, and young people had to subsidies old people, it's a C-minus, but it's in the right direction.
John Tamny: Anything good for drug makers is probably pretty good for consumers. Only in Hollywood do companies get really rich by fleecing their customers and in the real world they get rich by bringing value to them. I think we have to keep that in mind. Insurance companies aren't bad, drug makers aren't bad.
Bill Baldwin: I think Ryan care is as bad as ObamaCare. If we want to help patients we've got to get rid of the ridiculously high deductibles, and bring in high co-pays. Then and only then would patients are motivated to shop for the cheapest MRI.