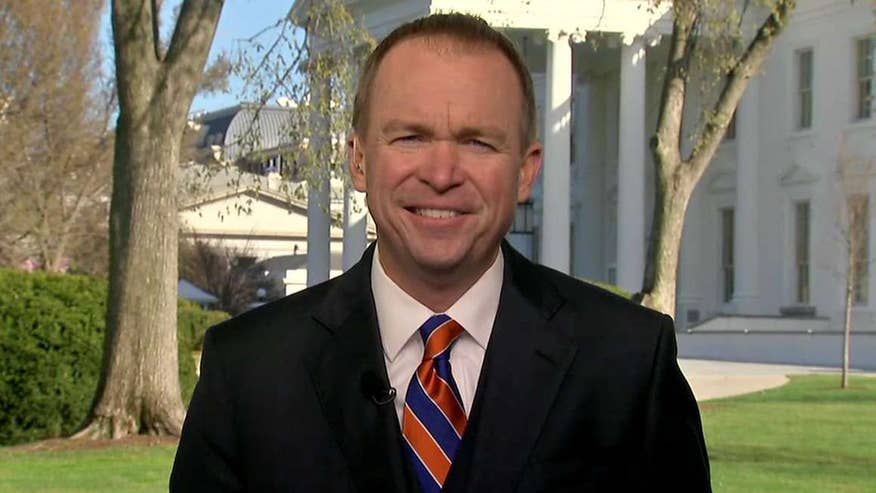 DISCLAIMER: THE FOLLOWING "Cost of Freedom Recap" CONTAINS STRONG OPINIONS WHICH ARE NOT A REFLECTION OF THE OPINIONS OF FOX NEWS AND SHOULD NOT BE RELIED UPON AS INVESTMENT ADVICE WHEN MAKING PERSONAL INVESTMENT DECISIONS. IT IS FOX NEWS' POLICY THAT CONTRIBUTORS DISCLOSE POSITIONS THEY HOLD IN STOCKS THEY DISCUSS, THOUGH POSITIONS MAY CHANGE. READERS OF "Cost of Freedom Recap" MUST TAKE RESPONSIBILITY FOR THEIR OWN INVESTMENT DECISIONS.
ERIC BOLLING IS JOINED BY OMB DIRECTOR MICK MULVANEY

A NEW LOOK AT PRESIDENT TRUMP'S AGENDA AND HOW THE ADMINISTRATION PLANS TO PAY FOR IT

MULVANEY ON DEMOCRATS RAISING QUESTIONS ABOUT SPENDING:
I'll file it under better late than never. I'm just as concerned about the deficit, I'm glad I'm not the only one. It's nice to have the Democrats along for the ride this time around. And I hope that they keep that focus during the entire budget process.
MULVANEY ON PLAN TO CUT WASTEFUL GOVT SPENDING:
OMB, the Office of Management and Budget has identified what we think to be the most wasteful programs, the most duplicative programs, programs that are ineffective and we are sharing that information with the various agencies as we work with them to try and get the spending numbers down to where we need them to be in order to provide that $54 billion of additional spending for defense.
MULVANEY ON SENATOR MCCAIN CALLING FOR MORE DEFENSE SPENDING:
You know, some folks think it's too much. There's senator McCain and a few others who don't think it's enough. I refer to it as the Goldilocks number; it seems to be right in the middle. More importantly it is exactly and precisely the amount of money that it would've taken to end the military sequester. If we did not have the military sequester, 603 billion is where the topline defense number would be. That's what the president campaigned on and won on, so that's what we're giving him in his first budget.
MULVANEY ON LOOKING AT WAYS TO GET OVERSEAS CASH INVESTED IN US:
You're looking at it in terms of part and parcel of maybe an infrastructure plan, that's been floated on the hill in the past. I think right now it's fair to say what we're looking for is a sweet spot, which is that tax rate that gets the most amount of money to come back, but also allows us the most money to invest in certain capital projects, including infrastructure. So that's an ongoing negotiation right now.
MULVANEY ON COSTS OF BORDER WALL AND PLAN TO PAY FOR IT:
I'm not familiar with the mechanism by which Mexico might pay it backs to us, that's being handled outside the Office of Management and Budget. What we're working on right now is a way to save money elsewhere in the 2017 budget. We're in the middle of fiscal year 2017 right now so we can start the wall this year. I think you're going to see that. In fact, I know you're going to see that and also set aside money in the 2018 budget to continue that construction.
REPORT: MORE COMPANIES TURNING TO AUTOMATION AS MANDATED WAGE HIKES KICK IN
Lisa Boothe: Of course, this is going to happen. And why would you have humans do the job when machines do it more efficiently and faster and cheaper? Look, businesses are going to be looking out for the bottom line and try to keep the cost of doing business as low as possible. When cash goes in one pocket, it has to come out of another. That's the problem with the minimum wage and there are a lot of mistruths out there as well. You look at the bulk of minimum wage earners, its entry level. When you make the cost of doing business more difficult for those business owners there's going to be less of the entry level jobs for the young people to have. It doesn't make a lot of sense.
Juan Williams: The truth is that already, even at the current very inadequate minimum wage, automation was taking over anyway. You see this already in the fight over the labor secretary, who left for other reasons, but he was making the argument, I think it was for Carl's, Jr.; you know automation is cheaper and didn't matter about the minimum wage. This to me is like a false defense against people who are saying in this country if you work 40 hours a week, you should be able to support your family. That to me is good economics because those people spend money and boost our economy.
Mercedes Schlapp: The biggest concern for businesses is labor costs. They have to weigh the pros and cons whether they automate or not. If you're forcing upon them, a raise in the federal minimum wage instead of letting the states handle it where you could foster competition, it becomes a problem for these companies and they're going to seek out what is going to be the cheapest option and I have to say with automation, there is a reality. I mean, there was one Oxford researcher who came out and said that automation could risk eliminating about 47 percent of jobs out there. That is significant.
Rachel Campos-Duffy: Listen, these minimum wage jobs, by the way, were never meant to be family supporting jobs, supposed to be starter jobs, where you learn a skill. This summer my daughter had her first job working at Dairy Queen. I can tell you right now and say this, I love her to death, but she's not worth $15 an hour. She certainly wasn't last summer with her first job. I love her, but listen, the way to grow wages is to grow the economy and not to artificially imposed this, if not, they're going to take that google robot.
BILLIONAIRE OPRAH SPARKS DEBATE AS SHE ANSWERS QUESTION ABOUT POSSIBLE WHITE HOUSE RUN
Rachel Campos-Duffy: Listen my husband doesn't have the billions, but he was the reality TV caucus of one until Donald Trump joined his caucus after this election. I think that, you know, television brings a lot of skills and communication is so important in politics, we see how important it is for Donald Trump. I think that Oprah Winfrey would be formidable in that department and don't forget, Donald Trump brings other skills along with TV skills, negotiating skills he's bringing to the table is incredible. It's an outsider; we need more outsiders joining politics.
Juan Williams: It would be interesting. Mark Cuban if we're saying someone who is in the business community, Mark Cuban has done very well in business, not only a very successful NBA team, but made money outside of sports and did well. My point to you is, you know, just makes my heart want to cry to think that we're dumbing down politics in the county. Oprah Winfrey said herself she knows nothing about politics or legislation. Oprah Winfrey is a tremendous TV talent does that mean you want her as president?
Mercedes Schlapp: I personally have my Eric Bolling sign for president in 2024, but look, I value the fact that President Trump is coming from the outside with the business experience. The fact that he is one who has dealt with construction workers, everyday Americans, someone who built a business and I think it's incredibly valuable. I encourage it. Career politics, it gets old and stale and you need fresh energy.