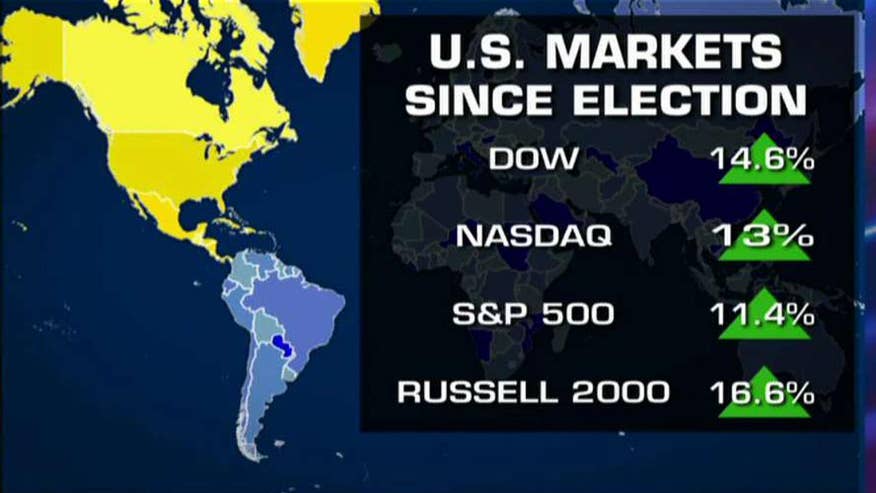 DISCLAIMER: THE FOLLOWING "Cost of Freedom Recap" CONTAINS STRONG OPINIONS WHICH ARE NOT A REFLECTION OF THE OPINIONS OF FOX NEWS AND SHOULD NOT BE RELIED UPON AS INVESTMENT ADVICE WHEN MAKING PERSONAL INVESTMENT DECISIONS. IT IS FOX NEWS' POLICY THAT CONTRIBUTORS DISCLOSE POSITIONS THEY HOLD IN STOCKS THEY DISCUSS, THOUGH POSITIONS MAY CHANGE. READERS OF "Cost of Freedom Recap" MUST TAKE RESPONSIBILITY FOR THEIR OWN INVESTMENT DECISIONS.
Dow Tops 21K This Week Amid Positive Signs for Jobs; Fed Signals March Rate Hike
Janet Yellen and the Fed Reserve looking to raise interest rates; how will this impact the economy?
Jonas Max Ferris: There's a lot of risk in raising the rates. We do not know exactly when we are going to get the tax cuts or other cuts that are going to offset the drag that raising the rates will have on the economy. If rates go too high, then you get other problems like the interest on the debt becomes much more expensive. That will be a big budget buster.
Gary B. Smith: The market cannot go up forever. The Fed has been incredibly inept at predicting how the economy will be. Interest rates at best follow the economy. I don't think it is going to have any effect on the average American.
John Layfield: Even if the Fed goes to its target rate by 2018, the rates are still historically low. The markets are up on the perception of a business friendly administration on tax cuts and regulation reform. If you have a rising rate environment that generally hurts the stock market, the market cannot go up forever. I think we could be in for a rough patch.
Lee Carter: A lot of people are expecting these rates so I don't believe they will have a huge impact on the market. I'll tell what will have a huge impact on the market: Come August and there still isn't tax reform and tax cuts. People will be mad. This is expected. They'll like to save more with better interest rates.
Nomiki Konst: This is all dependent on the investment and infrastructure on bringing back American jobs that Donald Trump has proposed. If that happens, then it will be good for the middle class. If it doesn't happen, it will only benefit Wall Street.
GOP Under Fire for Keeping ObamaCare Replacement Draft Under Wraps
The push to repeal and replace ObamaCare is in full swing. Just one problem: No one has seen the plan! Democrats (and Senator Rand Paul) now slamming the GOP. Sound familiar? The GOP accused Democrats of doing the same thing while drafting in 2009.
Jonas Max Ferris: They don't have a bill because they didn't think they would win. It's as simple as that. We don't want to see how this bill comes about but I will be interested to see how it replaces ObamaCare.
Gary B. Smith: This is probably why congressional approval ratings are so low. The GOP has had eight years to get together a bill. Government should not be in the health care business. Health care should be dependent on the free market in much the same way people can buy car insurance. But the fact that the GOP hasn't had a plan is making them look really silly.
John Layfield: I agree with Gary B. I'm not sure it makes them look hypocritical; they just look awful. These guys are horrible. They're politicians and are being capricious to the public opinion of any given day. This is why people don't like them.
Lee Carter: The bottom line is this: They don't have a bill yet. We don't need to see how the sausage is made but we do need to see the sausage before its put up to a vote. The whole thing is a little bit premature.
Nomiki Konst: I was and continue to be an advocate of single payer health care. This is about allocating your resources well, not spending 54 billion on a not needed defense budget increase. Republicans do not agree with each other so I will be interested to see what they come up with.
New Look at Potential Impact on Taxpayers as President Trump Promotes School Choice, Vouchers
President Trump visiting Florida and renewing his push this week for a school voucher program.
Jonas Max Ferris: Isn't this what happened to college tuition and why it's growing exponentially? If you subsidize it, you are going to create demand for it with not your money, it's going to boost the tuition for private schools. Costs just get higher.
Gary B. Smith: It's really a case of free market versus government sponsored education. The government just spent seven billion dollars on its school improvement mandate and the results were very troubling. Vouchers and charter schools work, period.
John Layfield: Spending on schools have soared over the last twenty years. Our worldwide ranking has plummeted. These kids that are in inner cities do not have a future because they are stuck at these failing schools.
Lee Carter: Everyone resonated with Donald Trump's line in his Tuesday speech when he said that education is the civil rights issue of our day.
Nomiki Konst: The problem here is the funding at the state and local level. The failing schools come from those states that pay less into their education budgets. If you increase spending, then results will get better.
Stock Picks
Gary B. Smith: HCA doubles in 5 years!
John Layfield: USB up 20 percent in 1 year
Jonas Max Ferris: IBM up 15 percent in 1 year