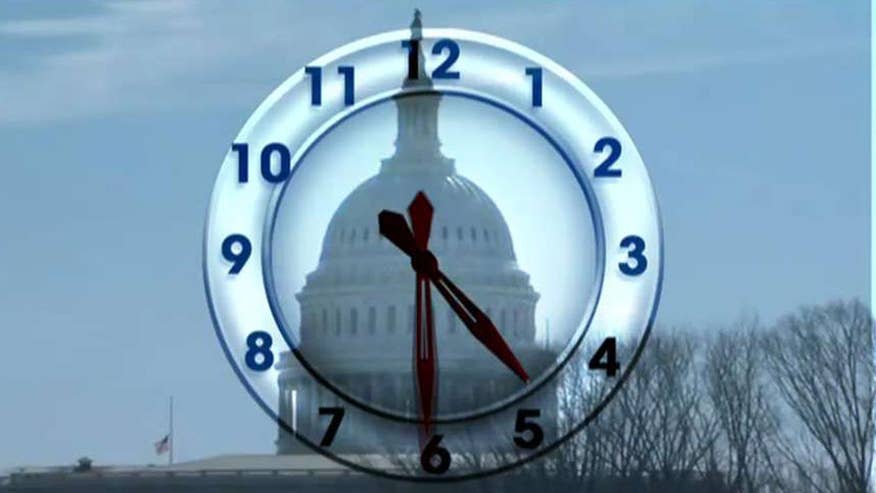 DISCLAIMER: THE FOLLOWING "Cost of Freedom Recap" CONTAINS STRONG OPINIONS WHICH ARE NOT A REFLECTION OF THE OPINIONS OF FOX NEWS AND SHOULD NOT BE RELIED UPON AS INVESTMENT ADVICE WHEN MAKING PERSONAL INVESTMENT DECISIONS. IT IS FOX NEWS' POLICY THAT CONTRIBUTORS DISCLOSE POSITIONS THEY HOLD IN STOCKS THEY DISCUSS, THOUGH POSITIONS MAY CHANGE. READERS OF "Cost of Freedom Recap" MUST TAKE RESPONSIBILITY FOR THEIR OWN INVESTMENT DECISIONS.
Job Creators Pushing White House to Make Tax Cuts a Priority
Charles Payne: You pay less taxes, and that is the American dream for everyone. When you have Mnuchin tell Maria that Obamacare is first before tax reform, that is a little scary.
Charlie Gasparino: If tax reform is delayed until 2018, then the economy is not going to be an accurate reflection of the Dow 20,000. The stock market is predicated on the promise of tax cuts and tax reform.
Geri Willis: I'm worried that this won't get done. There are people who are so enamored with the border adjustment tax but for whatever reason, the Trump administration seems to have put this on the backburner for now.
Ben Stein: I'd like to question why we're having a tax cut discussion at all right now because we have a 20 trillion dollar debt. I don't understand because we're running huge deficits.
Adam Lashinsky: The irony here is that tax reform is one of the most politically popular things you can do but for whatever reason, the administration is not making it an urgent task, There is widespread support for this in the corporate community but not among the people that voted for Trump which is very interesting.
Growing Number of Cities, States Defying Federal Immigration Orders
Charles Payne: Some of these police forces are asking for clarity and they need to get that so that they can enforce these federal laws.
Charlie Gasparino: Let's be clear: the federal government does certain things. One of those is to protect our borders. Governor Malloy is in some respects acting like George Wallace did.
Geri Willis: I'm shocked that these governors think they can act on their own volition and they don't have to abide laws they don't agree with.
Ben Stein: This is a federal issue as laid out in the Constitution. These states are acting the same way southern states acted when President Lincoln came into office in 1861. They have started a second civil war. These people are law breakers and should be ashamed of themselves.
Adam Lashinsky: It's not clear if federal funds can be used in a punitive measure. President Bush and Obama both tried to fix the problem and I'm not sure Trump's actions are going to help at all.
Dakota Access Pipeline Protesters Set Fire to Camp as Deadline to Leave Passes
Charles Payne: We've seen it before with Occupy folks, and Women's marches, the trash they leave behind is pretty bad.
Charlie Gasparino: There is a new realm of protests that is of violence and bombing. This should not be protected under the Constitution.
Geri Willis: Look they created the environment where its trash and fires everywhere. They also injured two children.
Ben Stein: These guys are law breakers, vandals, thieves. The fires that they are starting are really toxic so it's ironic that these protestors are environmentalists.
Adam Lashinsky: It is protest and the rights of the First Amendment. We should err on the side of protesting and free speech.