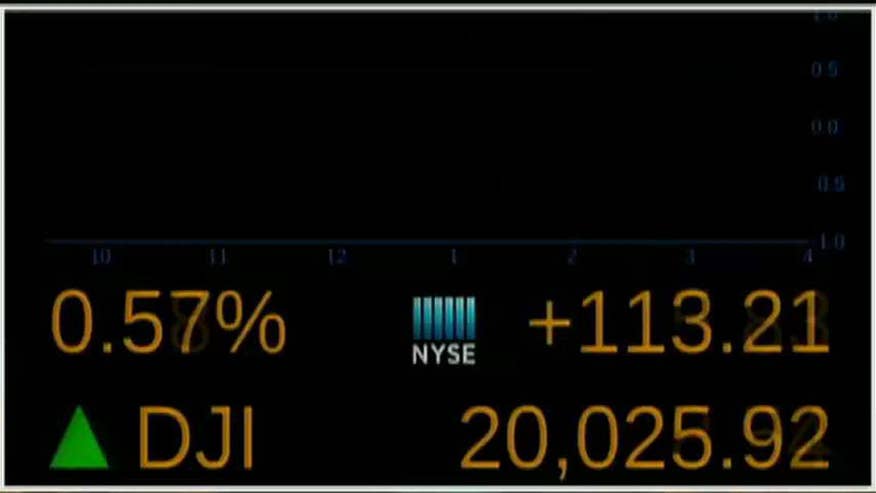 DISCLAIMER: THE FOLLOWING "Cost of Freedom Recap" CONTAINS STRONG OPINIONS WHICH ARE NOT A REFLECTION OF THE OPINIONS OF FOX NEWS AND SHOULD NOT BE RELIED UPON AS INVESTMENT ADVICE WHEN MAKING PERSONAL INVESTMENT DECISIONS. IT IS FOX NEWS' POLICY THAT CONTRIBUTORS DISCLOSE POSITIONS THEY HOLD IN STOCKS THEY DISCUSS, THOUGH POSITIONS MAY CHANGE. READERS OF "Cost of Freedom Recap" MUST TAKE RESPONSIBILITY FOR THEIR OWN INVESTMENT DECISIONS.
Dow Hits Milestone
The Dow hitting a historic 20,000 this week as President Trump continues to sign away on executive orders. Some in the mainstream media suggesting 20,000 isn't a big deal. In the past some of our own panelists have said the market is a good prediction of what is coming...
Jonas Max Ferris: If the stock market was an indicator of how the economy is doing, then you can say the Obama policies were pretty good given the stock markets rise. For all of the people who were negative the past eight years, there's another group of people that were happy with the Obama years. That's a wash. That's a zero sum game.
Gary B. Smith: In the first seven days of this presidency, Trump has accomplished more than any other president has in the first week since Eisenhower. He certainly has accomplished more than Obama has in his eight years. They wanted smaller government, less bureaucracy, fewer illegal immigrants, less taxes. He has been delivering. He's the hardest working president I have ever seen.
John Layfield: From November 2014 to November 2016, the market was flat. It has grown exponentially since Trump has been elected. The excitement has been palpable and you can see by the markets rise.
Morgan Ortagus: You see a lot of successful businessmen who Trump has appointed to cabinet posts. People believe that the fewer regulations and friendlier economic policies will lead to a more robust economic growth.
Jessica Tarlov: Everyone should be excited when the economy is doing well. Then we can talk about all the success the economy had under Barack Obama. Think back just a few months into the Obama presidency, the Dow was at 6400. He brought us within 1700 points of 20,000 so Donald Trump could have this victory lap. Let's talk about seventy-five months of private sector job growth and an unemployment rate under five percent.
President Trump Signs Executive Order on 'Extreme Vetting' of Refugees
Jonas Max Ferris: It's a feel good political story to let everyone in. We should be giving that money to people there rather than have them come over here.
Gary B. Smith: Donald Trump is temporarily closing the doors on the most dangerous countries. I applaud him for doing that and making sure Americans are safe.
John Layfield: We can't vet these people. It's about people you can't vet in a war zone. We'll be better spending ten billion dollars in refugee camps rather than bringing them into our country.
Morgan Ortagus: Why are there refugees in the first place? During the Arab Spring, we did nothing. The Obama administration did nothing to help them in the first place. Trump wants to prioritize Christians ahead of others where they have systematically been wiped out by these radical Islamic countries.
Jessica Tarlov: Why is it that Madeline Albright, David Petraeus, Michael Chertoff, Henry Kissinger all think that this is a bad idea; that it will be used to rally extremists even more. This country has a long history of taking in refugees. We're all immigrants from somewhere.
New Look at Ways to Pay for Border Wall
Mexico's President Nieto calling off his trip to the White House over a dustup over who will pay for the border wall. This comes after President Trump signed an order to begin construction on the wall this week, maintains Mexico will pay for the wall. Some now arguing he could force Mexico to pay for the wall through a number of ways – through remittances, fees on visas, etc.
Jonas Max Ferris: Mexico can pay for it by America adding a 10 percent federal sales tax kind of like a VAT tax where Americans get a tax break from it but those here illegally have to pay it.
Gary B. Smith: We need to raise tolls when they come through on the bridges. Trump is a great businessman and he will get a great deal to make Mexico pay.
John Layfield: I don't think tariffs are the answer, but the wall is important so we just need to pay for it.
Morgan Ortagus: Tariffs are a non-starter. What can you do? Look to remittances to potentially add taxes or potentially add fees for those Mexicans who need to purchase visas. As a free market conservative, I'm not in favor of tariffs.
Jessica Tarlov: Mexico should not pay and we shouldn't pay. The majority of Americans favor a pathway to legal status for those here illegally. Mexico serves as a buffer for our country for Central and South American countries so it's a good thing to stop pissing them off.
Stock Picks
Gary B. Smith: (CAT) gains 30 percent in 2017
John Layfield: (CVS) returns 20 percent in a year
Jonas Max Ferris: (BLK) gains 15 percent in a year