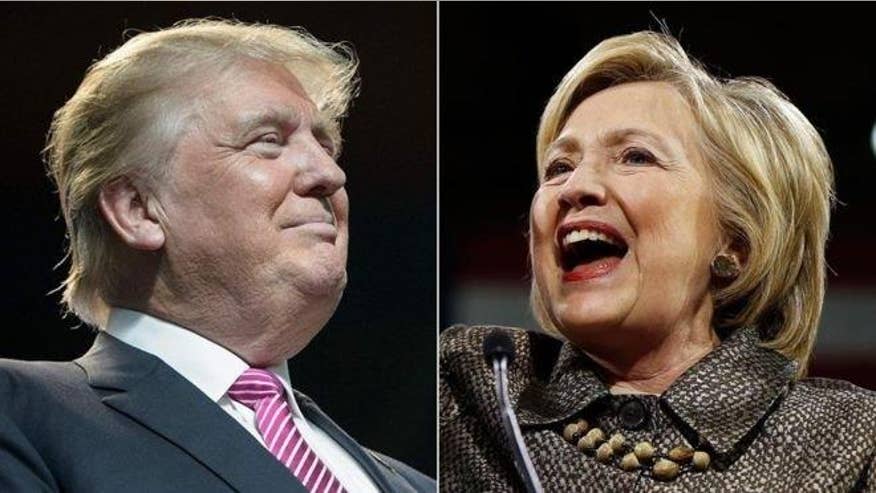 DISCLAIMER: THE FOLLOWING "Cost of Freedom Recap" CONTAINS STRONG OPINIONS WHICH ARE NOT A REFLECTION OF THE OPINIONS OF FOX NEWS AND SHOULD NOT BE RELIED UPON AS INVESTMENT ADVICE WHEN MAKING PERSONAL INVESTMENT DECISIONS. IT IS FOX NEWS' POLICY THAT CONTRIBUTORS DISCLOSE POSITIONS THEY HOLD IN STOCKS THEY DISCUSS, THOUGH POSITIONS MAY CHANGE. READERS OF "Cost of Freedom Recap" MUST TAKE RESPONSIBILITY FOR THEIR OWN INVESTMENT DECISIONS.
TRUMP, CLINTON ECONOMIC PLANS IN FOCUS AS ELECTION CLOSES
Mercedes Schlapp: I think Trump has the right formula to move forward with a pro-growth tax cut in terms of simplifying the tax code, reducing the marginal tax rates. What's happening here, and you mentioned this, Eric, in the beginning, is the fact that for the American worker, it's very difficult for them to get ahead. This has to do a lot with policies that president Obama and Hillary Clinton support and have put in place, which is that of Obamacare, for instance, which as we know for small businesses in particular, it strangles these corporations from wanting to invest in their employees.
Julie Roginsky: Every respectful economist from the congressional budget office and many others think that's an incredibly unrealistic proposal. I would love him to say how he's going to do it, pie in the sky proposals are just that; they're pie in the sky proposals. He said he will repeal Obamacare. He's talked about replacing it. He's told us to stay tuned how he's going to do that. I would love details on that. I'm happy to hear Republicans are finally on the bandwagon for paid family leave, I would like to see it expanded to women's partners, a father who may be taking care of a child. These are nice baby steps but without specifics, all we hear from Donald trump is trust me, trust me.
Morgan Ortagus: If we're talking about bringing jobs back to the United States, we see people like Ford Motor Company going to Mexico because they're incentivized to do so because of the tax rate. Stopping all of the heinous regulations is going to bring corporations back to the U.S. we've been saying for months Trump should be talking about the issues. He is talking about the issues again. According to the latest Bloomberg poll, 51 percent of Americans trust him with the economy more than Hillary Clinton. So I think that it's smart that he's bringing back these issues and not talking about some of the silly things we heard a few months ago.
Julie Roginsky: It is a ton of new spending but she offsets it by talking about how she's going to pay for it which is a lot more than I would say for Trump's plan, in that sense it's more responsible. It's not a pie in the sky proposal, like were going to have magical growth which economists understand is not realistic.
Morgan Ortagus: After reading Hillary Clinton's plan, I've decided not to be a conservative anymore, because I'm going to get everything for free. So I have a student loan bill for my MBA. And so I think that I could stop paying my student loan bill and buy a pair of Louis Vuitton's every month. I'm going to get off the mantra of being personally and fiscally responsible for our budget because everything is going to be free. I hope I'll get a pony too.
Mercedes Schlapp: I have to say, I think that there's always that big concern with bigger government. And the federal government will be the solution to the problems for American workers. So it doesn't really stir economic growth. And that is the bigger question. And I think when you're adding additional taxes to both the business side and the individual side; I don't see where that encourages economic investment in America. The other part of the plan also, based on one of the analyses, basically said it would reduce the GDP by 1 percent. It actually reduces the size of the American economy. Those are the red flags with the Hillary Clinton plan.
NEW LOOK AT THE HEALTH OF HILLARY CLINTON AND DONALD TRUMP AS PRESIDENTIAL ELECTION NEARS
Morgan Ortagus: Absolutely we should have their health records. Both of them are 70-years-old, or Clinton is almost 70-years-old. They're not going to be the youngest and healthiest presidents we've ever had. George bush was in excellent shape. Barack Obama was in excellent shape. I think they've released as much as they're going to. I think the American people feel comfortable with Trump because he's active, and Clinton's campaign have to be concerned about Hillary Clinton's fainting for the whole world to see.
Mercedes Schlapp: Every time she goes on TV, I'm looking at every single step she's taking. You're worried if she's going to fall over or not. I think it is a legitimate concern, the health issue. It's important for both campaigns to be transparent. You know, John McCain set the standard back in 2008 when he released thousands of pages of his medical records. Just put it out on the table. What do they have to hide?
Julie Roginsky: I agree with everybody on this panel that both should release their health records and their taxes. And frankly, I think this has to be a requirement if you're going to run for president, because you are the person that will be leading the county.