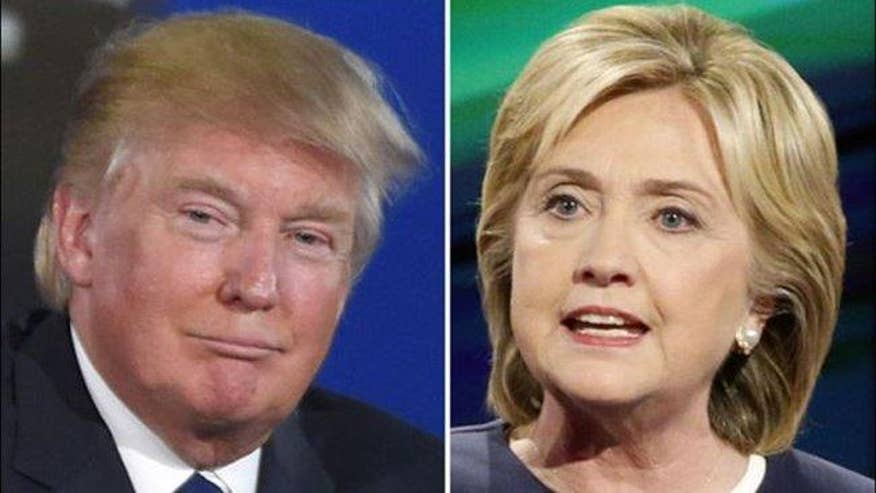 DISCLAIMER: THE FOLLOWING "Cost of Freedom Recap" CONTAINS STRONG OPINIONS WHICH ARE NOT A REFLECTION OF THE OPINIONS OF FOX NEWS AND SHOULD NOT BE RELIED UPON AS INVESTMENT ADVICE WHEN MAKING PERSONAL INVESTMENT DECISIONS. IT IS FOX NEWS' POLICY THAT CONTRIBUTORS DISCLOSE POSITIONS THEY HOLD IN STOCKS THEY DISCUSS, THOUGH POSITIONS MAY CHANGE. READERS OF "Cost of Freedom Recap" MUST TAKE RESPONSIBILITY FOR THEIR OWN INVESTMENT DECISIONS.
PRESIDENT OBAMA'S COMMENTS FUELING DEBATE OVER MEDIA COVERAGE OF ELECTION
Steve Forbes: It's exactly the opposite, David, and he's the prime example of it. The lame stream media hardly referred to it earlier, Colin Powell two weeks ago in public said Hillary Clinton was a liar, diplomatically, hardly covered by the lame stream media. Her health issue out there for months but only until she collapsed after leaving the 9/11 remembrance ceremonies earlier did it final become a mainstream media issue. They go easy on the democrats, hard on the Republicans; it's been that way for decades.
Bruce Japsen: Let's take this week, the president when he spoke in Philadelphia with his Reagan-esque like approval ratings. The liberal New York Times had five stories on Hillary Clinton's health issue, and she's examined by an internist as opposed to a person who prescribes heartburn medication. I mean, this goes both ways. I think the president wants more serious -- now that we know that he was born here, i think he's due some serious coverage of this campaign.
Elizabeth MacDonald: The one about the fast fingers, certainly that one. The ones quoting Colin Powell saying trump is a national disgrace. President Obama who is again manipulating, or trying to, the beltway media, when he's the worst in attacking the media, not fulfilling FOIA, Freedom of Information Act requests, or just basically threatening to prosecute reporters as well.
Sabrina Schaeffer: It's a little bit of a mixed bag from where I'm sitting, David. It always makes me laugh when someone on the left screams about media bias, cry me a river, this is hardly a huge problem for them. I do think the media went a little easy on Trump; they've been tougher since the campaign started in earnest. It's been good fodder on both sides.
John Tamny: President Obama's remarks are absurd. The media have been very vicious with Trump, I would argue with good reason a lot of the time. I just wish they would be equal on both sides. We had a redistributionist surge from Clinton and Sanders during the primaries, where is the coverage?
Mike Ozanian: I don't think it does, David. Years ago it would have, we wouldn't have seen Hillary Clinton on videos sort of wobbling around and all her coughing fits and apparent seizures, we wouldn't have known about it. We do now because it goes viral soon after it does. In this day and age, because of people's mistrust of media, people get a lot of their stuff from online sources that they do trust.
DHS EYEING FEDERAL ELECTION SYSTEM AFTER RECENT CYBER ATTACKS
Mike Ozanian: Terrible, David, it would be a complete power grab. When the secretary of state of Louisiana asked the head of DHS several weeks ago whether or not there was any credible evidence at all of a potential cyberattack, the head of dhs said no. Why would they do this? Because they want to take over local elections so they can do the same thing with elections that they had the IRS do by going after conservative groups.
Bruce Japsen: Not really. I mean, i think we've had all these, you know, hacking incidents almost daily of major political figures and so forth. But i think them being available and monitoring the system, it is a federal election, after all, it is a good thing. If we can't assure a safe election, it makes us seem like a third world country.
Steve Forbes: In terms of integrity of elections, how about voter ID, which Democrats in Washington vociferously fight against. How about cleaning the voting rolls of dead voters? Talk about immortality, you can vote from the grave forever. Mike is right, this is simply a power grab, ultimately a power grab. You know how honest they'll be just as the IRS was honest with conservative groups.
Elizabeth MacDonald: They just want to be a tax collector. They don't want the TSA or postal service type entity governing elections because of incompetence. It's an unconstitutional overreach. States are already going to the FBI and to Homeland Security for hem help. The director of the NSA says he likes that it's disparate, he likes that it's not connected because that's tougher to hack.
John Tamny: No, and i don't get the connection. I don't see why we would empower the DHS to somehow make our elections unsafe. We're mistaking a symptom for the real problem. Government has grown too large, hence people want to hack elections. If they had kept government within constitutional bounds, they wouldn't want it so much. It's a head fake.
Sabrina Schaeffer: 19 percent is the percent of Americans that trust government today. I don't think that most voters would be inclined to put any more power and control in government when it comes to voting rights. I'm with John; let's rein in the progressive state.
INNOVATIONS VS SAFETY IN FOCUS AS SELF-DRIVING UBER CARS HIT THE ROAD IN PITTSBURGH PA
John Tamny: Absolutely. And implicit in these safety experts' suggestion is that human and government drivers somehow don't make life destroying errors, but they constantly do. The idea of driverless cars is to remove the human element from driving. Will there be deaths? Yes. But over time driving-related deaths will shrink.
Bruce Japsen: The guinea pig quote brings to mind, there should be like an FDA approval process for these cars. People should still ride in them if they want to be a part of an experiment. Uber should be charged a fee like drug companies when drugs go through regulatory review.
Steve Forbes: 120 years ago, if you had this regulatory structure, the automobile would never have been approved, something that's going to kill and injure hundreds of thousands of people a year. I would give a warning to Uber, Pennsylvania is a paradise for ambulance chasing trial lawyers. So they have a market value of $68 billion. They better be prepared for deep pockets, these guys are going to come after them.
Elizabeth MacDonald: Keep the wheel in there and keep the brake pedal in there. Some of cars don't have it.
Sabrina Schaeffer: I spent the first nine months of my life there, I'm proud. The government cannot legislate away, they keep trying to do so, it's not going to work. Uber has a market interest in this experiment succeeding; you don't want to kill people any more than we want them to. I'm putting my money with them.
Mike Ozanian : David, some of the taxi rides I've taken in New York would put amusement parks to shame. I say the wright brothers and henry ford are rolling over in their graves over this proposed legislation. Let it roll.
STOCK PICKS
Elizabeth Mac Donald: (PRDGX)
Mike Ozanian: (SEP )