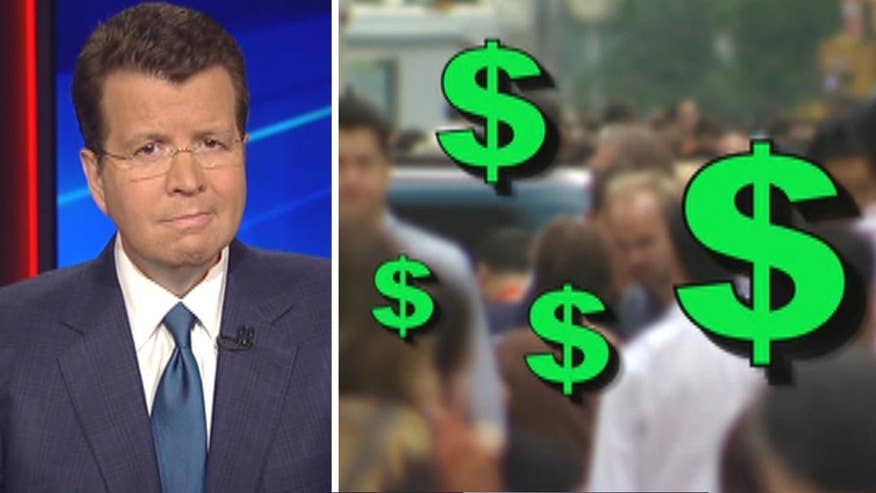 More government, less government.
Who said liberals really aren't generous?
They are!
Unfortunately – as I've been raising with a number of guests this week - it's just with other people's money.
And that's what bugs me about this whole class warfare argument. This notion that the rich will finally pay their fair share.
That they've essentially been getting away with murder and it's got to end.
But I want you to think about what they're saying.
I don't care if you're left or right, Democrat or Republican.
That there's no limit to government spending. Nor should there be, so spend more.
Just don't charge "them" more, or their friends more, or those who are demanding all these services and benefits more.
Charge someone else. Charge the rich. It's only fair.
But what is fair?
And what is a fair share?
When the president raised the top rate back up to 39.6 percent, he argued at the time it was only fair. And they were finally paying their fair share.
Until he had to pay for the healthcare law. So he charged the very same rich a percentage points more in taxes to bring it closer to 44 percent. And then that was fair.
And then started limiting their deductions to squeeze still more taxes out of them. And then that was deemed finally fair.
Then talk even now of a trading tax on their investments. Because then that would be fair.
More talk still of a series of luxury taxes to zap 'em where it hurts, when they buy their goodies, because that would be fair.
Do you see where I'm going?
It is fair to say I'm confused.
Then again, not too long ago, doctors were ripping out my chest.
So what is so unusual about Washington clawing for our wallets? It's kind of the same, to me.
I don't know. All I do know is that it is fair to say that the definition of fair keeps changing, as does the fair number of folks increasingly paying more than a fair amount of taxes.
At first, it used to be millionaires and billionaires.
Then, to get more money they needed, high hundred-thousandaires.
Then mid-hundred-thousandaires.
Then maybe not just hundred-thousandaires, at all
And all because the folks pushing the spending realized taxing just the super-rich doesn't come close to keeping up with all that super spending.
At least they're getting better at math.
They realize their numbers don't add up, so they have to get more to pay up.
And all because they're convinced that what government does will be important always, and there will always be a need for bigger government.
It's like they forget the very beast that they're creating.
And the financial Frankenstein they're unleashing.
In love with their creation, but not exactly in love when the bill comes to keep him alive.
That's what happens when people recommend we need more spending. They think it will never be on their dime until they run out of your dimes.
Then again, it's all politics until you realize it's all this.
Goodnight.
Neil Cavuto serves as senior vice president, anchor and managing editor for both FOX News Channel (FNC) and FOX Business Network (FBN). He is anchor of FNC's Your World with Cavuto - the number one rated cable news program for the 4 p.m. timeslot - as well as the FNC Saturday show Cavuto on Business. He also hosts Cavuto on FBN weeknights at 8 p.m. In addition to anchoring daily programs and breaking news specials on FNC and FBN, Cavuto oversees business news content for both networks and FNC's weekend business shows, including Bulls & Bears, Forbes on Fox, and Cashin' In. Click here for more on Neil Cavuto.