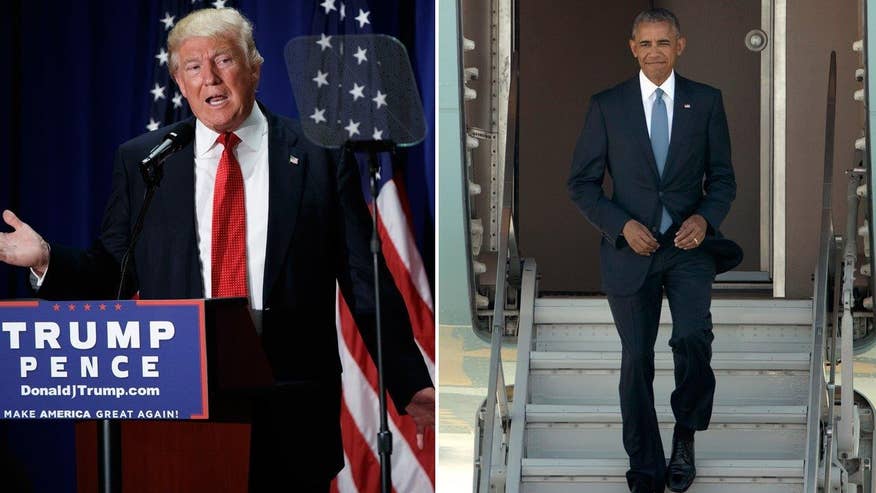 DISCLAIMER: THE FOLLOWING "Cost of Freedom Recap" CONTAINS STRONG OPINIONS WHICH ARE NOT A REFLECTION OF THE OPINIONS OF FOX NEWS AND SHOULD NOT BE RELIED UPON AS INVESTMENT ADVICE WHEN MAKING PERSONAL INVESTMENT DECISIONS. IT IS FOX NEWS' POLICY THAT CONTRIBUTORS DISCLOSE POSITIONS THEY HOLD IN STOCKS THEY DISCUSS, THOUGH POSITIONS MAY CHANGE. READERS OF "Cost of Freedom Recap" MUST TAKE RESPONSIBILITY FOR THEIR OWN INVESTMENT DECISIONS.
DONALD TRUMP: CHINA, OTHER COUNTRIES SNUBBING PRESIDENT OBAMA IS A SIGN OF DISRESPECT
Steve Forbes: Trump is right. What the Chinese did is inexcusable. It was a slap in the face. One Chinese official chuckled and said he had to leave the rear-end of the plane. So Trump should have done what Reagan did, if something is not right, walk away. But it shows the world is becoming more dangerous when the Chinese treat that president like that.
Bruce Japsen: Well, first of all, the soft diplomacy, I beg to differ on that with Trump snuggling up to Putin this week and doing interviews on Russian TV. So I don't know what the hard diplomacy is there, but I would say President Obama is part of a strategy in Asia. He was the first president to go to Laos, I think, ever. And he's been over there in the whole region. And I think that the Chinese are worried about that. I don't think that they are snubbing us so much is that they are worried about the relationships he's building.
Mike Ozanian: Well, this has been Obama's approach, David, throughout his presidency. I mean, even for things like the Olympics when he flew to Europe to try to get the Olympics to Chicago, they laughed him back to Chicago. You know, it's okay to speak softly, but as Teddy Roosevelt said, you have to carry a big stick. Unfortunately, President Obama has a tiny stick.
Rich Karlgaard : You know, when I first heard trump make those remarks, I thought it was a hot-headed overreaction. But I have to say I've come around to the point of view, particularly with the subsequent comments of the Chinese, the Trump symbolism and the U.S. president has to show strength. If it's real or symbolic. And Obama has been pushed around the world map like you've never seen, even the president of the Philippines within the last week called him a son of a whore.
Elizabeth MacDonald: That's right, David. It happened in 1986. It was the dramatic and spontaneous moment when Reagan stood up and walked out. It was over eliminating Soviet and nuclear arsenals. Gorbachev's circles, it created a new trust. They had a new understanding. And Gorbachev spoke differently about Ronald Reagan. It changed dramatically the events of the Cold War.
John Tamny: Well, I'm not too worried about it. The reality is China or the people's government may not treat our people well, but the company lines up to serve our needs on a daily basis. We are number one, as for how our politicians are treated, I like this. I think this is healthy. We need to stop holding them in such high regard.
TRUMP, CLINTON SPAR OVER EDUCATION PLANS AS STUDENTS HEAD BACK TO SCHOOOL
Sabrina Schaeffer: Well, Donald trump has it right. This is always a good thing. We have seen Trump talk about charter schools in states like Michigan, which is seeing a savings of 20 percent. 20 percent view fewer kids per teacher, which is a good thing. This will create a marketplace that is a much better option.
Bruce Japsen: Well, spending on education is generally a good thing. But my issue with trump and the charter schools is, charter schools are such a mixed bag. As a matter of fact, the charter school he had as a little campaign event in Cleveland, they were failing on their reading and their math scores. So in some states they do well, and some states they do well. And I always question the Breitbart managing of the photo op.
Steve Forbes: Yes, now you can understand why the kids that go to college, more than half don't graduate even after six years. They're not getting the education. This is all about the unions, which treat students the way VA treats veterans. The Veterans Administration hospitals treat veterans. It's a scandal. So the more you can get out to parents, the more control you can give with the parents out of the unions the better.
John Tamny: They don't like change but I'm also one of the people who thinks that both presidential candidates vastly overstate the role of education in our economy. I don't think it's terribly relevant, but my main thing is running for president you should say one thing. I am running for president. Education is a local matter. I have nothing to say. I wish someone would say that.
Elizabeth MacDonald: Yes, it goes for private or parochial schools. I have a niece at an academy here in New York City and she has given me information about it. This is really a civil rights issue. Black families are lining up to be chosen via lottery for their kid to get into charter schools. 80 percent of the families live below the poverty line in many localities. Stanford University looked at this too, David. They get less funding for student. But watch this. The teachers, this is why it's a teacher issue, too, they can double their salaries with pensions and bonuses. That's why the teachers union is against this. Because the charter schools give these teachers incentives. They can double their salaries working there.
Rich Karlgaard: Yeah. For those two reasons, it should be supported. Look, Hillary Clinton is against charter schools. Look where Chelsea Clinton went to school, Sidwell Friends, the elite institution in the Washington, D.C. Area. You don't have to drive more than five miles to come upon some of the more blighted areas of Washington, D.C., Where the public schools are a wreck. And the parents are desperate for charter schools.
LAWMAKERS TRYING TO BLOCK ADMIN FROM HANDING OVER US OVERSIGHT OF THE INTERNET TO INTERNATIONAL GROUP
Mike Ozanian : Absolutely. The United States should not give up total say in the internet. This is even something that France and Russia have been against.
Bruce Japsen: Well, one of the opponents of this is Ted Cruz. And I usually will I don't agree with Ted Cruz and don't in this instance, although I did when he said to vote for your conscious in November. But I would say that it just doesn't seem to be that big of a deal for congress. It's so alarmist on his part. 22 days before it's happening, i mean, we haven't heard about this.
Elizabeth MacDonald : Mike is right. You have to stop it because Russia, China, Saudi Arabia could sensor it. What would happen to Charlie Hebdo? They would be criticized for sharia law. Wasn't the U.N. caught up in a bribery scandal? The U.N. could oversee the corruption.
Bruce Japsen: What I want to know is what kind of financial return is the taxpayer get on this?
Rich Karlgaard : Well, tactically he doesn't have time to win over Silicon Valley, but he would be on the right side of this issue. It's not just censorship. In Europe, they want to have this right to forget that you can wipe out your past, if you have a criminal record, child molesters, people like that could wipe out their past.
Sabrina Schaeffer: Well, yeah, on top of it all, i thought this was a headline out of a science fiction movie that seems strange to me. But no citizen voting body has control over the United Nations or any international organization like that. So we would almost certainly see it come in odds with our own U.S. Constitution, which I would be concerned.
Steve Forbes: That's why he wants this to be with the bureaucrats on top trying to control it, because you find more and more uses for it. And this combined with what the Federal Communications Commission is doing with regulation here at home that is going to crush the internet. So leave the internet alone, it will prosper. We'll all prosper.
STOCK PICKS
Elizabeth Mac Donald: (ELST)
Mike Ozanian: (AMZN)