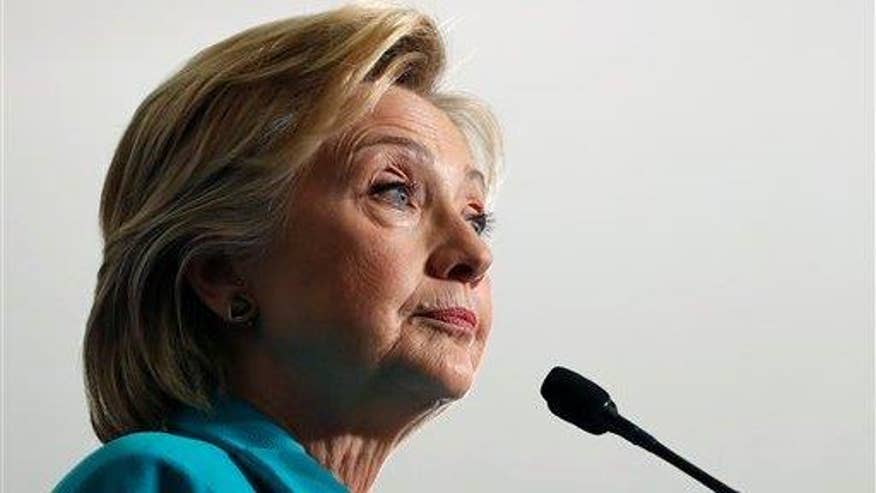 DISCLAIMER: THE FOLLOWING "Cost of Freedom Recap" CONTAINS STRONG OPINIONS WHICH ARE NOT A REFLECTION OF THE OPINIONS OF FOX NEWS AND SHOULD NOT BE RELIED UPON AS INVESTMENT ADVICE WHEN MAKING PERSONAL INVESTMENT DECISIONS. IT IS FOX NEWS' POLICY THAT CONTRIBUTORS DISCLOSE POSITIONS THEY HOLD IN STOCKS THEY DISCUSS, THOUGH POSITIONS MAY CHANGE. READERS OF "Cost of Freedom Recap" MUST TAKE RESPONSIBILITY FOR THEIR OWN INVESTMENT DECISIONS.
NEWLY RELEASED CLINTON EMAILS SPARKING DEBATE OVER POTENTIAL IMPACT ON ELECTION; HILLARY CLINTON JOKES ABOUT EMAILS ON 'JIMMY KIMMEL LIVE'
Katie Pavlich: One thing I think we have to laugh about, actually, is that an episode of "Teen Mom" and a rerun of "Friends" got more attention than Hillary Clinton's Kimmel appearance. He is probably regretting having her on the show. Of course she should be worried about it. A new poll is out, showing her untrustworthy numbers are at 69 percent. This is the one major thing that has been dogging Hillary Clinton for more than a year now, trying to get people to trust her. When she laughs about a very serious matter, laughs about the FBI finding 15,000 additional e-mails, I think more people are going to start paying attention to what Wiki Leeks is going to drop in October.
Mercedes Schlapp: Hillary Clinton made it very clear that she had handed over all of her emails, which was not the case. This can put her into legal trouble, as well. Going back to the laughing matter point, let's remember last august, Hillary Clinton was laughing about the fact, what do you mean, wiping the server with a cloth? Every time she brushes off the serious allegations, you have to wonder. They have to be nervous. They need to be concerned about this. At the end, it definitely does impact the fact that can Americans trust her with sensitive information?
David Mercer: It is amazing to hear the commentary thus far. Yet, the poll that Katie wants to forget about is the poll showing Hillary Clinton ten points above Donald Trump. Secondly, Katie even neglects to mention that Donald Trump's untrustworthiness is way higher than anything we've seen with Hillary Clinton.
Caitlin Huey-Burns: She shouldn't be laughing. She should handle it the way she did in a CNN interview later that week, when she reminded people that she apologized for having the server. She's trying to move on this week by deflecting to Donald Trump, trying to get the attention away from her and the e-mails and the Clinton foundation controversy and focus on Donald trump. That's what we'll be seeing from both campaigns the next two and a half months. We're not going to see each side address the issues that they're facing.
NEW DEBATE OVER DONALD TRUMP'S STANCE ON DEPORTING ILLEGAL IMMIGRANTS
Mercedes Schlapp: He's evolving. He's going from the tough rhetoric, still talking about building the wall, but also a realistic approach to immigration. Massive deportation of 11 million illegals in America, that is practically impossible to do. It's trying to find the balanced approach. I think he'll find that it will be tough to win over everybody. I think that the approach here has to be the fact that you do find that question, that big question, what do you do with the 11 million undocumented workers that are here in the U.S., How do you handle that?
Katie Pavlich: I think anyone who is surprised about Donald Trump changing his stance should have seen this coming from miles away. Let's not forget in 2012, Mitt Romney made his comments about self-deportation. Donald trump said that was mean spirited. Yes, he's changing his position to a more mainstream position. According to Pew research, 72 percent of Americans don't want people to be deported in mass, as suggested in the primary. Doesn't mean he shouldn't be held accountable for completely changing his stance on the issue, because he is.
Caitlin Huey-Burns: I don't think we can definitively say that Donald Trump has changed a position. I don't think we know where he is on this issue. Day by day, it seems to change one way or another.
By the end of the week, he was talking in interviews about sending people out and then having them come back in. So that involves deportation of some kind. He hasn't specified exactly what he's going to do.
David Mercer: He's had 30 years of evolution. From the time he hired undocumented workers to tear down the building where now the Trump tower stands, and keeping pay away from them, to the tune of hundreds of thousands of dollars, to now having a policy of a wall, to now being a little softer. Come on, what is the policy as has been mentioned or asked?
UNIVERSITY OF CHICAGO LETTER TO NEW STUDENTS ADDRESSES 'PC' CULTURE ON COLLEGE CAMPUSES
Caitlin Huey-Burns: I think people should always be exposed to lots of different views and perspectives and be able to express their own. I think this is a good idea.
David Mercer: I think it's safe to say safe spaces is a very good idea given the rise in cyber bullying, this should be this available to students. I'm all for it.
Mercedes Schlapp: David, you're the bully liberal. The intolerant left goes after those conservative speakers. We saw it in DePaul University when Ben Shapiro couldn't speak. Come on, It really has stemmed from the intolerant left, from the liberal academia. I think this is a bold and smart move by the University of Chicago.
Katie Pavlich: I am on college campuses all the time, speaking. You wouldn't imagine the things that are told to the students, to take self-care, because they might hear what I have to say and it might hurt them. This is a great idea. Students are going to be better off and more intellectually diverse and prepared for the real world as a result.