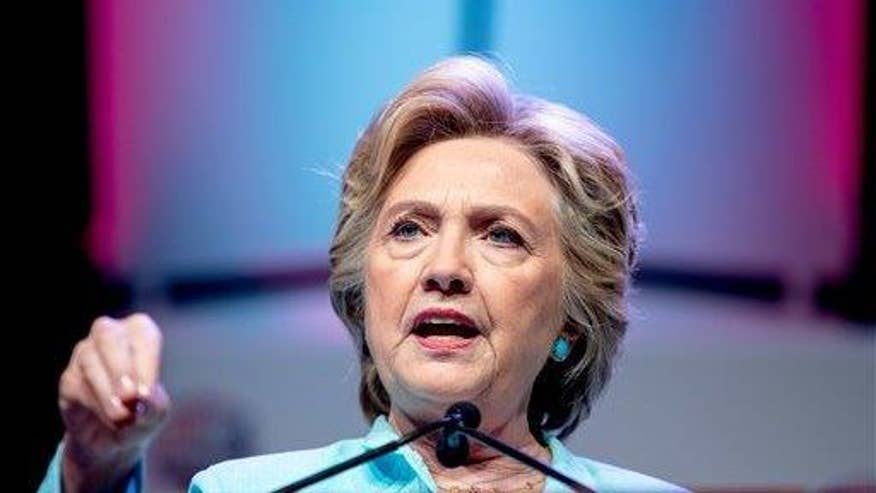 DISCLAIMER: THE FOLLOWING "Cost of Freedom Recap" CONTAINS STRONG OPINIONS WHICH ARE NOT A REFLECTION OF THE OPINIONS OF FOX NEWS AND SHOULD NOT BE RELIED UPON AS INVESTMENT ADVICE WHEN MAKING PERSONAL INVESTMENT DECISIONS. IT IS FOX NEWS' POLICY THAT CONTRIBUTORS DISCLOSE POSITIONS THEY HOLD IN STOCKS THEY DISCUSS, THOUGH POSITIONS MAY CHANGE. READERS OF "Cost of Freedom Recap" MUST TAKE RESPONSIBILITY FOR THEIR OWN INVESTMENT DECISIONS.
CLINTON REPEATS CLAIM ON FBI EMAIL PROBE THAT RECEIVED 4 'PINOCCHIOS' FROM WASHINGTON POST
Steve Forbes: The key thing is she did lie, she was called out, and The Washington Post gave her 4 nose of the Pinocchio's, which is the ultimate lie, the main stream media not just reporting the story once. It's the reputation, and while there going after Trump, yes it gives them a lot of material, but with her they do it once and then it disappears.
Bruce Jaspen: Hillary has admitted she made a mistake, she said she used a private server; the FBI director went hard at this. He went above and beyond the call, he had a press conference, and he outlined all this stuff. This stuff gets in the weeds of small paragraph that's had a small c on it sent back and forth.
John Tamny: Let's imagine a republican politician who had decades of struggles with the truth as Hillary Clinton has. This person with not be a national politician, there is no way this person would be running for president. So to deny the mainstream media has given her a pass is, I think, a bit of a myth. If they can't beat Hillary Clinton based on better policy ideas, they have bigger problems than a mainstream media that doesn't seem to hold democrats to the same standards as they do republicans.
Elizabeth Macdonald: When you drill down into it, the swing voters are saying there is frustration with Hillary Clinton. You go from James Comey saying we don't have evidence that she lied. But then that's swings somehow in Clinton's mind into proof that morphs into a statement that he is saying I told the truth.

Bill Baldwin: Why are we still so fixated on Clinton's mail server? What difference does it make? Both candidates are liars. One is a lunatic and the other one is in addition a crook. We should be talking about lunacy and crookedness.
SOCIALISM VS. CAPITALISM
John Tamny: Hopefully we're heading more in the direction of Ireland. When you think about Ireland, there is a novel "Angela's Ashes" which is what Ireland used to be, incredibly poor. When they made it into a movie, Ireland had grown so prosperous that they couldn't find bad neighborhoods in which to film it, and that's the point.
Bruce Jaspen: I think with the Brazil, I think it's a buy low and sell high opportunity here. I mean, it's a bad situation. There is no doubt about it. But I think you're seeing some glimmers of hope down there. You have two big real estate firms here; Tishman Speier and Blackstone are ready to make huge investments down in Brazil. It's a sad situation. I think they will eventually do it.
Elizabeth Macdonald: You have yet to hear Sean Penn or Bernie Sanders weigh in. Here's the thing, I've been getting video out of Venezuela. People are eating out of garbage bags. The entrepreneurial class has been smashed in Venezuela. What is going on with them is they have no choice but to move into the black market because of high taxes.
Bill Baldwin: The unofficial slogan of the Bernie Sanders campaign which has heavily influenced Hillary Clinton's party platform is let's making America more like Venezuela. Let's confiscate private wealth and give it to an insider like the president's daughter.
Steve Forbes: Ireland has been business friendly for 35 years. They've been aggressively going after businesses, especially with the common market and the European Union telling businesses here in America and elsewhere, we have a platform here.
WHITE HOUSE DIRECTS GOVT AGENCIES TO CONSIDER IMPACT OF CLIMATE CHANGE ON FUTURE PROJECTS
Elizabeth Macdonald: When you look at what the government is asking, it could raise electricity prices for people out there. It looks like they're going to restrict natural gas. Look at the forecast of West Virginia. The people there are looking at possibly 30% increases by 2030.
Bill Baldwin: Well, I'm all in favor of environmental awkwardness. But I don't want to bury us in environmental impact statements. We have a simpler solution. Let's just have a carbon tax.
Steve Forbes: If they're serious about climate change, why wouldn't they go for natural gas or nuclear power? All they're doing is slowing the economy down, clogging the arteries, making businesses more impossible to get permission to invest which hurts future growth.
Bruce Jaspen: I think coal jobs are going away no matter what. With the rules, it's like an environmental impact study if you're not considering climate change as part of the environment and getting hundred year floods every five years, why you would then spend the taxpayer money to build a new bridge only to see it washed out a few years later?
John Tamny: If you want a clean environment, a clean environment is wholly infect of economic growth. That's why rich countries they have the time to care about the environment. So if that's the focus, free up the economy and then we'll have a clean environment.