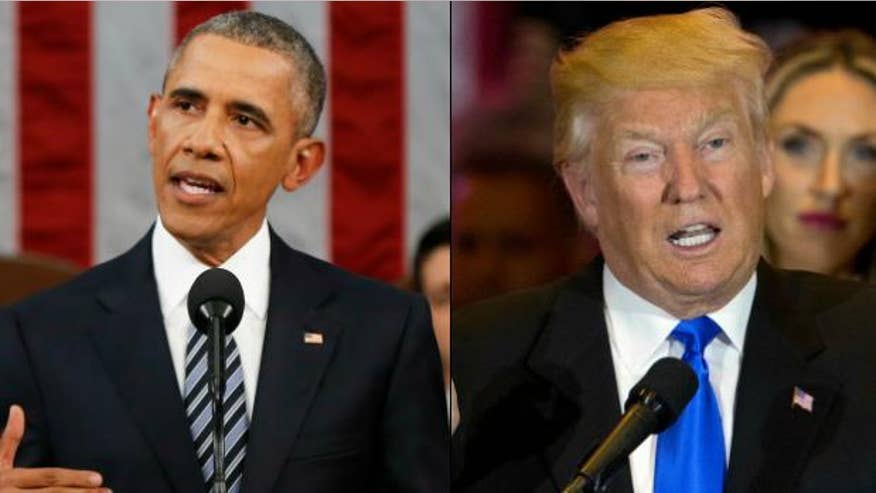 DISCLAIMER: THE FOLLOWING "Cost of Freedom Recap" CONTAINS STRONG OPINIONS WHICH ARE NOT A REFLECTION OF THE OPINIONS OF FOX NEWS AND SHOULD NOT BE RELIED UPON AS INVESTMENT ADVICE WHEN MAKING PERSONAL INVESTMENT DECISIONS. IT IS FOX NEWS' POLICY THAT CONTRIBUTORS DISCLOSE POSITIONS THEY HOLD IN STOCKS THEY DISCUSS, THOUGH POSITIONS MAY CHANGE. READERS OF "Cost of Freedom Recap" MUST TAKE RESPONSIBILITY FOR THEIR OWN INVESTMENT DECISIONS.
NEW DEBATE AS PRESIDENT OBAMA AND TRUMP CLASH OVER ILLEGAL IMMIGRATION, REFUGEE PLANS
Gina Loudon: If Trump was under criminal investigation and he met with someone on an airplane, the whole world would go crazy. The list goes on; it's absolutely a double standard, I heard even a lot of my democratic friends admit there is a double standard. For some reason conservatives are held to something entirely different than democrats are.
Juan Williams: The reality is that history and the media, and the American public knows Trump is the one who talks nasty about Mexicans, and illegal immigrants, and sometimes legal immigrants. He's the one that said we should bar Muslim immigrants, so there is a lot of history that causes attention to everything he has to say about the immigration issue, including his flip flop this past week and saying, "Maybe I'm not for baring Muslim immigrants."
Mercedes Schlapp: I think there is softness when it comes to immigration in regards to the plans of president Obama as well as Hillary Clinton. The concern is the fact of the vetting process; this is something we have talked about for a long time. Do they have the right documentation coming from the Syrian government, or the Syrian country, to know who is coming into our nation? These refugees are identified by the United Nations. It's not even Americans identifying these refugees.
Ric Grenell: That is where the rub is politically here for president Obama because he has deported, and he is trying to play both sides. I love this story on the political angle because Barack Obama cannot help himself but be candidate Obama, he is a terrible president, he doesn't like governing, he loves campaigning. Let's give him what he is owed here. He is a fantastic campaigner and he wants to run against Donald Trump. He is going to make this about an Obama third term and push Hillary aside.
DEMOCRATS ACCUSE GOP OF WASTING TAX PAYER DOLLARS ON BENGHAZI TERROR ATTACK PROBE
Ric Grenell: There's politics in Washington, this is where I think the media has to understand. The Democrats from the very beginning, from the moment Mitt Romney called out the fact there was not enough action in Benghazi and in Cairo and talking about this as in terrorism. From that moment on the White House and all their Democratic friends in the media jumped on Mitt Romney and the Republicans, saying we were turning Benghazi into a political issue.
Mercedes Schlapp: I think when you have a tragedy where you have lost four American lives; I think it's something we really need to understand what the issues were. What is very clear here is the lack of leadership; they were too quick to blame Benghazi on the video, and too slow to react. What do we need to do to ensure that our military is in place to react quickly and respond to these tragedies that are happening abroad?
Juan Williams: It's not just the $7 million hearing this is the 7th such hearing, and don't forget there was also a state department inquiry, and if Hillary Clinton were here she would say "Oh Eric Bolling I testified for 11 hours." So this is just agnosia for all I'm concerned.
Gina Loudon: It should be required that everyone should read the Benghazi report, and it should be that we don't spend more money on things like science denying global warming. How many lives has that saved? If we can learn something from the Benghazi's reports going forward then isn't it worth the Americans lives? By the way Americans did die in Benghazi and nobody died because of Global warming.
CLINTON PROMISING 'FREE Wi-Fi' IN TRAIN STATIONS, AIRPORTS & OTHER PUBLIC SPACES
Gina Loudon: I think it does stop with Hillary Clinton, we know that her plan is so far out of what we can afford in this country. She and Obama have already taken us to doubling our debt, that will not change, and it will be Obama's third term with Hillary, lots of spending and the bottom line is you can go to any corner coffee shop and get free internet.
Mercedes Schlapp: Does the free Wi-Fi come with a personal server? Or it doesn't? This is part of the problem; I think she is picking up the Bernie Sanders mantel, which is out of free. Free college, free Wi-Fi, It sounds great on paper. The millennials will probably love it but we need to be realistic of the fact that this is a part of our $275 billion net tax increase.
Juan Williams: It's not competing, basically what she is saying for young people and poor people, she is going to make sure they don't get left behind. That's good for the American Economy, that's good for American business and that's good for educated people that have access to technology and information.
Ric Grenell: The fact of the matter is public Wi-Fi systems are very insecure, we need to have technology people making these decisions not politicians. Taking digital technology advice from a woman who couldn't figure out a fax machine is the wrong way to go.