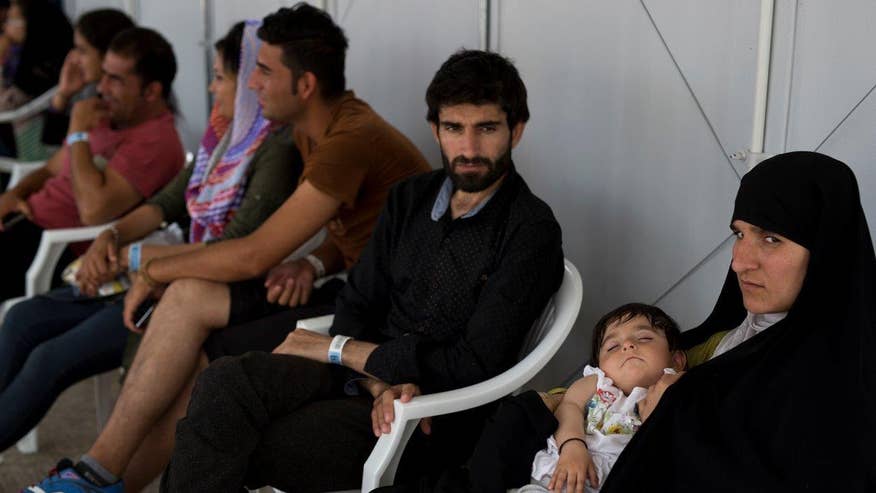 DISCLAIMER: THE FOLLOWING "Cost of Freedom Recap" CONTAINS STRONG OPINIONS WHICH ARE NOT A REFLECTION OF THE OPINIONS OF FOX NEWS AND SHOULD NOT BE RELIED UPON AS INVESTMENT ADVICE WHEN MAKING PERSONAL INVESTMENT DECISIONS. IT IS FOX NEWS' POLICY THAT CONTRIBUTORS DISCLOSE POSITIONS THEY HOLD IN STOCKS THEY DISCUSS, THOUGH POSITIONS MAY CHANGE. READERS OF "Cost of Freedom Recap" MUST TAKE RESPONSIBILITY FOR THEIR OWN INVESTMENT DECISIONS.
U.S. Speeding Up Efforts to Bring in More Syrian Refugees
Ben Stein: Well we can afford it in the sense we've got the money for it. But what is the point? We know a lot of attacks in this country have come from refuges by people influenced by refuges or people who have relatives by refuges or radicalized by refuges. What is the point of bringing them in? The logical consequence of these actions by Mr. Obama is to bring in more terror. Why does he want to do it?
Johnathan Hoenig: Immigration is in fact Charles but the government's role is to keep us safe. And you know there have been a million refugees and immigrants from Muslim majority countries just under the president's watch. I don't know if that is keeping us safe. But I co-think it is a bit of a red herring. As long as these militant Islamist ideas remain un-discredited whether it is nightclubs or holiday parties or refuges or immigrants or home grown terrorists, we remain at war and militant Islam remains a threat. Until the ideas are gone, we are going to be at war and we are going to be unsafe.
Kennedy: You end up harming the economic engine of this country when you have so much fomite about any sort of placement. Think about the millions in Syria who had their lives turned upside down and country torn apart. I this I we should be leaning on allies to take more of these people and also the government needs to be more transparent about the vetting process and we need to also acknowledge this is not our government that keeps us safe. So -- Americans have to be able to protect themselves if the government is not going to do it for them.
Charlie Gasparino: If you look at it from that very narrow context, yes. But we know that terrorism is a much wider context. And, you know, the San Bernardino shooters. There is a wider context where these folks are being radicalized by people like the Syrian refugees or people being embedded with them. We are at war with Islam right now. Or they are at war with us. They started it and they keep it going. To essentially accept people that come from that part of the world -- and this is not a Muslim ban. That is part of the world.
Adam Lashinsky: You are being imprecise Charlie and you are being imprecise and ben in a way that is really dangerous. Let me try to state it clearly. It is un-American to have a conversation about banning certain types of people from entering the country because of who they are.
Philadelphia Becomes First Major U.S. City to Impose a 'Soda Tax'
Johnathan Hoenig: Government services. AKA slush fund, Charles. This is not insignificant money. 1.5 Cents per ounce is about a buck eight per six pack. A can of coke now we're talking about 25 cents on soda and so frustrating is that it is for naught. Apple juice has more sugar than soda does. So what is the benefit here? And truly whereas next? A tax on salt? Carbs? Fat.
Kennedy: They know people are never going to give up sugary drinks and point is not social engineering. Because they act like altruism when really they need people to stay addicted to sugar in order to fund these universal pre-K programs. And ultimately hurt the poor. People say here you go. Perhaps you never asked for these in the first place. They have to keep people addicted to and buying the stuff in order for their programs to work. So if the program actually works and people stop drinking sugary drinks that mean kids are going to be dumb. You have created more problems than you solved.
Charlie Gasparino: Here is thing. Look at what happened with the cigarette taxes, right? They sold bonds off the cigarette settlements. And guess what happened. With the tax, people started cutting back on the cigarette usage. Guess what happened to the bonds that paid for the programs? The bonds went into default. Fiscally these are some of the dumbest things you can do. But I do like the carb tax. Who came one that?
Ben Stein: And the problem is reveals at these very fat inner city kids and it is not going to help. They will find something else. The tax as I understand is not just sugary ones but also indict diet sodas. Pure sneering down the noses of people drinking very expensive drinks from whole foods. This is pure contempt by the ruling class for the ordinary citizen.
Adam Lashinsky: My biggest beef with this is that it is a regressive tax. If we think these programs are worth funding, we should fund them through tax dollars. One quick point. If we did something with these taxes to help drive down cigarette smoking that was a good thing.
New Questions for US Economy as UK Weighs Potential Exit From EU
Kennedy: I think so. Yeah, little bit in the short term, but I think we have our bubbles to fight. I believe in man's best destiny. If people in this country want to run our own country and not be tied to the E.U., I don't have a problem with that. They've got issues with immigration and all sorts of stuff.
Charlie Gasparino: Listen, I want to tell you this is the biggest decision ever. Going to have a monumental impact on the U.S. economy because I'm going there to cover for fox business, but I'm telling you, it's a blip off the radar screen for us. We have so much more problems here, so many more ways the stimulate the economy. Is it going cause a market turmoil if they get out? Observe.
Jonathan Hoenig: Listen, we want Britain the leave the E.U. The less the world is like Europe, the better. The better for all of us. The E.U used to make sense. It was primarily about open trade, open borders. It's since become regulatory state. No, it's actually -- exactly, so if Britain can leave the E.U., We could have a freer trading partner that's bet for the U.S. and Britain.
Ben Stein: No. It's not going to impact our economy one tiny bit. Nothing much to speak of. Down by 10 percent, wouldn't even be a rounding error. An incredibly trivial. A lot to you and me, we could buy a lot of food with it, but it's nothing to even think about it's a very trivial thing.
Adam Lashinsky: The point you're missing is the net negative because it affects a major trade partner, but we'll adjust better than they will.
Stock Picks
Jonathan Hoenig: (JO) iPath
Adam Lashinsky: (VDC) Vanguard
Ben Stein: (SPY) SPDR