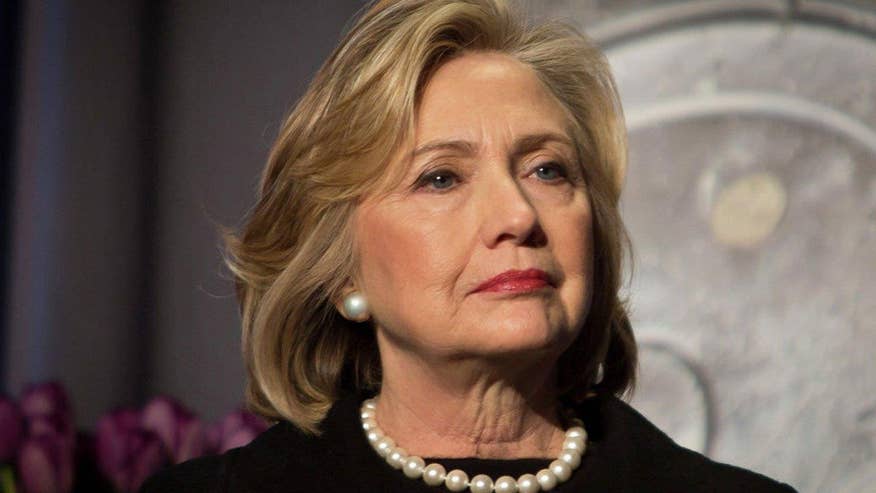 DISCLAIMER: THE FOLLOWING "Cost of Freedom Recap" CONTAINS STRONG OPINIONS WHICH ARE NOT A REFLECTION OF THE OPINIONS OF FOX NEWS AND SHOULD NOT BE RELIED UPON AS INVESTMENT ADVICE WHEN MAKING PERSONAL INVESTMENT DECISIONS. IT IS FOX NEWS' POLICY THAT CONTRIBUTORS DISCLOSE POSITIONS THEY HOLD IN STOCKS THEY DISCUSS, THOUGH POSITIONS MAY CHANGE. READERS OF "Cost of Freedom Recap" MUST TAKE RESPONSIBILITY FOR THEIR OWN INVESTMENT DECISIONS.
TRUMP-CLINTON LEGAL ISSUES
John Tamny : I think they could. The Clinton swagger is not their own. The global initiative is large precisely because Bill and Hillary can influence a government that spends nearly $4 trillion a year. So, particularly if the economy's the number one issue, it's going to bother voters that they've amassed so much wealth and power. Alright. Rich, so, character will matter more than the economy as well.
Rich Karlgaard: Possibly, but that cuts both ways and neutralizes itself because Trump has a lot of character problems, too. A couple of weeks ago, Trump said something very valuable. He said a secured nation, we need to be a rich nation. This is where he needed to concentrate and really lay out details in an optimistic Reaganesque way.
Sabrina Schaeffer: This is a huge problem and Quinnipiac had a similar poll which found that 59 percent of voters don't trust Hillary Clinton and 58 percent don't trust Donald Trump, so, both of them are doing terribly in the sense that people don't think of them as honest or trustworthy. I think we have to remember politics is personal, so it's hard to have a good, solid conversation about the substantive economic issues if the candidates are candidates you can't relate to.
Elizabeth MacDonald : You're right. I think it's the most important thing. People are saying all right, $10 trillion spent under president Obama. We got low playing minimum wage job. Food stamp usage going up. Health care costs going up, then Hillary Clinton turning to possibly Elizabeth warren as a vice president pick. I'm wondering when warren is going to tick her consumer protection agency on health care reform.
Bruce Japsen: Well, you know, it's interesting here, in this day and age, you can't -- the attacks anymore how they respond to them are now part of the vetting process. Hillary Clinton let's face it has been attacked for decades. She went before a congressional panel and how Donald is responding to the Trump University saga by attacking the judge is going to his character and that's why his poll numbers are dropping in the Fox poll by six points.
Bill Baldwin: I think basically David, you're right. They're evenly divided, these two in terms of trustworthiness and integrity. Lack of is more to the point. Both crony capitalists, liars. I guess it will be the economics of the country that will determine the election.
ISIS MEMBERS POSING AS REFUGEES ARRESTED IN GERMANY
Elizabeth MacDonald : Yeah, Jeh Johnson and James Comey said even with the two-year waiting period for refugees to come in here, by the way, I support them coming into this country. They said even with the waiting period, they cannot properly vet these refugees who you just need one guy who can do a lot of destruction.
Bruce Japsen: I don't think so. I think it's paused as it is. We've only admitted about 2,500. It's ground to a halt. It's going to show. And i think we should be looking at ways to speed it up and the vetting process I think is solid.
Rich Karlgaard: Look, you know, the argument on the other side is that America has always had this great tolerance or welcoming of immigrants. We're all immigrants of some kind. We have a wonderful Constitution and bill of rights. We guarantee our freedom, but it's not a suicide pact. And i think that you know, if we're not careful about this, we're in a way committing suicide as a country.
John Tamny: This is not about ideals. It's a two to three-year process, so it's hard to imagine that too many terrorists are going to wait that long. But assume we put a pause on it. It's not a way to end terrorism. If terrorists want to get in, they're going to figure out a way. They just won't go through the normal refugee process, so i don't hear the solution here.
Bill Baldwin: No, I don't think we should eliminate Syrian immigration, but we should for a humanitarian reason, limit it to women and children. Let the young men behind and clean up their country so they don't have to send their families abroad, for safety.
Sabrina Schaeffer: I realize there's a big difference between the million refugees that have entered into Europe and the maybe 10,000 we're talking about here, but I think I'm in agreement with EMac. I think we need to be cautious and have a system in place. The thousands of years it took us to get to the point we are here in the United States with gender equality, a respect for human rights, it's not the case over all parts of the globe.
PHILADELPHIA SODA TAX
Sabrina Schaeffer: I love hearing this chant. I have three little kids. I take their nutrition seriously and i encourage all parents to do that, but the government is going after one legal ingredient, sugar, and it's not going to actually have an impact on children's lives. They should be pushing for moderation, healthy lifestyle and diet. Getting outside and playing in the yard.
Bill Bladwin: i don't agree with the, this is all about policing food. I think it's about taxing consumption and I think that's a good thing. If soda taxes hit the floor unfairly, why don't we just even the score by targeting some of the things that rich people buy.
John Tamny: Bill will always look for a chance to give government more revenue, but we're not idiots. We know if we eat too much Ben & Jerry's and Oreos, we're going to gain weight.
Rich Karlgaard: Because the greater nanny state is the skyrocketing cost of disability. When you really -- what's driving disability cause, obesity and diabetes and all of the dysfunctions that follow and as a taxpayer, don't want the pay those costs.
Bill Baldwin: In California, turn into -- there's an exception for those restaurants and hotels that have unionized workforces.
Elizabeth MacDonald: There's no lock box for these revenues. They want to help to build these programs to stop obesity. Government's growing way too fat on taxes like these.
Bruce Japsen: Well, it's interesting because it is a public health issue. It comes up the American Medical Association meets in Chicago this week. It comes up every year. You don't have just politicians supporting this.
SAFE BETS
Elizabeth MacDonald: Amazon
Bill Baldwin: Speedway Motors