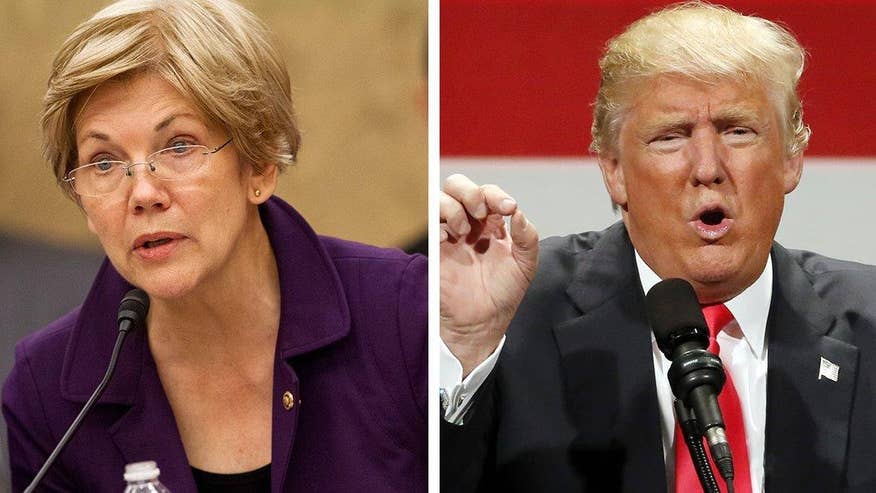 DISCLAIMER: THE FOLLOWING "Cost of Freedom Recap" CONTAINS STRONG OPINIONS WHICH ARE NOT A REFLECTION OF THE OPINIONS OF FOX NEWS AND SHOULD NOT BE RELIED UPON AS INVESTMENT ADVICE WHEN MAKING PERSONAL INVESTMENT DECISIONS. IT IS FOX NEWS' POLICY THAT CONTRIBUTORS DISCLOSE POSITIONS THEY HOLD IN STOCKS THEY DISCUSS, THOUGH POSITIONS MAY CHANGE. READERS OF "Cost of Freedom Recap" MUST TAKE RESPONSIBILITY FOR THEIR OWN INVESTMENT DECISIONS.
TRUMP BLASTS SEN WARREN AS SHE ACCUSES HIM OF PROFITING OFF HOUSING CRISIS
Ric Grenell: Both Donald Trump and Elizabeth Warren are landlords to people who can't afford housing, and that makes them exactly the same. The difference is that Elizabeth Warren has built a career of manipulating the free market. If she wants to talk about why we've had a housing meltdown, giving people loans, giving people houses, giving people $15 an hour jobs when they're not qualified for that is what's wrong. She has built this whole premise, this liberal premise around manipulating the free market in order to give the stuff away to people for free. And that creates the middle class having to pay a lot more money.
Juan Williams: We are talking about Donald Trump taking advantage on a large scale, of a tragedy, an economic tragedy in our nation. She was doing something for her family members back in the early 1990s. Members of her family, she had some money and she was helping them to get their houses in order. But somehow, Trump now wants to equate that with his intervention in markets. Huge economic housing markets, he said he wanted to see them go bust so he is a business man, could buy low and sell high.
Lisa Boothe: Both Donald Trump and Elizabeth Warren saw an opportunity in the market and took advantage of it. That's smart business practices and good for Warren, but shame on her for trying to take those opportunities away from every day Americans by pushing socialist policies here. She's not just a hypocrite she's also a liar. This is the same woman that lied about her heritage to three different employers to get the job.
NEW DEBATE AS PRES OBAMA BLASTS DONALD TRUMP DURING OVERSEAS TRIP
Lisa Boothe: Shame on president Obama for doing this while overseas and setting that precedent and also this is the guy who after the Brussels attack, the second worst attack since World War II, I believe. He proceeded to do the wave with a communist dictator and dance the tango, so I don't think President Obama has a lot of room to talk. This is also the guy that draws red lines and fails to follow through, so I don't think he's exactly sending a strong message to other world leaders respected here either.
Juan Williams: Look, we have tried to calm down a world, end two wars, we're trying our best, but I can't agree with president Obama more. You look at things like bond markets. We're on "Cashin' In" in today; who says oh, you know, I may not respect the value of U.S. Bonds? Imagine the impact on world financial markets from that kind of talk Imagine the impact on saying, I'm going to impose tariffs, and I'm going to stop free trade in the world. What would that do our global economy? Imagine the impact of a guy who says one minute, oh, I don't think we should raise minimum wage, then says maybe we should in some states, but not others. What is his policy?
Ric Grenell: Let me make something very clear. Russia grabbed Crimea. The Chinese have grabbed the South China Sea. Iran has a deal and Cuba now has a comfort down below the United States. These leaders need to be rattled. They haven't been rattled and so, when I hear that world leaders are nervous to negotiate with Donald Trump, I say, here, here, because that's exactly what we've needed for a very long time. We've been walked on.
SAN FRANCISCO FUELING NEW CONTROVERSY AS IT VOTES TO UPHOLD SANCTUARY CITY STATUS
Lisa Boothe: We should cut funding to a city that decides to shield an illegal immigrant wo had seven felony convictions, deported five times who then went on to kill a young woman who had the rest of her life ahead of her because of this policy.
Juan Williams: San Francisco has changed the laws so that anyone who's under suspicion, been convicted, is now going to have their status communicated to the federal government so you can't have a repeat of what happened in the Katie Steinle case, so I think you should be celebrating that San Francisco is listening to "Cashin' In."
Ric Grenell: Let's be very honest with what a sanctuary city is. It's an announcement by politicians that people don't have to follow the law and that law enforcement officials who try to pursue the law will be found in violation of the politician's promise. If you don't know the name, Kamala Harris, get to know it. She's our attorney general here in California; she's running for the senate and has created not only a sanctuary city in San Francisco, but a sanctuary state in all of California. It's a huge problem when politicians ignore laws.