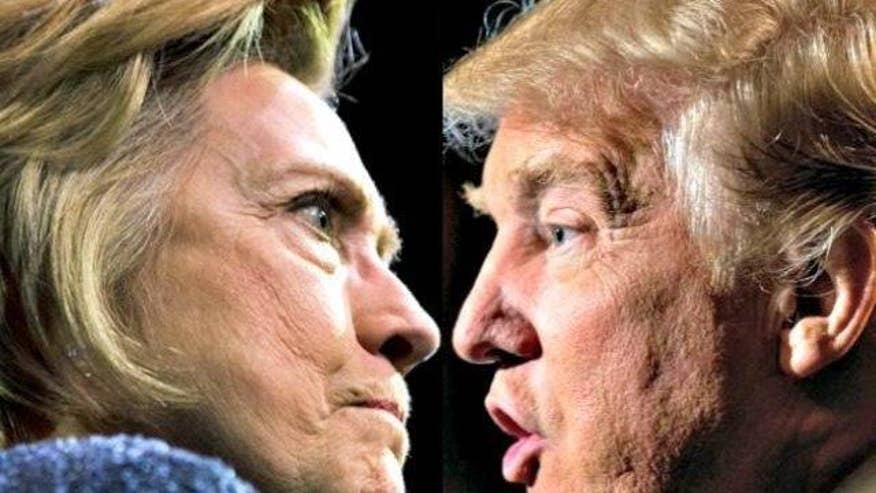 DISCLAIMER: THE FOLLOWING "Cost of Freedom Recap" CONTAINS STRONG OPINIONS WHICH ARE NOT A REFLECTION OF THE OPINIONS OF FOX NEWS AND SHOULD NOT BE RELIED UPON AS INVESTMENT ADVICE WHEN MAKING PERSONAL INVESTMENT DECISIONS. IT IS FOX NEWS' POLICY THAT CONTRIBUTORS DISCLOSE POSITIONS THEY HOLD IN STOCKS THEY DISCUSS, THOUGH POSITIONS MAY CHANGE. READERS OF "Cost of Freedom Recap" MUST TAKE RESPONSIBILITY FOR THEIR OWN INVESTMENT DECISIONS.
Survey Finds U.S. Businesses Prefer Clinton Over Trump By 2-to-1 Margin
Charles Payne: They know some of the things he's thrown out. The main point is that these are large organizations. They are trade businesses. They do a lot of business overseas. So they don't want to hear about trade wars. They don't want to hear about anything to do with currencies.
Kennedy: I think this is where he should use his flexibility and dial back the rhetoric on trade and creating these massive tariffs. And listen to the businesses. They don't want impediments. They don't want more barriers to entry. And you are not talking about mom and pop shops. You are talking about places that do a lot of business overseas. My friend made such a good point. Step back before the election. What kind of president do you think he would be. What would be his main issue and creating an economic environment for businesses to flourish.
Charlie Gasparino: I think for him it is better to have the big businesses against him. The crony capitalists. I'm not for a trade war by the way. I think Donald's bigger problem is not having a coherent economic message. All over on taxes. All over a whether you are going to renegotiate the debt or refinance it. By the way refinancing the debt is nothing new. But he definitely said renegotiated. That is going to get anybody with an economic pulse scared and one other thing he does need these people to raise money. I was at a conference where it was basically fundraising central for Donald Trump. And the guys that are there are all fat cats so he's going to have to get some of this vote!
Adam Lashinsky: I think it would work to his advantage with the voters. As you were suggesting Neil. It won't work to his advantage in fund rags as Charlie says. And this group of people that surveys there is nothing about Hillary Clinton's economic policies they like. There is only one thing they like and that she's not nuts. You know they think she will bring the world order.
IRS Chief Facing Impeachment; Hearing Set for Tuesday
Kennedy: This is awful. Such an outrage. And the IRS is blaming these organizations who spent the last five years trying to get 501 c 4 statuses. The 501 c 3 much easier to get. And saying you didn't push back hard enough. And that is why you have still having problems with the IRS still.
Charlie Gasparino: I'm going to say that Kennedy is going to turn into Mark Goodman when I say this. I think they should turn the IRS into something like the fed. Here is this thing. The fed is semi-autonomous. You pick the IRS like the fed chief is picked by the president. Confirmed by congress. Is held accountable by congress. The IRS is too closely attached to the administration.
Charles Payne: What about the idea some of this came down to bad training and bad guidance? The VA scandal, the IRS scandal. Listen, it all comes down interest the top.
Adam Lashinsky: The bureaucracy isn't the person and the bureaucracy definitely has its biases. It is very difficult to get those biases out. I'm not going to condone Targeting any group liberal or conservative.
Target Shares Drop 6% This Week After Disappointing Sales Outlook
Kennedy: I don't think there's a connection. I agree with Target. The economy is sluggish to begin with, they'll have a bad second quarter. I think having the bathroom being a free for all is actually fun. If Target is smart, they could show the dog with the bulls eye on the face and have him go and have him tinkle town where he ever he wants.
Charles Payne: It's a huge mistake on their part. There are other factors, but do you want to layer on the fact that you have a lot of women who go there who have children, who feel this way, do you want to make it that much tougher in an already tough retail environment?
Charlie Gasparino: Here is why it makes business sense. You have mandates coming down from the federal government. Suppose they get sued by the federal government. That's a big cost.
Adam Lashinsky: Maybe. I think it doesn't make a bit of difference to consumers, other than people who are highly motivated. The reason they're not doing well is their products have been right or their pricing hasn't been right. Give them good products at the right prices and most people will buy their products.
Stock Picks
Charles Payne: (CLX) Clorox
Ben Stein: (KRE) ETF Regional Banks