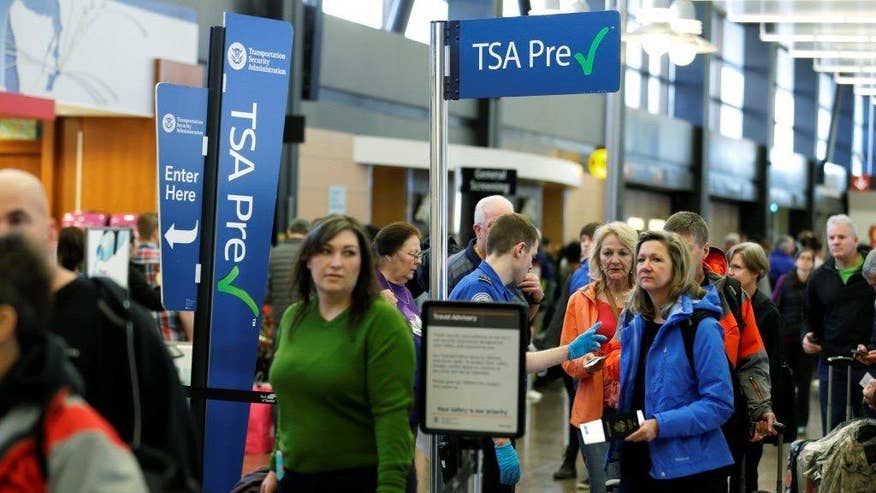 DISCLAIMER: THE FOLLOWING "Cost of Freedom Recap" CONTAINS STRONG OPINIONS WHICH ARE NOT A REFLECTION OF THE OPINIONS OF FOX NEWS AND SHOULD NOT BE RELIED UPON AS INVESTMENT ADVICE WHEN MAKING PERSONAL INVESTMENT DECISIONS. IT IS FOX NEWS' POLICY THAT CONTRIBUTORS DISCLOSE POSITIONS THEY HOLD IN STOCKS THEY DISCUSS, THOUGH POSITIONS MAY CHANGE. READERS OF "Cost of Freedom Recap" MUST TAKE RESPONSIBILITY FOR THEIR OWN INVESTMENT DECISIONS.
TRAVEL MELTDOWN: SUMMER FLIERS BRACING FOR MASSIVE TSA SECURITY LINES
Ric Grenell: Tsa has an enormous budget, $7.3 billion. Compare that to the ICE. Budget, the immigration agency, and they have a $6.2 billion budget. So I don't think it's a money problem. I think they've got to be better at implementing the technology that's out there. ICE does a better job. There's hand and face recognition technology. We need to use what Silicon Valley can do to shorten these lines, not just throw money at the problem.
Mercedes Schlapp: It would be interesting to bring up that option about privatization. The reason for that is, when you look at the house committee reports back in 2012, it was clear that what came out was the fact that the TSA was viewed as bureaucratic, very typical government, mismanagement, and costly. We don't want to be throwing money at it, but why not take a page from Israel, for example, that does use private companies for security, and really make it more competitive.
Eboni Williams: No argument about the waste and fat leaking out of government entities. I don't think the fix is automatically assuming that privatizing it will eliminate all the problems. The threat of privatizing, possibly talking about, hey, if you guys don't step up, holding them more accountable, is the way to go.
CHAOS IN VENEZUELA SPARKING DEBATE OVER PUSH FOR SOCIALISM IN AMERICA
Mercedes Schlapp: Democracy and socialism cannot co-exist. Clearly what we know is that socialism leads to the fruits of totalitarianism. My father who came from Cuba lost all of his private property and lost his businesses because you had a government who overtook his private property. I think it's important to understand that if you're looking at it from a view of the government being your solution, the fact that it can solve all your problems from cradle to grave, it becomes such a false narrative.
Ric Grenell: Nicolas Maduro, who runs Venezuela now, has implemented all of Hugo Chavez's policies, massive government subsidies, manipulating the free market so government controls the prices. It is a system that will absolutely not work. I fear that our media here are not making the connection. Just this week we saw an Atlantic reporter on NPR talking about the Venezuela problems and literally saying that El Nino was one of the causes of the problems, and never mentioned Hugo Chavez or socialism.
Eboni Williams: It doesn't blow me away because I think in theory socialism makes a lot of sense for a lot of people. They really like the idea of being taken care of and having things at their fingertips. A lot of them don't consider the expense associated with it because we know nothing is really free. Here is the other thing, we talk about Venezuela. We cannot talk about simply socialism, which I'm not a socialist; I don't think it works ever, but also the enormous drug corruption. When you give the government that much control you make yourself vulnerable to this.
BEN & JERRY'S NEW FLAVOR 'EMPOWER MINT' TAKING ON BIG MONEY IN POLITICS
Mercedes Schlapp: Ben and Jerry's are known for being liberal; they've come out speaking for different policies. Despite the fact that the company says that they don't endorse candidates or push a particular cause, but here is the deal, they've made the "Bernie's Yearning" limited ice cream. I really want to see the Donald Trump orange sorbet come out because maybe I'll go buy it.
Ric Grenell: We all need to lighten up. We're boycott crazy. I like to go to Chick-fil-A because it's the best chicken. I like ben and jerry's ice cream because it's very good. We have to be able to allow people to be active in politics. We want to encourage that. We should also lighten up so that just because someone is a liberal, I think we have to be tolerant enough to allow them to participate in the process.
Eboni Williams: I'm totally cool with it. I agree with Ric, we've got to lighten up. Whether it's Starbucks, Chick-fil-A, absolutely, I agree, they were on my college campus. It's all good. You don't have to agree with the position to patronize the business. Like Ric said, we're boycotting everything. It's really quite okay. It encourages talking points and maybe smart intellectual exchange.