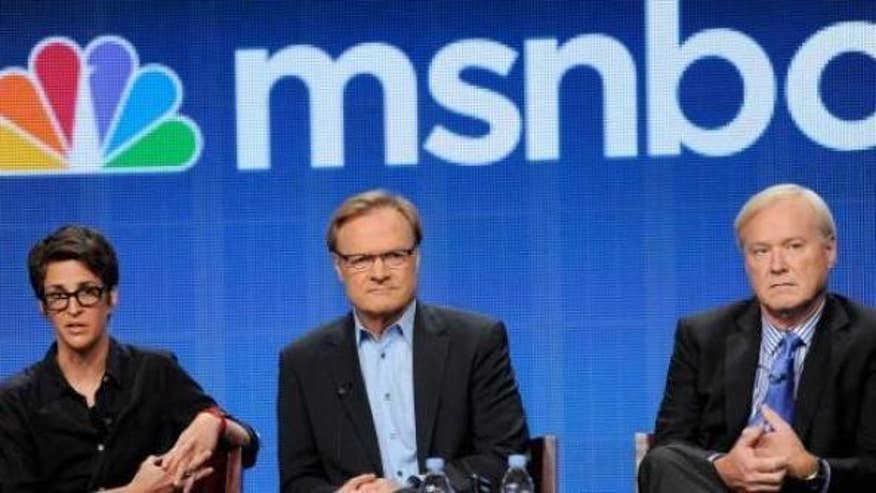 DISCLAIMER: THE FOLLOWING "Cost of Freedom Recap" CONTAINS STRONG OPINIONS WHICH ARE NOT A REFLECTION OF THE OPINIONS OF FOX NEWS AND SHOULD NOT BE RELIED UPON AS INVESTMENT ADVICE WHEN MAKING PERSONAL INVESTMENT DECISIONS. IT IS FOX NEWS' POLICY THAT CONTRIBUTORS DISCLOSE POSITIONS THEY HOLD IN STOCKS THEY DISCUSS, THOUGH POSITIONS MAY CHANGE. READERS OF "Cost of Freedom Recap" MUST TAKE RESPONSIBILITY FOR THEIR OWN INVESTMENT DECISIONS.
DONALD TRUMP CALLS NY TIMES FRONT PAGE STORY ABOUT HOW HE TREATS WOMEN A 'CON JOB'
John Tamny: Yes, and this is very good news. What we think of as media is very much a moving target. When you compare that to 20 to 30 years ago, it was major newspapers that could shape the narrative. Nowadays, new sources of media alternative sprout up every day that give us a new slant on everything. The ability of The New York Times to shape the narrative is changing every day.
Elizabeth MacDonald: We have one big example, the Iran deal. Look at what White House adviser Ben Rhodes did, he set the tone in the hen house of the beltway echo chamber. That deal is a deal, not a treaty that Congress would have had to pass. It went through with little coverage, proper coverage of what was in that deal. And so the invertebrate state of the media is in play right now. The fact that that deal, the Iran deal got passed, shows the power of the liberal media.
Steve Forbes: Yeah, they made it sound like he was going to be the editor of Sports Illustrated. Eve in the story, David, they had to acknowledge several times he hired women for very high, responsible positions in an industry back had that just wasn't done. So you'll never get credit for it, but he's a pioneer. The power of the press is still very real, not only by what they try to cover but what they don't cover. Look at the IRS scandal, no real follow up on that. The Clinton Foundation, where are the 50 reports combing over that? Not happening.
Sabrina Schaeffe: Absolutely, I'm with John on this. The reason this article didn't have any real muscle is it reinforced the ideas of elitism that supporters of trump and sanders already feel toward the media and establishment. I actually think the media is changing for the better. And about the Iran deal, I think there's a lot of economic issues which we never used to get the ear of the media on, like the gender wage gap. It's a huge step in the right direction.
Rich Karlgaard: I think The New York Times is losing its power to shape the narrative, exactly as John says. But the liberal media, when you look at it broadly and you include Hollywood and you include Jon Stewart and Bill Maher and people like that are still very dominant in the culture.
Bruce Japsen: Here's the deal. I think it did, because we're all talking about it. And I think The New York Times, listen, they did this story, Donald Trump's persona, his public persona is 140 characters.
REP. MIKE MCCAUL: EGYPT NEEDS MORE US ASSISTANCE TO FIGHT TERRORISTS
Steve Forbes: Absolutely, David, we should help them more. Ultimately their fight against ISIS is our fight as well. Not only just in terms of money and weapons, but also in know-how. McChrystal headed up our anti anti-insurgency efforts in Afghanistan. We have a lot of know-how fighting these insurgencies. We should be supplying that help. They can't knock down this insurgency without our help.
Bruce Japsen: Well there is a rise in the number of physician assistants and nurse practitioners.
John Tamny: I think we should stop this all together. Conservatives in congress talk all the time about the definite harm caused by domestic government spending but they act as though it takes on magical power of when the spending occurs overseas. The Middle East is a shining example of how our spending can actually destabilize a region and make it worse off. Let's just stay out.
Rich Karlgaard: Steve is right about General McChrystal. It took years to figure out how to fight a proper anti anti-insurgency war against ISIS. They need that expertise.
Elizabeth MacDonald: I agree with rich and Steve. October 2014, Sinai Peninsula, Egypt forces were attacked by ISIS. Egypt is surrounded by failed states. We've had 40 years of peace between Egypt and Israel due to the U.S. government stepping in. So Egypt is an ally. We should help them.
Mike Ozanian: I don't hear the Egyptian people screaming out for our help. I prefer instead for the United States to bolster our military backup. Over the last five years, contract obligations for our Army are down 50 percent. For our Navy, 19 percent. And for the Air Force, 24 percent. What about the United States?
Bruce Japsen: This is not your father's Egypt of Anwar al-Sadat. This is a regime that's been jailing journalists.
DONALD TRUMP WARNS FEDERAL RESERVE IS CREATING NEW TECH BUBBLE
Mike Ozanian: Yes, investors have very few options in terms of where to put their money with rates so low. Trump is absolutely right. Prices relative to earnings are near their high range. If it weren't for the fed, stock prices would be much lower. The prices are not supported by earnings which have been falling the last three-quarters.
John Tamny: Please. The fed couldn't cause a stock boom on its very best week or year, as my wildly insightful book makes plain. If anything, the fed's imposition restrained what would have been a much bigger rally.
Steve Forbes : The growth of credit has been anemic while corporate bonds and corporate government bonds have been booming. The big guys have done well. The small have been hurt. As we know, small businesses are the job creators.
Rich Karlgaard: Yeah, that's the problem. Look, we have a tragic situation right now that we don't have -- we've disincentivized long term investment. The tech unicorns today.
Elizabeth MacDonald: I don't know if she should be fired. She's worthy of criticism here. There's $9 trillion of negative yielding bonds worldwide. The average rate on two-thirds of the bonds around the world are about 1 percent. So she's keeping rates artificially low for too long. Wall Street is now in this sort of keep hope alive thing with wildly over valued stocks, as Mike has said.
Rich Karlgaard: We need to have a serious conversation about it. We can't talk about the fed in a vacuum. We have to look at the regulatory side of things. Bills like Dodd-Frank have made it harder for lending institutions to give out loans to the smaller businesses. That's one reason we're seeing problems here.
SAFE BETS
Elizabeth MacDonald: (gsftx)
John Tamny: (abx)