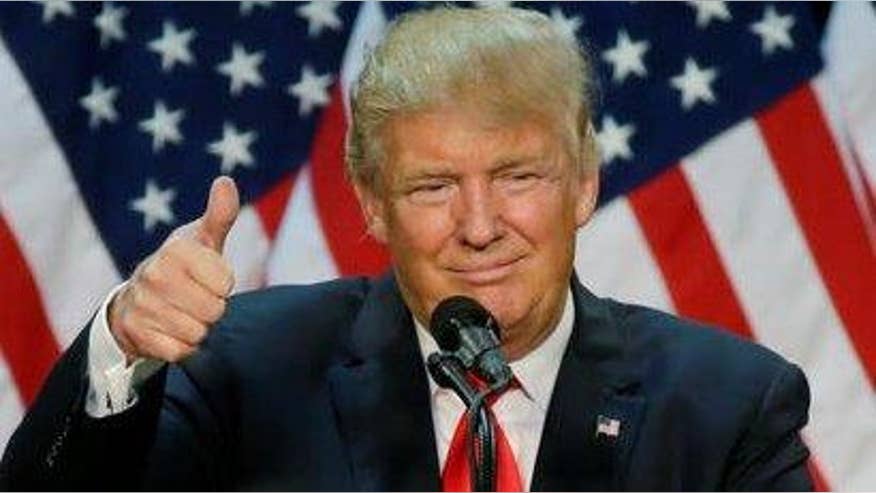 DISCLAIMER: THE FOLLOWING "Cost of Freedom Recap" CONTAINS STRONG OPINIONS WHICH ARE NOT A REFLECTION OF THE OPINIONS OF FOX NEWS AND SHOULD NOT BE RELIED UPON AS INVESTMENT ADVICE WHEN MAKING PERSONAL INVESTMENT DECISIONS. IT IS FOX NEWS' POLICY THAT CONTRIBUTORS DISCLOSE POSITIONS THEY HOLD IN STOCKS THEY DISCUSS, THOUGH POSITIONS MAY CHANGE. READERS OF "Cost of Freedom Recap" MUST TAKE RESPONSIBILITY FOR THEIR OWN INVESTMENT DECISIONS.
Donald Trump Weighs Picks for Running Mate as Focus Shifts to General Election
Charles Payne: This week we saw a bunch of GOP governors jumping on the Trump bandwagon but the insiders are resistant. Donald Trump is overwhelming force of personality. You would think the VP doesn't matter. The establishment part of it. But there are also other areas to bolster the campaign. You could talk about a woman, Hispanics, blacks. There are a lot of areas where maybe VP could be more important than we think for Donald Trump.
Charlie Gasparino: I think someone needs to tell limb listen if you try to renege on the national debt and try to -- you are going to be in big trouble. He came out with some crazy statement in an interview that he was going to renegotiate that. A lot of that has to do with somebody who understands politics.
Gerri Willis: Oh my goodness. The whole idea he needs somebody who the not a sycophant, anybody who is not a sycophant in this is going to be bruised and bloodied in the process. We're talking about making the politically correct move now. Bringing a woman, a Latino, an African-American. That is precisely what he's campaigned against.
Ben Stein: I never heard anyone who got in trouble by being too humble. Or anyone who got in trouble by getting in touch who knew how to get things done. Government is not a business. The mention about reneging and paying less on government bonds is such a stunningly terrible idea. Somebody should have stopped him from even uttering those words. Just crazy. And he's done that with his bondholders for his casinos and other enterprises. So it is a shocking thing that he would even allow those words to leave his lips. He's got to have somebody who knows how government works. The as huge complicated piece of apparatus with millions of employees. It is very important he follow the law. He cannot declare government disrupt and stiff the bondholders. He can't even think of things like that.
Julie Roginsky: Here is the problem: Not so much that he needs to be surrounded by someone who isn't a sycophant. If you are a John Kasich or Ted Cruz any of these people who -- Ted Cruz isn't even establishment but any of these so called establishment figures, do you really want to tie yourself to this guy who probably is not going to pull it off and then not be able to run again in four years?
Energy Jobs in Focus Ahead of West Virginia Primary
Ben Stein: First the whole thing on fossil fuels is a questionable premise. It is a complete lie that fossil fuels are going to kill the planet. That is just a made up political lie. Second it is incredibly insulting to say to the entire fossil fuel industry we don't give a dam about your jobs. We give a dam about other jobs but we don't care about you guys. You guys can go to hell. That is an outrageous insult. I hope the voters remember it. I hope the Democratic Party get theirs head screwed on at some point and realizes these are real people and real jobs and the science backing up the ideas on coal are going to kill us. Science is political. Science is not something above party. And science in this case is very political.
Gerri Willis: I don't see sweeping support for this industry. Because people can't relate to it. The dirtiest thing most people encounter in their daily workday is the company refrigerator. Typically people just don't know what's going on and it's tragic because these people contribute to the economy.
Charlie Gasparino: It's pretty clear what this means for the Republican Party. Here is a choice where the Democrats are the incredibly callous. Rich white environmentalists on one hand or poor working class people on the other. And they screw the working class people and let's get the rich white people. In that context, they screwed the coal miners for the environmentalists.
Charles Payne: It's ironic Hillary saying this is all market-driven. But really President Obama put in a series of regulations with intent to destroy this industry and he succeeded.
Julie Roginsky: First and foremost those people have been gone from the Democratic Party for a very long time. Let me finish my thought. I listened to all of your nonsense on this issue for a long time. First of all, she's saying you may disagree or agree with this. This industry is dying. You could either prop it up, or primary based support or fighting global climate change or secondly, she's allocated $30 billion to retrain them and put them into the different industries. This industry is dying.
TSA Asks Congress to Pay Security Screeners Overtime to Shorten Lines
Ben Stein: Well, it's fine with me. I travel a great deal. Unlike some insightful, wonderful people, I don't get to fly in private jets, so I travel in regular commercial planes and I love the idea of there being more lines and I'm happy to pay more taxes for it. I think airport security is important. Torturing them is important. You take all the money you need.
Charlie Gasparino: Give me twice as much money and I'll give you only half as many stories. You don't want to be the guy that says let's cut this back, then there's a terrorist attack that occurs because you don't have enough. It's like regulation, when you say let's pull back the regulation, then there's a punch of penny stock camera scams and you take the hit.
Charles Payne: Here's the irony though in the Obama administration's fiscal 16 budget, they boasted about reducing TSA agents by 1,700 because they used this new program called risk-based security. He said what they went to was a smaller, more professional, capable workforce. The agents need to broaden out the lines. The prescreening thing, they've done an awful job.
Gerri Willis: They didn't know summer was coming, there would be more travelers, that's highly unpredictable that we'll get to, July and August and their budget is bigger than it was five years ago. They employed more people than five years ago.
Julie Roginsky: One simple fact, there are more people traveling this year and five years ago, so with more travelers, you need more.
Stock Picks
Charles Payne: (DIS) DISNEY
Ben Stein: (BRK.B) Berkshire Hathaway