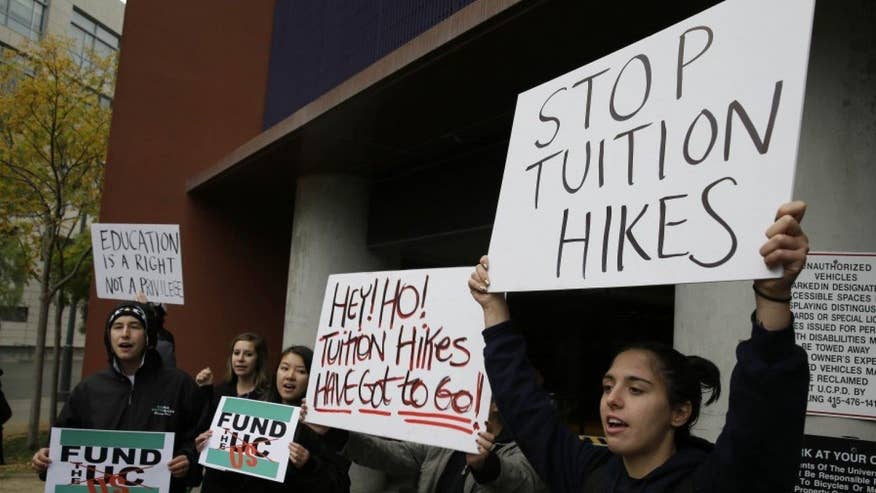 DISCLAIMER: THE FOLLOWING "Cost of Freedom Recap" CONTAINS STRONG OPINIONS WHICH ARE NOT A REFLECTION OF THE OPINIONS OF FOX NEWS AND SHOULD NOT BE RELIED UPON AS INVESTMENT ADVICE WHEN MAKING PERSONAL INVESTMENT DECISIONS. IT IS FOX NEWS' POLICY THAT CONTRIBUTORS DISCLOSE POSITIONS THEY HOLD IN STOCKS THEY DISCUSS, THOUGH POSITIONS MAY CHANGE. READERS OF "Cost of Freedom Recap" MUST TAKE RESPONSIBILITY FOR THEIR OWN INVESTMENT DECISIONS.
Million Student March Protesters Demand Debt Forgiveness, Free Tuition
Charles Payne: You know, we know already that the progressive message has been free stuff free stuff free stuff, we always say how do you pay for it? One thing I'm seeing with them, they're fine tuning the message, well you pay for it through the e boles of capitalism and the corporate balance sheet, the corporate income statement. And this has been a target for a long time. She talked about the billions, $52 billion, which has to come from somewhere. And it's really, it's really unfortunate that they don't make that particular leap or they see that part as being nefarious. Words will generate to do all of these free things that society owes her and others.
Gerri Willis: We're already paying her tab. I don't know if you noticed this or not, but in the president's budget last year; these programs were already running at a deficit of $22 billion deficit. Why? Because of the pay as you earn program which forgives student debt. We're already making these payments, it's coming from tax payers without any kind of increase in taxes, and it's just coming out of the general budget. What's more we know that 40 million of these kids are not -- pardon me, 40 percent of students with loans are not paying on those loans right now. So look, it's being squeeze out of the existing budget right now at some point, something's got to happen. Something's got to give.
Adam Lashinsky: Well, it's worth pointing out that even in our country, even in my state of California, this used to be the policy. And there used to be. No, no, fair enough. And these are policies and they are possible. I think she was somewhat articulate in making that point. The question is, should we forgive debt? I happen to believe, generally, no, you borrow money, you should have to pay it back, but that doesn't mean we shouldn't have a policy conversation about what's important to us. Where do we want to spend our money?
Scott Martin: There may be, to your point, yeah, everybody benefited from the financial bailout of 2008, it does feel very much like 2008 if we were to say forgive these loans, but the notion of government has failed us, but we need more government, it's totally crazy. Gerri made the point, 7 million college debtors are in default. 93 percent of the student loan market is because of federal loan programs. So for you to say or somebody to say, hey, this is needing more government intervention is crazy. If you want to find out where they're going to take the money, just look at the fat and sassy treasury department, which now has record revenues in its coffers, that's where they're going to go.
Clinton Vows to Open New Immigration Affairs Office If She Becomes President
Charles Payne: Yeah, I feel like we've already got this sort of red carpet telling illegals to come into this country. This will be the neon sign blinking saying, you know, say hey, unlimited room, free room and board, food, shelter, everything you need.
Gerri Willis: And now you have 800 numbers for immigration.
Scott Martin: It reminds me of a tax from a few months ago that Hillary threw out on Wall Street. It's very cheap, it's very populous. Bernie sanders, people go away and vote for her in the fall, if she does get the presumed nomination, then therefore she's in some trouble. So if you're looking at this going forward as far as immigration goes, I'm for immigration, legal immigration, but if you're going to let all of these guys and gals in and undercut the American worker, you're looking at doing more damage to the economy than Johnny Manziel house party.
Adam Lashinsky: My take is that the emotional message that she's sending is Neil is to remind the world that we are a compassionate nation and that we will try our very best to work our way through this thorny problem that presidents at least. In my optimistic read on this trial balloon of an office is that she's listening to everybody, that you said earlier, you know, this campaign is defined by a certain number of issues. One of them is this national outcry over immigration, so how about focusing on it? With an office, just look at these people.
Microsoft Sues Justice Department Over Secret Customer Data Searches
Gerri Willis: I'm on the security side of this. I think the government is right. And remember, this is very different from the Apple case. The government wanted to build a bridge. They wanted Apple to come and build a bridge to private information. This is very different. This is about keeping that search private, Which is a law from 1968, So I don't have a problem with this. I want government to be on the side of security. We need security. We are in the war of our lives with ISIS. It makes sense to do this now.
Scott Martin: Yeah, I agree with Gerri. What's funny, I think a lot of these companies like Apple, Microsoft, or Google, are using this chance as a PR stunt to say hey, America, we're not in the pocket anymore. Because that was a complaint about Silicon Valley, but I totally think that security is priority number one. That's the government's job to let him get in there and get that data so we stay safe.
Adam Lashinsky: I don't think this is a PR stunt by the tech companies. I've been on the security side. I've got a little heat from that out here. I'm with the government. But I think Microsoft, which come plies with the law in all these cases is saying this shouldn't be open ended. We'd like you to clarify this so you u tell us when it's over. I think it's a lot narrower.
Charles Payne: Absolutely, you remember how apple presented itself to the world with the play on the 1984 and Big Brother during the Super Bowl, but having said that, I don't want government to be unlimited access to their database. There's a specific legal issue, I think companies should step up, but I don't think we give them a blank check. I worry about a government that has a blank check to rifle through this stuff anytime they want.
Stock Picks
Charles Payne: (WHR), (AAPL), (JOY)