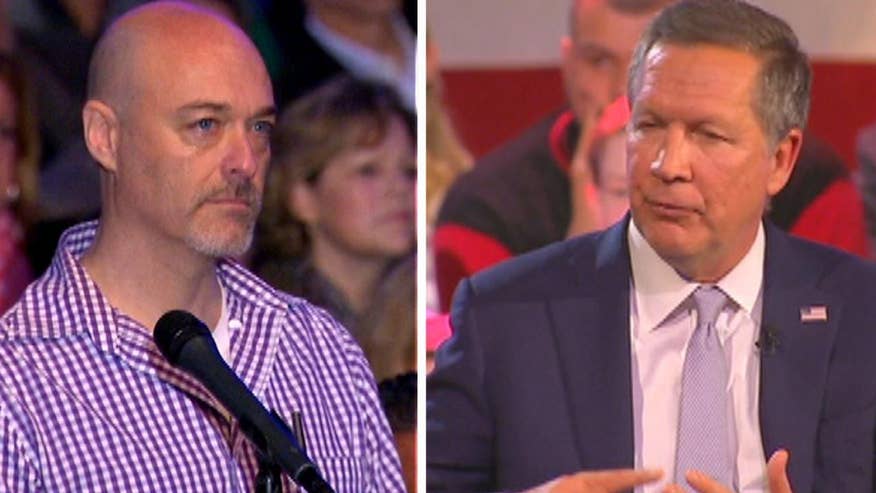 This is a rush transcript from "On the Record," April 4, 2016. This copy may not be in its final form and may be updated.
AUDIENCE MEMBER TIM: Good evening. My dad is a veteran of the U.S. Navy. He served as a sonar man on several submarines in the '60s and '70s. He fought for many years for services from the V.A., mental health services, prescription services, et cetera.
He suffered from PTSD, depression, alcoholism his entire adult life. He was over and over told that the missions that he and his crew carried out and were on never happened.
Tragically, 90 short days ago my father at the age of 72 committed suicide. What will you do for the veterans moving forward to help them get the services that they deserve?
OHIO GOV. JOHN KASICH, GOP PRESIDENTIAL CANDIDATE: Look, I mean, first of all, any combat veteran, as I mentioned earlier tonight, should have immediate access to health care wherever they need it, including mental health services. I mean, we have to do this.
(APPLAUSE)
KASICH: Secondly, the other thing -- this whole organization needs to be restructured so that you are not on hold for two hours. And I saw that the suicide rate among veterans has stayed stubbornly high here.
I was going to start by saying you all remember Lee Iacocca, most of the people in here. We need more Lee Iacoccas. We need somebody take over a place like the V.A. To give every American confidence that we are going to get this thing fixed.
We need to restructure that entire organization so it is going to be very responsive to the needs of the veterans.
In addition to that, our Pentagon has got to give the information about returning veterans to our service organizations, to our job-creating organizations, so that we can hook a veteran with available jobs.
There are golden employees, everyone here wants to hire a veteran. They are drug-free. They are smart. They are tough. They are disciplined. They understand team work.
There should be no homeless, no veteran without health care, and no unemployed veteran in the United States of America.
(APPLAUSE)
KASICH: We're sorry.
GRETA VAN SUSTEREN, FOX NEWS HOST: Thank you, Governor.
(APPLAUSE)
KASICH: I would like to think that the lord saw his pain and called him home. And I believe that, God bless you.