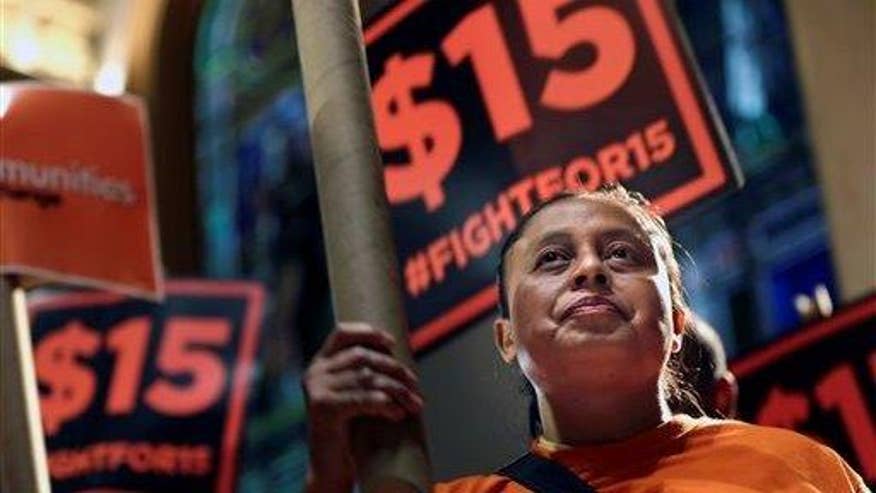 DISCLAIMER: THE FOLLOWING "Cost of Freedom Recap" CONTAINS STRONG OPINIONS WHICH ARE NOT A REFLECTION OF THE OPINIONS OF FOX NEWS AND SHOULD NOT BE RELIED UPON AS INVESTMENT ADVICE WHEN MAKING PERSONAL INVESTMENT DECISIONS. IT IS FOX NEWS' POLICY THAT CONTRIBUTORS DISCLOSE POSITIONS THEY HOLD IN STOCKS THEY DISCUSS, THOUGH POSITIONS MAY CHANGE. READERS OF "Cost of Freedom Recap" MUST TAKE RESPONSIBILITY FOR THEIR OWN INVESTMENT DECISIONS.
Hillary Clinton Clashes with Activist Over Fossil Fuel Donations Claim
Gerri Willis: This is hysterical right? We're all paying $1.86 a gallon for gas right? So what's wrong with the oil and gas industry? Not a thing. But she says she's not taking money from them. She is taking money from employees of them. It seems to me that the woman protests too much.
Charlie Gasparino: And I don't think they're evil just for the record. I want to make a point. I think this was a very good moment for Hillary Clinton. She got in the face of a lefty lunatic who was maligning her record. Listen, it's one thing to take money from the companies themselves, I'm not saying there's anything wrong with it, but that's a deference between taking money from lower level employees of the companies. And I think she's has every right to take money from employees of companies.
Ben Stein: I think it's fine. Look, big oil is us. Big oil is our friend, it's our neighbors, they're the people that make our cars go. They're the people who heat our houses in the winter and cool our houses in the summer. They are us. America is in very large measures depend on oil and other fossil fuels. Why this hatred of the fossil fuel companies? I don't know. There's something deeply sick and psychologically off about it. I think it has to do with the envy of the intellectual chattering class at their keyboards with what they see as the cowboy riding range free.
Adam Lashinsky: This is one of those magical moments where Charlie absolutely nailed it. I agree with exactly what he said.
$15 Minimum Wage Gaining Traction as Union-Backed Protesters Demand Pay Hikes
Charlie Gasparino: Who knows. I think it's not too late to have a debate about this, an economic debate.
Gerri Willis: Look, do you know how many people make minimum wage around the country? It's only like 3.9 percent of workers. It's nobody. If you care about how much money people make, don't worry about the minimum wage, make the economy grow faster. That's going to make it happen.
Ben Stein: Well it's a potent political issue because the children of wealthy, doctors, dentists, lawyers, and bankers make it into a potent issue on college campuses. They're not ever going to have to worry about the minimum wage. They get paid by their parents as they're smoking pot and playing video games. And believe me, I know this from experience.
Adam Lashinksky: Well, some of them. Not all of them. I mean, I think, Gerri's point was very interesting that this is an issue that makes a lot of noise, but it is only important at the margins in terms of the macro numbers. Will it hurt macro jobs? Yes. Will it help the people who get those $15 an hour jobs? Yes. And to Charlie's point, businesses, businesses are doing all of the things that you say businesses are doing anyway, Charlie.
Report: U.S. Considering New Rules Allowing Iran to Use Dollars in Business Deals
Ben Stein: There's something going on with Obama in his head and his psychology in which he likes these authoritarian tough dictator states. He likes these states that hate America. I don't know why. There is something odd about it. There's no sense on letting up on Iran. The Iranian people love America and we love Iranians, in my neighborhood in Beverly Hills it's almost all Iranians. We love Iranians. But the government of Iran are the most dangerous people in the world. They want to kill Israel, they want to kill the United States, why would we ease up on them in any way whatsoever, I cannot imagine.
Adam Lashinksky: Well, we have the stick. The stick exists. We aren't layering on another sanction here. I'm not a big fan of this move but we are trying to honor the letter of the agreement that we already agreed to now if you don't agree with that agreement then you're not going to agree with trying to honor it.
Charlie Gasparino: And then we continue to roll out the red carpet. It's kind of an odd juxtaposition, we give them everything, we give them the store, they can hate us, they can basically put guns to our soldiers' heads and threaten to kill them yet we tell Israel we want you to go back to the '67 border.
Gerri Willis: And didn't we always say this is one step we would never take, right? We're not going to do this, don't worry we'll never do this, here we are.
Stocks to Buy in a Rally
Adam Lashinksky: iShares (IWP)
Ben Stein: Vanguard (VTI)