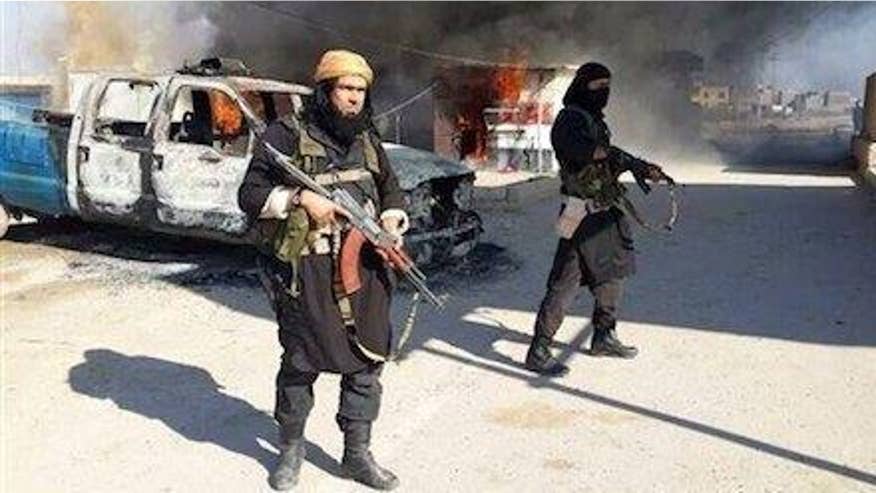 DISCLAIMER: THE FOLLOWING "Cost of Freedom Recap" CONTAINS STRONG OPINIONS WHICH ARE NOT A REFLECTION OF THE OPINIONS OF FOX NEWS AND SHOULD NOT BE RELIED UPON AS INVESTMENT ADVICE WHEN MAKING PERSONAL INVESTMENT DECISIONS. IT IS FOX NEWS' POLICY THAT CONTRIBUTORS DISCLOSE POSITIONS THEY HOLD IN STOCKS THEY DISCUSS, THOUGH POSITIONS MAY CHANGE. READERS OF "Cost of Freedom Recap" MUST TAKE RESPONSIBILITY FOR THEIR OWN INVESTMENT DECISIONS.
NEW CALLS FOR ACTION AS ISIS DISPATCHES 400 TRAINED FIGHTERS ACROSS EUROPE
Charlie Gasparino: Let's be clear, when Reagan spent the Soviet Union into the ground, we had a huge peace dividend in the 1990s. There will be a peace dividend when we destroy ISIS. I want to make one other point regarding Mayor Giuliani, I think he's wrong. We're not in a conventional war. We can water board every one of the guys we capture and get their secrets out of them. We do not need to put ground troops in. We can bomb, according to Donald Trump, the you know what out of them.
Carrie Sheffield: It does mean more money. We've got so much oil money. We've got to get Saudi Arabia in here, the Jordanians. Why not have coalitions where we're not the only ones picking up the check here? In Syria, they knew this president is not going to sign off on this. This pretty much has shrunk the military budget. I just don't think this is going to happen. The purse strings aren't there right now.
Ben Stein: This is not like World War II. We don't win this door by capturing berlin or having surrender in Tokyo bay. Isis has a multi-brained, multi-headed operation. Even if we were to kill all of them in Syria or Iraq, there would still be hundreds, maybe thousands of them in Europe. I don't know how we get rid of them. That cancer has already metastasized and is in the world bloodstream. I don't think you can get rid of them by killing as many of them as possible in the Middle East, although I certainly am for that. The amount we're spending is pennies compared to the product and wealth of this country. How do we get at this answer? You cannot spend a cancer to death.
Adam Lashinsky: I don't agree, you've already made the case, Charles, and that you said we're spending $11 million a day. That's a lot of money. This is an esoteric issue. If you told me I could change things radically by spending $22 million a day, I would say that's probably not a factual statement. We're going against a non-state actor here. So I'm not convinced -- and by the way, we've made a prudent decision not to send troops in, because it's not at all clear that it would work.
BRUSSELS ATTACKS FUELING NEW CALLS FOR TECH COMPANIES TO HELP FBI FIGHT TERROR
Carrie Sheffield: It's funny that Tim Cook is now standing up even though there are multiple instances in which they were cooperating. It's mixed signals but it seems fake, it seems hollow. That aside, we need these tech companies to step it up and to say American security is important and we need to save lives here, because, you know, what do you have on your phone that's so important? You have a bunch of pictures and selfies, what's the big deal?
Charlie Gasparino: I'm just looking, waiting for the rational response from Apple, why they should be able to tell the U.S. government to pound sand on terrorism. Every time I look in stories about this, I just don't -- I never get a rational excuse from Apple, why they can just tell -- flip off the federal government, you know, in trying to capture terrorists.
Adam Lashinsky: Well, you know, it's interesting. I initially was exactly where Charlie was on this. My perspective was, Apple just needs to step up and help out. Their perspective is, they help out quite a lot. What you said, I think what Carrie said is right, they do help. In many instances what they objected to was being asked to create a whole new product. They said to the government, you create it, you know how to do it, you do it, but we can't be in the position of doing it. It's just governments they want to protect users from, it's bad guys, criminals.
Ben Stein: There doesn't seem to be the slightest question, what's more important, the security of Americans, keeping Americans from being bombed or blown up, or if apple keeps a good reputation with a bunch of techie nerds in Silicon Valley. That's not even a close call.
NEW DEBATE OVER HILLARY CLINTON'S TIES TO WALL STREET
Charlie Gasparino: As someone who followed Wall Street 90 percent of my career. She is the queen of crony capitalism and the king would be her husband and, you know, all the nonsense going on with the republican nomination for primaries is taken away from the fact that big money has their hooks into Hillary Clinton in such a huge way. Both through the Clinton Foundation and through her personal contributions. And that she is lying about that connection and she's misleading the American people. And it's a shame because what's going on in the Republican Party is basically overshadowing one of the greatest travesties of all time.
Ben Stein: Hilarious last night and I was watching her and she had just come from two parties of billionaires raking in their money. This is a woman who has gotten bribed by $25 million from the king of Saudi Arabia alone. This is the queen of all bribe-talking in all history.
Adam Lashinsky: I understand what he's saying and I agree. I think we should be careful with our language. Bribe taking is a criminal, a criminal offense. A wink and a nudge are not. And none of this surprises me. This is not a news story.
Carrie Sheffield: Well, young people, my generation says no. That's why they're voting in droves for Bernie sanders. Because even though I think Bernie Sanders' policies would drive this country bankrupt. Young people see him as authentic. I understand that. But she's going to win.
STOCK PICKS
Adam Lashinsky: (SPHD)
Ben Stein: (SPY)