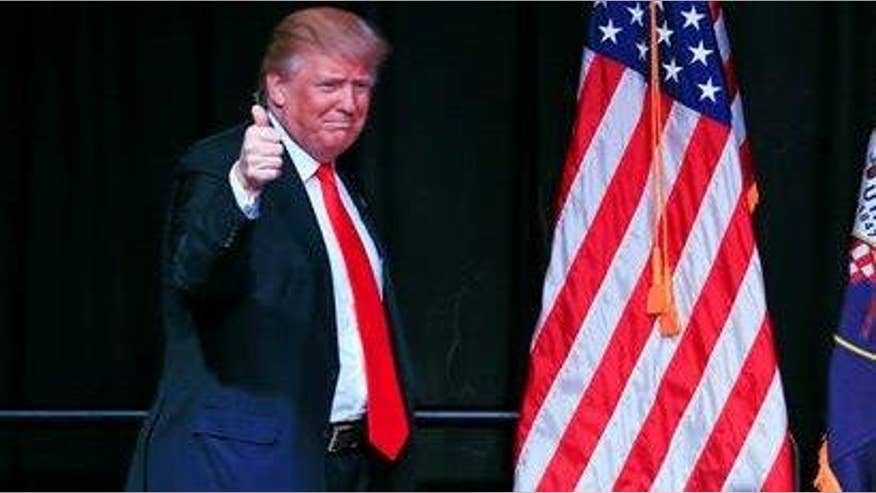 DISCLAIMER: THE FOLLOWING "Cost of Freedom Recap" CONTAINS STRONG OPINIONS WHICH ARE NOT A REFLECTION OF THE OPINIONS OF FOX NEWS AND SHOULD NOT BE RELIED UPON AS INVESTMENT ADVICE WHEN MAKING PERSONAL INVESTMENT DECISIONS. IT IS FOX NEWS' POLICY THAT CONTRIBUTORS DISCLOSE POSITIONS THEY HOLD IN STOCKS THEY DISCUSS, THOUGH POSITIONS MAY CHANGE. READERS OF "Cost of Freedom Recap" MUST TAKE RESPONSIBILITY FOR THEIR OWN INVESTMENT DECISIONS.
DONALD TRUMP BASHES GOP ESTABLISHMENT FOR SPENDING MILLIONS ON ADS TARGETING HIM
Rebecca Berg: it's not necessarily mutually exclusive, right? Republicans have plenty of money. A lot of donors have been sitting on the sidelines for much of this Republican primary, watching and waiting to see what happens with Donald Trump, only now are they really starting to spend tens of millions of dollars attacking him. I would argued they could do both, but you look at the spending so far, what is interesting is much of it hasn't been effective. This has been an election cycle where Super PAC money has not really made an impact.
Gina Loudon: They're forecasting spending $200 million against their own candidate which looks pretty much inevitable at this point. It really is nonsensical at this point. I think it says a lot more about their focus on their unwillingness to be wrong and their unwillingness to give up their cushy appointments and retirements and things like that than it does about their commitment to winning the next election.
Jonathan Hoenig: The nomination isn't over. The nomination isn't over and likely will be a contested convention, so of course people are willing to spend to stand up for their principles, to stand up to their ideas. I think to these folks credit, they're not putting party ahead of anything; they're standing up for these ideas and principles. That's why they're willing to oppose, even who at this point, is the GOP front runner.
Juan Williams: There's a lot of money out there. Don't worry. I think Republicans will have money, but the question, Eric, is this is sort of premature on your part, this argument. As was pointed out earlier, we still have a Republican primary process going on, and people want -- some people don't like Donald Trump. I think right now it's a quarter of Republicans that say they will not vote for Trump under any circumstance. What you have is a Republican establishment not going off to the golf course as Gina was saying, but they're worried about maintaining control of the senate, about their majority in the house.
FBI, POLICE INVESTIGATING SUSPICIOUS LETTER SENT TO HOME OF ERIC TRUMP
Gina Loudon: They threatened his children. His children aren't all adults. Donald Trump has a little 9-year- old boy. I have a 9-year-old boy. The thought this isn't more of an outrage after what we have seen with the way the media has protected Sasha and Malia Obama, the way they protected Chelsea Clinton for all these years, where is the outrage for this little 9-year-old boy whose life has just been threatened?
Juan Williams: Who is in support of sending a threatening letter and potential poison to anyone? I don't know. I find that the idea of saying, guess what? The Secret Service protects the president's children. That's really -- I don't get that argument at all. But I'm all opposed and hope everyone is opposed to anybody threatening the life and safety of Mr. Trump's family.
Jonathan Hoenig: This isn't like Patty Hearst getting kidnapped here. He was sent some powder, but this is normal for people in the public eye. Obama gets something like 30 death threats a day. His kids have been threatened. Trump has been threatened, but you know what? Like the CEO of Twitter is threatened. This is just part and parcel of why in fact I'm happy that Trump and his sons are members of the NRA and gun owners. I think that's a positive thing. This is what comes of being in the public eye. Can't condone it, but it's part and parcel with the territory.
Rebecca Berg: It happens obvious we have sadly become desensitized. Marco Rubio's headquarters here in Washington was evacuated a few days ago before he suspended his campaign because of a similar incident, because they received an unknown white powder substance, didn't know if it was dangerous, so they had to clear out the entire headquarters. This happens a lot. It's very unfortunate, but I think that's probably why there isn't a sort of shock you would expect.
AMERICANS THINK THE PRESIDENT NOMINATED L. RON HUBBARD, SAMMY HAGGAR, WHITEY BULGER, PETER DINKLAGE TO THE SUPREME COURT
Gina Loudon: I think this is the illusion that we have sometimes, those of us who study this and we're kind of -- and we think the average person might actually vote on a presidential candidate based on what could happen in the Supreme Court. I don't think that many people are actually paying attention. I think it would be scarier if we were to ask the question what does the supreme court actually do? I would be willing to bet you most of the people out there don't know.
Juan Williams: It's a comedy show. They chose who they were going to put on for maximum effect. I don't think that most Americans could name five of the nine sitting Supreme Court justices, much less Merrick Garland who was nominated this week. I think you have to give people a chance to catch up, to be fair for the people interviewed.
Jonathan Hoenig: I think people don't know the basics about America. They don't even know that America is a constitutional republic, not a democracy. So, yeah, we need to go back not to school with TV, but to civics class and start educating people from an early age.
Rebecca Berg: Really all ages, this is potentially a problem. I'm sure that Ted Cruz' campaign watching that segment was just groaning. They hoped and actually predicted that Scalia's death and the pending nomination that Obama was going to make, would help Republican voters kind of sober up, become more serious and turn away from Donald Trump with someone with Supreme Court experience like Ted Cruz. That video suggests that maybe that's not the case. I think the polling suggests that's not the case.