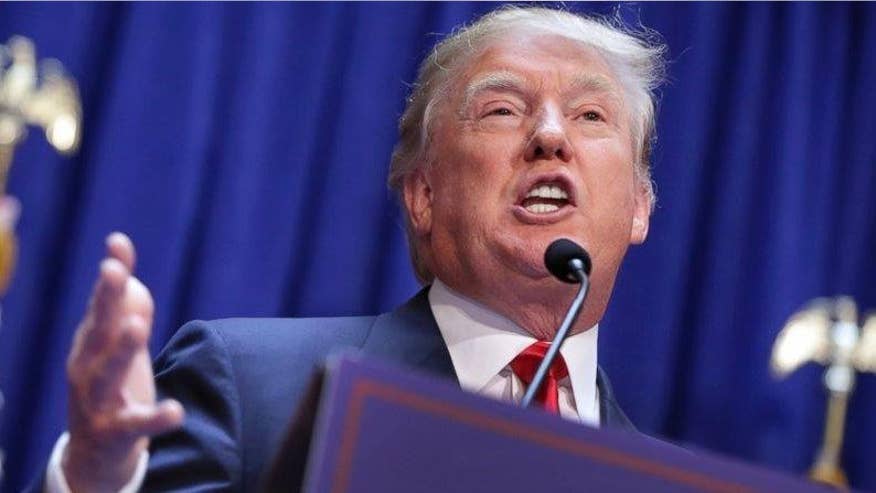 DISCLAIMER: THE FOLLOWING "Cost of Freedom Recap" CONTAINS STRONG OPINIONS WHICH ARE NOT A REFLECTION OF THE OPINIONS OF FOX NEWS AND SHOULD NOT BE RELIED UPON AS INVESTMENT ADVICE WHEN MAKING PERSONAL INVESTMENT DECISIONS. IT IS FOX NEWS' POLICY THAT CONTRIBUTORS DISCLOSE POSITIONS THEY HOLD IN STOCKS THEY DISCUSS, THOUGH POSITIONS MAY CHANGE. READERS OF "Cost of Freedom Recap" MUST TAKE RESPONSIBILITY FOR THEIR OWN INVESTMENT DECISIONS.
ANTI-TRUMP PROTESTS SPARK DEBATE OVER FREEDOM TO PROTEST VS. FREEDOM OF SPEECH
Steve Forbes: What's happening is a form of political intimidation. It's political pollution, David. The First Amendment guarantees you free speech even if you're a candidate. It's one thing to protest outside a rally, but to disrupt a rally, that Nazi Germany Fascist Italy. It has no place in America. What Trump should say at these rallies, if somebody starts to get disruptive, politely have that person removed. It's not right. Free speech trumps everything.
Bruce Japsen: Well, full disclosure here; I was actually invited by a real estate developer friend of mine, who said he had an extra ticket to the Chicago rally. Because I reserved the right to jeer, I did not want to get hit in the head with a beer bottle, so I did not go. If law enforcement knows, and honestly it's a diverse neighborhood where this protest was at, I didn't want to go, because I thought something would go wrong, and I think law enforcement should shut these things down, because the rhetoric is so high. If they hear things are going to happen, they should contain them so people don't get hurt. His rhetoric is so inflammatory.
Rich Karlgaard: Yeah, they do. They learned this in our university system, where free speech has gone out the window, where you can shut down commencement speakers, get them disinvited, and these protesters think this is par for the course.
Elizabeth Macdonald: I think Trump is using menacing language, I think he is missing a golden opportunity to look presidential. I wish he would take that up. But you know, you don't shut it down. I think it's wrong. We see that with the Black Lives Matter movement, going after Bernie Sanders and trying to shut downs his speeches there. I'll tell you something that could back fire and here is how it back fired in the '60s when if you agreed or not, I agreed with the Vietnam War protesters, I was against that war. But you know, the silent majority didn't like the mayhem. They didn't like the shutting down of speech and they voted in Nixon. So that can backfire on people who may not want people elected into office.
Sabrina Schaeffer: Sure, absolutely, David. Politics isn't polite and I don't believe that there's ever been this golden era of political civility, but I do think that people are saying hey the political rancor has become so intense, so deafening that we simply can't have political discourse, we can't have a free exchange of ideas. That's really the cornerstone of our democracy. If those protesters are preventing us from having any kind of meaningful discussion about the issues that we all care about, then I think they need to be removed.
John Tamny: It's interesting here. They only like free speech if they agree with it, but they've got this idea that we have a right against being offended in the United States, and that is wholly opposite what we're about. Presidential candidates whom we may not like should be allowed to speak freely. So should obnoxious college students and I would add so should rich people like the Kochs and big corporations have every right to speak freely. If not, we're not the United States.
CLINTON WALKS BACK COMMENTS ON PUTTING COAL MINERS OUT OF WORK AMID BACKLASH
John Tamny: Basically she wants to impose 13th century energy ideas on a modern economy. Anytime a politician meddles in this way in the natural workings of the economy, it's going to be a capital repellant and lead to job destruction. I would just say let's not leave it at coal, let's face it, the size and scope of government itself is a huge company and job deterrent. We need to shrink these guys.
Bruce Japsen: Well I think what she means is the coal states in these areas, they need to diversify. It's not a passing fad that people are going to be using less fossil fuels and climate change is real, so I think the whole diversification is what these areas of the country that have coal manufacturing plants need to do.
Elizabeth Macdonald: And that really hurts. We're talking about blue collar workers also, and with the moves against fracking as well. I'm telling you the Democrats have no more sense than a flock of geese. These are the blue collar voters that are going for Trump right now, so, you don't wipe out entire industries, you fix them. That's what the industries were doing to reduce their carbon emissions. I'll tell you something this is the Walter Mondale "I'm going to raise your taxes" moment for Hillary Clinton. I'm going to get rid of jobs, really?
Bill Baldwin: Maybe not and I have some doubts about the wisdom of having green energy displace fossil fuels overnight. Not because of any job counts. Rich Karlgaard is going to tell you that he's skeptical about solar panels because they're made with robots. What are you going to do about that, Rich? Should we outlaw robots? Should we ban ATMs?
Rich Karlgaard: No, I don't know what Bill is talking about here. All I'm saying is you can love green energy, but it isn't going to produce as many jobs because of robotics, because you don't need much labor involved in a windmill once it's been built, and this experiment has already been proven in Spain where all this green energy led to a net loss of jobs.
Steve Forbes: The behavior of Hillary Clinton and these democrats and these environmental extremists are like a religious cult on steroids. It's not based on science. They don't like coal, they don't like oil. They don't like natural gas. They don't like anything that makes life better. And so John is right we don't need 13th century technology unless we want to go back to the 13th century. People in free markets, free people choose what kind of energy they want. They want energy that is cheap, work and clean. Natural gas and others are like that. Coal has been around forever, still vitally important. Get the politics out of it.
NEW CALLS TO LOWER CORPORATE INCOME TAX RATES IN US TO BOOST JOBS AND ECONOMY
Rich Karlgaard: My gosh, we really need to do that. That needs to be a big priority right now. The irony here is that companies like apple and google are able to get their tax rates way down by using loopholes. Other companies move offshore, and who is left holding the bag are smaller companies that don't have the legal resources. That's not fair.
Bruce Japsen: Certainly we can look at closing some of the tax loopholes. Some of these companies do these things; it's an excuse when their profits are getting hit for other reasons. Walgreens talked about this a couple of years ago, and then we found out that their former CFO made a huge error. I don't know if it's necessarily these companies are doing it necessarily because of the corporate tax rates.
Steve Forbes: It is very simple, and also it means companies can be more prosperous, when they don't have to hand over more of their resources to the government and can invest those resources profitably. The 12.5 percent Rate in Ireland, juicy though it is, goes down to 6.25 percent if you move certain patents and electrical property to Ireland. So Ireland gets it, Britain gets it. That's why Avon is moving there. In the next couple of years Britain is going to reduce their rate from 20 percent down to 17 percent. This is a case where less is more. You'll collect more, have a more prosperous economy by not having businesses have to go through contortions to avoid the extortionist rate we have in the U.S.
Elizabeth Macdonald: The thing is the GOP and they've said this themselves, they have to make this case and not sound like wonky bookkeepers. Even the rock band U2's, Bono said look at what we're doing in Ireland, and then you have high tax in California, the governor there Jerry Brown saying well now apple is an Irish company. He just joked about that.
Sabrina Schaeffer: And Lizzie hit the nail on the head. The real problem, the real disconnect is that 64 percent of Americans believe that corporations aren't paying their fair share. This is a serious challenge in the court of public opinion. So, if they want to bring corporations back, republicans need to make the very personal case to Americans that they're going to bring jobs back that they're going to bring opportunities back because that's what voters care about.
Bill Baldwin: We should lower the rates and close the loopholes. Apple should be paying U.S. corporate taxes on its worldwide income, a portion the U.S., on the basis of jobs and sales, and that way apple could no longer be saying, well, all of our profits are being made by our patents, and the patents they just so happen to be located in a satellite.
REFUND PICKS
Elizabeth Macdonald: Syngenta (SYT)
Bill Baldwin: Devon (DVN)