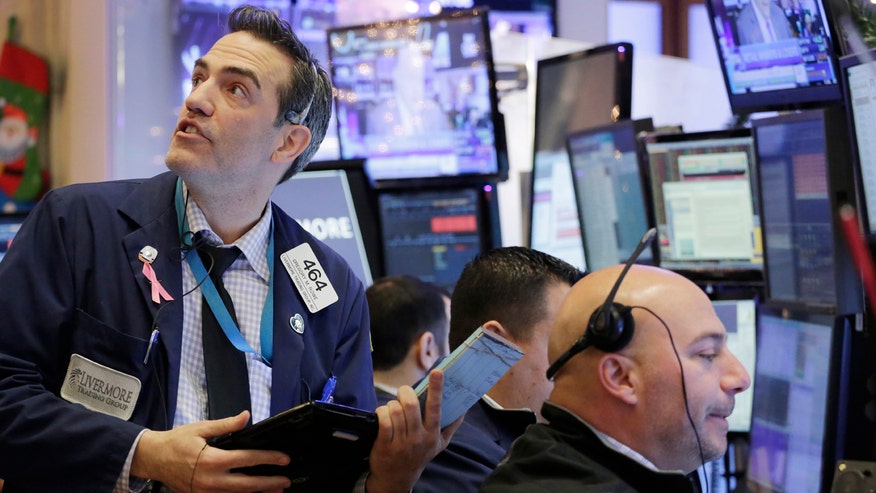 DISCLAIMER: THE FOLLOWING "Cost of Freedom Recap" CONTAINS STRONG OPINIONS WHICH ARE NOT A REFLECTION OF THE OPINIONS OF FOX NEWS AND SHOULD NOT BE RELIED UPON AS INVESTMENT ADVICE WHEN MAKING PERSONAL INVESTMENT DECISIONS. IT IS FOX NEWS' POLICY THAT CONTRIBUTORS DISCLOSE POSITIONS THEY HOLD IN STOCKS THEY DISCUSS, THOUGH POSITIONS MAY CHANGE. READERS OF "Cost of Freedom Recap" MUST TAKE RESPONSIBILITY FOR THEIR OWN INVESTMENT DECISIONS.
Stocks Plunge Around the World Amid Worries About Global Economy, Turmoil
Gerri Willis: You need a distraction for people who are suffering economically. That's what happened to Germany before WWII: rampant inflation; what can we do? We'll go out and attack other countries. That's what's going on here, I think; particularly in China. This country is trying desperately to keep people's minds off this economy.
Charles Payne: If that's the case, it's going to get worse because the ruble is crashing. Food inflation in Russia is through the roof. And to your point, Gerri, Vladimir Putin's popularity is through the roof because of these outside aggressions that in his country makes him look very heroic-- and also in this country to some people. The currency in China is falling apart; their market is falling apart. There's definitely some validity to it, and it's probably going to get worse.
Charlie Gasparino: I think the German analogy is completely wrong. The Germans began to attack Europe when they were economically on firmer footing. I think the bigger problem here is when the U.S. or any global powers-- as they did in Europe-- step away. What did the Europeans do right before WWII? They stepped away. They looked the other way in German aggression, as we're doing. We're looking away.
Adam Lashinsky: First of all, of course these are concerning things, and of course we are challenged from a foreign policy perspective under multiple presidents. I would just say that the Chinese and the Russians are being consistent. The Chinese have been on this global expansion for quite a few years now—especially when the economy was tough. And Putin was behaving like a kook at higher oil prices. So should we be concerned? Absolutely. Is this new or surprising or hard to understand? I don't think so.
Ben Stein: First of all, my friend Charlie Gasparino is completely correct. Germany was in a state of high prosperity when it invaded Poland. China is still in a state of high prosperity; their growth is not the blazing fast growth that it was last year or the year before or twenty years before that, but they're still in a state of high prosperity. Russia is a different story. Russia is run by a kook, as my friend Gasparino pointed out so well. But there is no consistent pattern of countries invading other countries only when they're in economic trouble. Yes, they change governments. When Napoleon invaded Russia and began his eastern march ended in disaster. France was in a state of high prosperity. There is no consistent evidence that wars begin because of high unemployment.
Hillary Clinton, Bernie Sanders Attack Wall Street Amid Market Selloff
Charles Payne: Main Street hasn't benefited from Obama's heavy-handedness with the banks. Try getting a loan. Try buying a house. The bottom line is it feels like there's a Faustian deal between these democrats and Wall Street, particularly Obama. We're going to fine the hell out of you, you're going to pay billions of dollars but—and this is for Hillary—none of you are ever going to go to jail. So the CEOs use shareholder money, they give the government hundreds of millions of dollars, everyone gets their pound of flesh but the American public gets zero.
Charlie Gasparino: If you want me to take what these two idiots say seriously, I'll put it this way: Wall Street did not go to jail because a democratic U.S. attorney in New York named couldn't find a case. Banks were not broken up because democrats in congress and the Obama administration got together and said "Let's create Dodd-Frank" which essentially creates five banks and makes them too big to fail. By the way, Wall Street guys made a lot of money because there was no good fiscal policy and because we lowered interest rates to zero, which helped every Wall Street guy, everybody with money in the markets make money. What they're saying is stupido, as my grandmother would say.
Adam Lashinsky: Neil, this is where your tactical political sense is always spot-on. We're beginning the democratic primaries, so there is no bad week for democratic candidates for president to bash Wall Street.
Ben Stein: I don't get what Mr. Sanders and Mrs. Clinton are saying. What did Wall Street do wrong? They are an incredibly important factor in the economy. They allow Americans to use their savings to buy into income streams and become business partners with some of the best businessmen and women in the world. What has Wall Street done wrong? Yes, they're highly paid; so are plastic surgeons, so are personal injury attorneys, so are real estate agents who are doing commercial real estate. This is just pure sour grapes.
Gerri Willis: I agree with Charles Payne, because the practical effects of the reforms that have been laid onto the banking industry are that people can't get loans. And they can't negotiate with the banks that they want to do business with because the red bank and the blue bank have gotten out of the mortgage business, for example, and now there are lots of tiny little players.
Several Major U.S. Airlines Hiking Airfares for Most Domestic Flights; Oil Down 45 Percent Since Last Round of Airfare Hikes In June 2015
Ben Stein: It is price fixing. There is something going on here that should not be happening. They're allowed to do it, but they're not allowed to fix prices. Something is desperately wrong here. It makes no sense. They have plenty of surplus airplanes lying around in Arizona fields. They have plenty of money for gasoline. They're making profits on a scale that no one would believe possible. Raising fares makes no sense, except as an expression of price fixing.
Gerri Willis: This drives me over the edge. Are you getting more legroom? Are you getting more room in your seat? No. Peanuts are not lunch. That does not qualify as a meal. I found a customer satisfaction survey that shows that airlines rank 38th out of 41. The U.S. postal service ranks higher than airlines in consumer satisfaction.
Charlie Gasparino: We know they suck, that's not the issue here. The real issue is why is there not more competition? Why do you have cartels? You generally get cartels in industries that face massive regulation.
Charles Payne: I'm a free market guy, but we've allowed all of these airlines to become three or four of them, and of course they park the planes that they don't use, to Ben's point. Every plane is going to be packed. So the reason they do this is because they can. Pretty soon you're going to have to take a roll of quarters with you to the bathroom to use one.
Adam Lashinsky: That's a factual statement, but the other factual statement is that every single one of these companies—except for Southwest—went bankrupt. They couldn't make a profit. Now they can. Their balance sheets are better, and yes there are fewer of them. I say let them earn some profits so they can stay in business for the next time around, because we actually need them to get around the country and the world.
Stocks on Sale After the Selloff
Charles Payne: (HBI)
Adam Lashinsky: (VUG)
Ben Stein: (SPY)