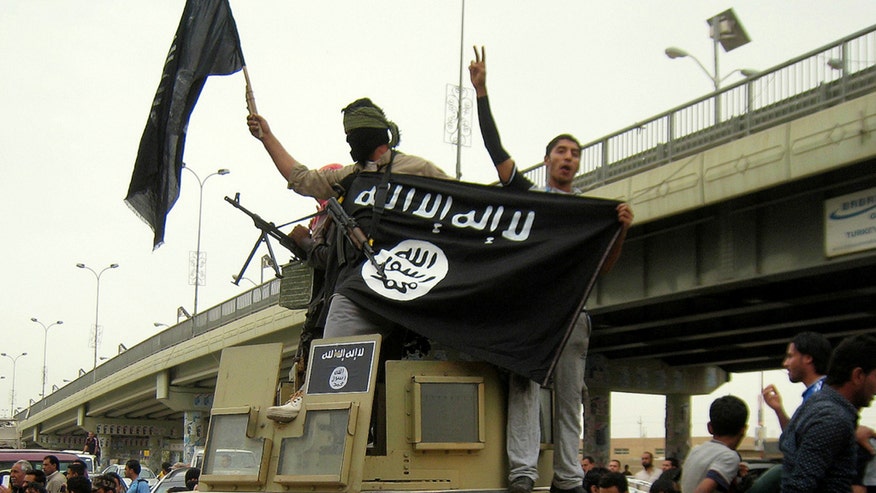 DISCLAIMER: THE FOLLOWING "Cost of Freedom Recap" CONTAINS STRONG OPINIONS WHICH ARE NOT A REFLECTION OF THE OPINIONS OF FOX NEWS AND SHOULD NOT BE RELIED UPON AS INVESTMENT ADVICE WHEN MAKING PERSONAL INVESTMENT DECISIONS. IT IS FOX NEWS' POLICY THAT CONTRIBUTORS DISCLOSE POSITIONS THEY HOLD IN STOCKS THEY DISCUSS, THOUGH POSITIONS MAY CHANGE. READERS OF "Cost of Freedom Recap" MUST TAKE RESPONSIBILITY FOR THEIR OWN INVESTMENT DECISIONS.
NEW PUSH FOR TEMPORARY TAX TO HELP FIGHT ISIS SPARKING DEBATE
Michelle Fields: They say that this is going to be a temporary tax, look we're not that stupid. There is no such thing as a temporary tax. They're just using this as a way to get more money. We're not in debt right now because we're fighting ISIS. We're in debt right now because our entitlement spending. If they're serious about tackling the debt, let's talk about entitlement reform. We don't have a problem with paying for our war on ISIS; we have a problem with the strategy.
Jonathan Hoenig: I like the idea of a tax on the war. If nothing else it will force us to declare war officially. The first income tax came out because of the civil war. To your point, Michelle, it never went away but wars cost money. It's paid out of the income of the citizens. If you support a war you should pay for it.
Jessica Tarlov: To Jonathan's point, starting in the War of 1812, the only wars we haven't changed the tax policy for were wars in Afghanistan and Iraq. In the past 15 years we haven't been doing this. What Chris Coon is doing now is he's acting like a Democratic hawk. He wants to have the debate in Congress about whether we're going to authorize this as a full scale wall and the GOP is running away from it. All of the GOP candidates say we're at war; we're at war, at war. So act like it.
MICHAEL MOORE BLASTS REPUBLICAN ECONOMIC POLICIES; CALLS GOP 'A DEAD PARTY'
Michelle Fields: Yes, the Republican Party is so dead and that's why they control the House of Representatives, the U.S Senate and since president Obama has been elected over 900 Republicans have gained legislative seats. If you look at state legislatures, 70 percent of them are controlled by Republicans. 60 percent of governors are Republicans. I don't think the Republican Party is dead. If anything is dead it's Michael Moore's career. I haven't seen him in forever.
Jessica Tarlov: What Michael Moore said at the end of his statement, which I think is the only good part about it is that if you do the math it looks like a Democratic victory. Millennials over 20 points. 51 To 30, I believe it is favor the Democrats. If you look at Hispanics, over 30 points. Women as well, educated women even more than that. Black voters, still 80 percent plus favor the Democrats, and that's what Michael Moore is talking about.
Jonathan Hoenig: I disagree with this idea that if there is an African-American as a candidate that necessarily appeals to African-Americans who are not candidates. It's all about ideas. I do think the GOP is dead ideologically. Donald Trump has been on every side of every issue. So what the Democrats have is consistency, but the Republicans I think lose it. Especially when they say stuff like get rid of ObamaCare but don't touch my Medicaid.
'HANDS UP, DON'T SHOOT' NAMED ONE OF "THE BIGGEST PINOCCHIOS OF 2015'
Jonathan Hoenig: It's a complete lie. It cost businesses. How many police officers had bricks thrown at them, or bottles thrown at them? This is a major expense of this country. It's a lie that was built on a
lie, this notion that America is this fundamentally racist, unjust society.
Jessica Tarlov: It would be great if we had body cameras. It would also be great if we wouldn't demonize an entire group. This is a mistake. It's not as if we don't know that these murders took place. We do know that Eric garner said "I can't breathe" or maybe he didn't. It didn't change the fact that he's now dead at the hands of a police officer. We don't want to belittle that because it ended up being a Pinocchio. This is what we were told. I don't blame the lawmakers. I don't blame the media for making a point of it.
Michelle Fields: Jessica is acting like this is no big deal. They fanned the flames. We're not saying this is no big deal; these people just walked out onto the streets and blocked traffic. These people damaged 500 stores and businesses. They estimate that $4.6 million in damage was done to businesses and buildings in the Ferguson area. This is not just, oh, no big deal. Tons of business owners suffered because of this.