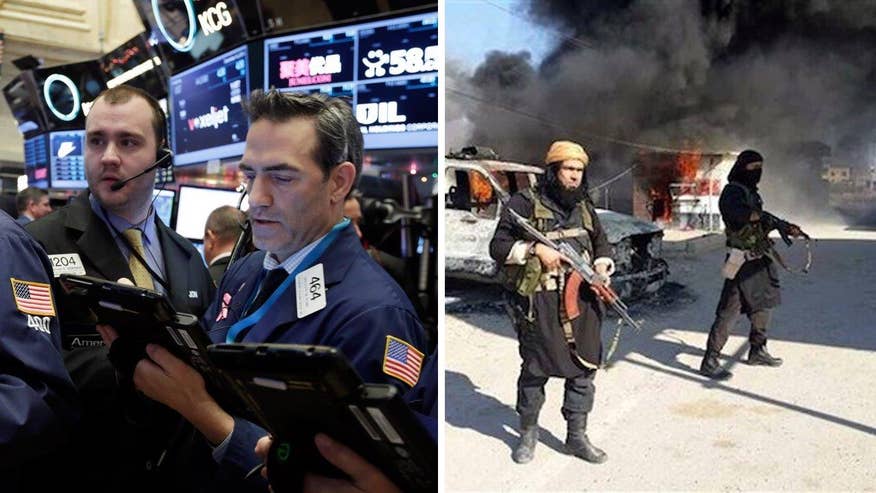 DISCLAIMER: THE FOLLOWING "Cost of Freedom Recap" CONTAINS STRONG OPINIONS WHICH ARE NOT A REFLECTION OF THE OPINIONS OF FOX NEWS AND SHOULD NOT BE RELIED UPON AS INVESTMENT ADVICE WHEN MAKING PERSONAL INVESTMENT DECISIONS. IT IS FOX NEWS' POLICY THAT CONTRIBUTORS DISCLOSE POSITIONS THEY HOLD IN STOCKS THEY DISCUSS, THOUGH POSITIONS MAY CHANGE. READERS OF "Cost of Freedom Recap" MUST TAKE RESPONSIBILITY FOR THEIR OWN INVESTMENT DECISIONS.
New Questions for Stock Market and Economy as Terror Threats Mount
Gary Kaltbaum: There is no doubt in my mind that terror is putting a discount in the economy and the market. When you see Paris and the threats every day, but for me, look at the markets. Some of the strongest stocks are defense stocks and gun stocks. Some of the weakest stocks are retail and travel stocks.
Jonas Max Ferris: I don't think there's enough terror attacks globally even to screw up the entire economy. It's more like travel but I don't think it will affect the US. And the whole economy, you're not going to see it in the GDP, shifting to doing less things in public. But they're not going to not spend money and cause a recession yet. It's just not that big of a threat, frankly.
Gary B. Smith: Terrorism is putting the discount on the economy. Is it affecting it to your point? Absolutely, and I think he makes the same point. Is it really? Is it more than a 1 or 2 percent hurt on the economy? I don't think so. I hate to do a sidebar here but I think the real terrorists, quote, unquote, out there is our government. That's hurting us as much as the terrorists will. With the encroaching entitlements, increasing government regulation, increasing taxes, that's a one-two punch and people go out and I go oh my gosh I have the Russian plane bombing and the attacks in Paris. I don't think it's a good scenario for any kind of growth in 2016.
Jehmu Green: Well, I think we are certainly far from a recession. It's not just because it is the first day of the New Year. I'm feeling a lot more optimistic. Look at the year in totality. From an economic standpoint, The longest streak of private sector job growth in history. We've got unemployment down to 5 percent. Wages are now growing at the fastest rate since the start of the recession. There are some good things here and at the end of the year, the government, both Republicans and Democrats are bipartisan deals to actually stop the government from shutting down. That's not a bad thing: I'm feeling optimistic.
John Layfield: There are good things in the economy but under president Obama for every job that's been created two people have slid into food stamp usage. So the middle class has disappeared. GDP growth is over 3 percent and under president Obama the highest is 2.5 percent. We're seeing this and it's going downward because we have such a vacuum of leadership in D.C. And we've had that for a very long time so without anything done with immigration, with taxes, the administration and Congress is inept.
Poll: 56 Percent OK with Government Spying on Internet Communications Amid Terror Fears
Gary B. Smith: It is and it's the society we live in now. Back years ago when people went to shopping malls and went downtown to party and everything there was security cameras all over the place. No one ever questioned whether you needed a warrant to record everyone's activities. Now the new mall is the Internet. That's where everyone hangs. That's where cyber security is obviously the biggest threat. I say I'm all for it.
John Layfield: Well, the opposing view is a view that can get a lot of people killed. Anonymous had stopped a couple of different ISIS attacks by going online and I think Americans want to say if you want to give up some of our Internet security and the fact that we are at war here, that's a big difference. This isn't just snooping on people that you're concerned about because ISIS has gone to a more Al Qaeda-type model and you need this stuff.
Jonas Max Ferris: I don't think our level of doom is so high we have to wholesale our privacy. I don't think the government can do it right without our personal data being exposed. So you actually do it, to it anonymously maybe.
Jehmu Green: Do you know who does it right? It's corporations. I'm fine. You can come and look in my closets. You can look under my bed. If it's going to stop a terrorist attack, our founding fathers did not have any sort of clue about the Internet and the threats that an ISIS would put forth. I am perfectly okay with the loss of privacy. And this is the new normal and I think it's okay.
Gary Kaltbaum: Well, look over the last few years, government has conditioned the masses to believe that we need them to be in every nook and cranny and even to make sure that there are no terrorists. I can't argue the point. But we only know what they want us to do. I can only imagine how much snooping is going on and how much they do know and what they're saying. If they're saying it's going to fight terrorism and help things out, terrific. The problem is we never know how far it's going to be.
Report: Damage From Texas Tornadoes Tops $1 Billion
John Layfield: It's a terrible tragedy that we all hated to see but when you talk about the oil rigs that had to shut down you'll feel that nationwide but when you talk about the people in tornado alley or in a floodplain, homes and businesses should have mandated codes but when you talk about a random act of nature or God the government has to step in.
Gary B. Smith: The facts say that one, this is a terrible tragedy but we've had many terrible tragedies. I defy anyone to name any natural disaster that we haven't bounced back from and bounced back stronger. Whether it was the Chicago fire, San Francisco earthquakes, Hurricane Camille in the late '60s, Sandy a few years ago. We always come back. It's harmful. It hurts particularly for those that live there but the country will come back.
Jehmu Green: We come back because the government stepped in and provide resources and insurance companies have stepped in as they should. I totally agree with you from the resiliency standpoint but this is an important role for governments to play.
Jonas Max Ferris: You mention insurance companies, they're raising rates because this is on the increase and you have to raise your premiums. This is going up year after year, more or less, for whatever reason we have to start paying for it.
Gary Kaltbaum: We'll come back but this is the worst time for it. Every indicator I follow in the economy is heading south. So this will certainly not help.
Stock Picks
Gary B. Smith
Worst pick of the year: Twitter down 52 percent since February 7, 2015
Best pick of the year: Smith and Wesson up 119 percent since January 17, 2015
Prediction for 2016: Dog up 15 percent
John Layfield
Worst pick of the year: GoPro down 73 percent since January 3, 2015
Best pick of the year: Google up 38 percent since February 28, 2015
Prediction for 2016: Under Armor up 30 percent
Jonas Max Ferris
Worst pick of the year: Overstock down 43 percent since May 23, 2015
Best pick of the year: Amazon up 60 percent since May 2, 2015
Prediction for 2016: Igov up 15 percent