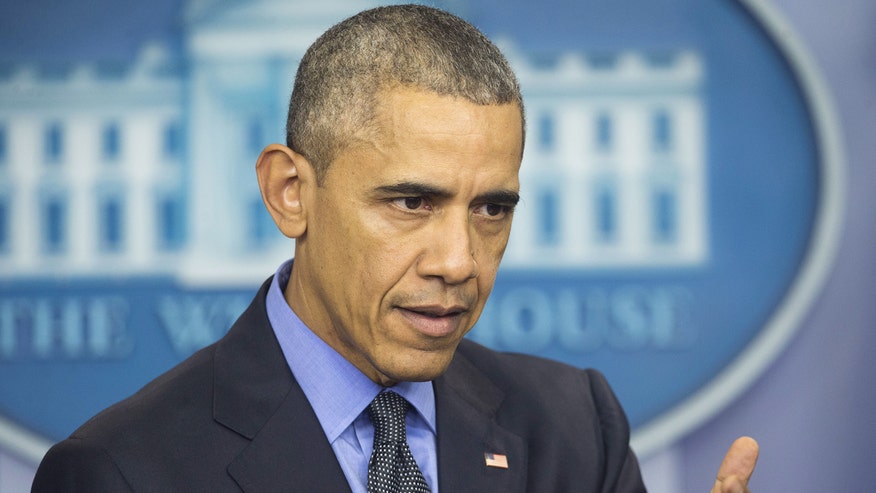 DISCLAIMER: THE FOLLOWING "Cost of Freedom Recap" CONTAINS STRONG OPINIONS WHICH ARE NOT A REFLECTION OF THE OPINIONS OF FOX NEWS AND SHOULD NOT BE RELIED UPON AS INVESTMENT ADVICE WHEN MAKING PERSONAL INVESTMENT DECISIONS. IT IS FOX NEWS' POLICY THAT CONTRIBUTORS DISCLOSE POSITIONS THEY HOLD IN STOCKS THEY DISCUSS, THOUGH POSITIONS MAY CHANGE. READERS OF "Cost of Freedom Recap" MUST TAKE RESPONSIBILITY FOR THEIR OWN INVESTMENT DECISIONS.
NEW DEBATE AS PRESIDENT OBAMA SUGGESTS MEDIA COVERAGE IS FUELING ISIS FEARS
Michelle Fields: Well, if you're to ask President Obama, it's everyone except him. He never takes responsibility for his actions. He needs to say, hey, I made a mistake I didn't take the threat seriously. We had a bad strategy. He makes it seem as though Americans shouldn't be all that concerned. But the media is the one who is really hyping up the story. But that's not fair to say. Americans are seeing terrorist attacks happening in their backyards in California, in Tennessee, in Texas, in Minneapolis alone ten people were arrested for trying to join ISIS or having ties to ISIS. So this is not some threat that the media has made up.
Juan Williams: Gee, I think more people are dying by gunfire on the street corner. In other words, what the president is saying, yes, there is a terrorist threat. But let's be proportional. Let's not have a media that is ratings hungry, feasting and scaring the day lights out of people with fear mongering.
Jonathan Hoenig: It's actually a subtle smear. Three people in capitalism and people in media, they're just out for the ratings. They're not giving you the truth. The truth is as Michelle talked about, is that there have been nine plus either attempted or successful Islamist attacks in America this year. We spend billions of dollars, and lost I don't know how many of lives and the president has the gall to blame the media?
Jessica Tarlov: I don't think that exactly encapsulates the entirety of what President Obama was talking about. I think he was voicing frustrations, specifically with the fact that the media refuses to acknowledge that his strategy is exactly the same strategy that majority of the GOP candidates are espousing.

WASHINGTON POST PULLS CARTOON DEPICTING TED CRUZ'S DAUGHTERS AS MONKEYS
Jonathan Hoenig: There is a precedent of that. Obama's kids have been called not classy and you remember Chelsea Clinton was completely made fun of back in 1992. Also the Republicans as well. Andrew Giuliani, Rudy's kid and Sarah Palin's kids, of course. The irony is that not only is it inconsequential with their ideas, it actually helps them. Ted Cruz is fund-raising off this effort. It looks bad on those that put forth this material and it's helping Cruz financially and in terms of his exposure as well.
Jessica Tarlov: I think it's interesting. This is a first amendment issue. We have Republicans flipping out about the Mohammed drawing contest. This is the same principal. Now it appears they need a safe space which usually us liberals need to be, you know, live in our little walled environment where everything is peacy and fantastic. There is unfortunately a precedent of this. If everyone would agree to moratorium on making fun of children I am all for it.
Michelle Fields I mean it's not just making fun of children. There is a bit of racism here. We're talking about a Hispanic family and you have them depicted as monkeys. If someone were to do that to President Obama's children, it would be an outrage. It's not just mean, it's racist. And I think it's ridiculous that, you know, The Washington Post editor said we didn't see this when it was published. Come on.
Juan Williams: I think he means that they made a mistake and he's embarrassed. He should be embarrassed. I don't that's the standards of The Washington Post. I say that as alumni of that institution. It's very interesting. I'm really taken by what we've all had to say about this because I'm reminded at the start of 2015 Charlie Hebdo. They are a satirical magazine and everybody I think said, we support first amendment rights in this country and free speech and if you want to mock Mohammed, why not? But I don't like this. I think that for our standards as Americans, it was over the top.
TEXAS RESTAURANT SPARKS DEBATE WITH "POLITICALLY INCORRECT" HOLIDAY POLICY
Juan Williams: No, I would agree with everything on that sign. I just think there is a political message implicit which is all you liberals, go on your merry way. Take a hike.
Jessica Tarlov: You can say God. You just have to have separation of church and state. I mean there are rules to this. I know when anyone says to me Merry Christmas that they mean well. If they then say by the way I hate Jews, I know that is a problem. It's the holiday spirit.
Michelle Fields: This makes me want to eat there. The only people who are going to see this and be offended are the crazy pc police. And that's fine. Who wants to eat with those people anyway?
Jonathan Hoenig: I don't think people are really offended about those practicing their own religion on their own property, on their own private property. I think where people become offended is when it creeps into government and the separation between church and state is broken. On your own property in your own store, Ramadan, Christmas, Hanukkah, Yom Kippur, whatever you want to celebrate, go for it. It's your property.