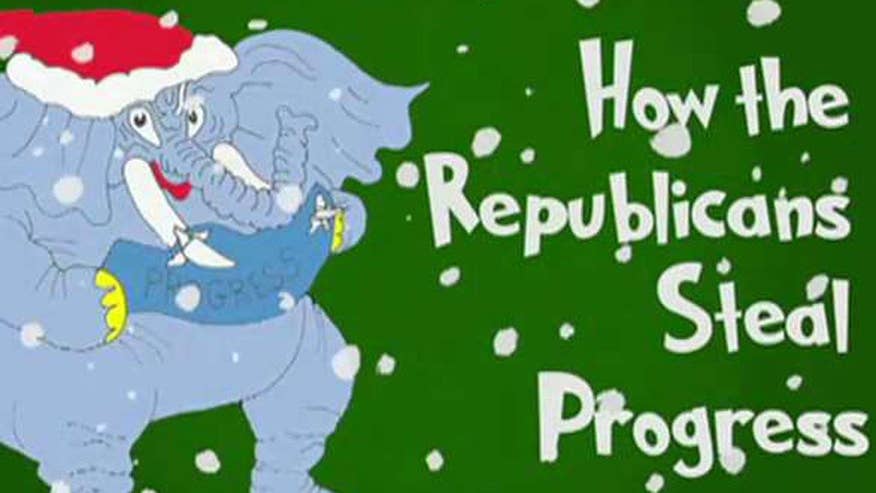 DISCLAIMER: THE FOLLOWING "Cost of Freedom Recap" CONTAINS STRONG OPINIONS WHICH ARE NOT A REFLECTION OF THE OPINIONS OF FOX NEWS AND SHOULD NOT BE RELIED UPON AS INVESTMENT ADVICE WHEN MAKING PERSONAL INVESTMENT DECISIONS. IT IS FOX NEWS' POLICY THAT CONTRIBUTORS DISCLOSE POSITIONS THEY HOLD IN STOCKS THEY DISCUSS, THOUGH POSITIONS MAY CHANGE. READERS OF "Cost of Freedom Recap" MUST TAKE RESPONSIBILITY FOR THEIR OWN INVESTMENT DECISIONS.
Hillary Clinton's Grinch video
Steve Forbes: Hillary is the real Grinch and so is her boss. They both deserve lumps of coal for their wars against hydrocarbons. They lied to us about keeping your doctor and keeping your insurance. They have given us the worst recovery in American history. That deserves a mammoth lump of coal.
Bruce Japsen: The Republicans only want to steal the packages and don't want to offer up any replacements.
Mike Ozanian: Ted Cruz is the only Republican and he is separating himself from others when it comes to spending. He voted against the spending bill and government spending robs the middle class.
John Tamny: Government is the big prosperity killing tax so we have to shrink it. I have to give Republicans credit, they are seeking tax reform, but they weaken their message when they want to make the world's problems ours.
Carrie Sheffield: They don't actually make real Christmas presents, they just steal other people's. Hillary is the real Grinch she wants to make America poor and less prosperous.
Rich Karlgaard: Hillary is the Grinch and Obama is the Grinch. Whoville is about $2 trillio short of what it should be and it's their fault.
Relations with Iran
Rich Karlgaard: It's the big conundrum of your time. You can only speculate about their motivations. The only thing I can think of is that Obama was elected as our president but wants to be the president of the world.
John Tamny: I don't like when any administration goes around Congress. We have the separation of powers for a reason. I think open borders is the best foreign policy conceived by mankind. The last thing you want to do is put up walls between countries because it destroys understanding and peace.
Steve Forbes: John Kerry suffers from battered diplomat syndrome. The more Iran does the more appeasing he becomes. It's weird
Bruce Japsen: I know there are definitely some concerns here but what it comes down to is economic sanctions and they don't work. You want to be able to encourage business around the world.
Carrie Sheffield: Let's put the real perspective here in terms of what Iran is doing. They are sponsoring terrorism and flouting the UN. I just don't understand.
Bill Baldwin: Why are we making so easy for Iran to lob nukes around the Middle East? Bring back the sanctions.
Federal Pay Raise
John Tamny: Government is a tax. When government increases by size and scope, our wages decrease by definition. The last thing you want to do is create incentive to work in Washington. It is public service.
Bruce Japsen: You want good people working for the government. A 1.3 percent raise isn't going to kill anybody.
Mike Ozanian: This is the fault of Republicans who control spending.
Bill Baldwin: It's not that far out of line with public sector increases but the pension benefits are way out of line.
Carrie Sheffield: Pay raises should be merit based, not based on where you work or what union you belong to.
Steve Forbes: A rising tide raises all boats of mediocrity and incompetence. It would be one thing if you gave more to the service members and those serving the public, but it's not a coincidence that this is an election year.
Holiday Bonus picks
Mike Ozanian: PRDSX
Bill Baldwin: Tupperware