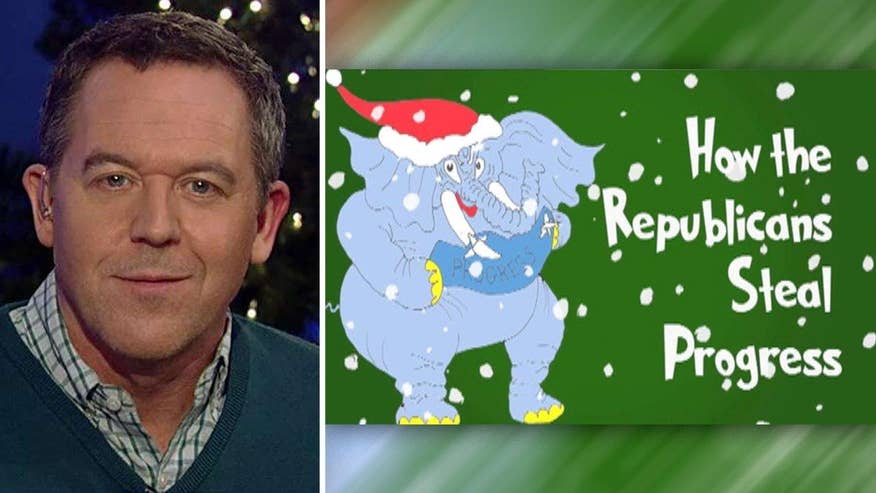 The Clinton camp released a holiday-themed video that slams the GOP. It is as cute as it is wrong.
(BEGIN VIDEO CLIP)
NARRATOR: American families like progress a lot. But the Grinches in GOPville, it seems they do not. Together, they shout with great, Grinchy zeal that on health care their plan is --
DONALD TRUMP, REPUBLICAN RESIDENTIAL CANDIDATE: Repeal.
CARLY FIORINA, REPUBLICAN RESIDENTIAL CANDIDATE: Repeal.
SEN. TED CRUZ, REPUBLICAN PRESIDENTIAL CANDIDATE: Repeal.
SEN. MARCO RUBIO, REPUBLICAN PRESIDENTIAL CANDIDATE: Repeal.
NARRATOR: On immigration, they vow to build a wall on the border. And as for deporting DREAMers, they would.
TRUMP: Terminate President Obama's illegal executive order.
NARRATOR: Environmental reform? They promise to nix it. And Roe versus Wade, they --
RUBIO: Aspire to fix it.
NARRATOR: Now if that weren't enough to leave you all stunned, take their stance on Planned Parenthood --
GOV. JOHN KASICH, REPUBLICAN PRESIDENTIAL CANDIDATE: Defund.
JEB BUSH, REPUBLICAN PRESIDENTIAL CANDIDATE: Defund.
GOV. CHRIS CHRISTIE, REPUBLICAN PRESIDENTIAL CANDIDATE: Defund.
(END VIDEO CLIP)
GUTFELD: Now, the clever clip brings up all the areas where Republicans are evil: Obamacare, immigration, Planned Parenthood. They left out the part where, you know, we eat old people, unwed mothers and babies. But strip away the premise and what have you got? A party in dangerous denial. There's no mention of terror. In their world, all that exists are American evils to be fixed by government intrusion, identity politics and punitive legislation. After all, why unite us against the world's deadliest threat -- like ISIS -- when you can divide us with a competition over entitled goodies. They'd rather win an election than win a war. But it's not their fault. How can you discuss defending a country that you spent decades denigrating? In the ad, the left reveals their fatal weakness: They can't protect us. Instead, all they can do is appeal to immediate gratification. But the goodies won't help when faced with apocalyptic ghouls.
So the scariest part in this ad isn't that they skip over a death cult, it's that the ad will actually work, indulged by the sheer progress of the world's greatest culture, we are blind to the retrogression of a patient evil. Yes, we the great ones have our free health care, our funded abortions, our sanctuary cities. But we're a nation of ostriches: Blind to what rises from the sand, we willingly forfeit our right to exist. It was fun while it lasted.
Greg Gutfeld currently serves as host of FOX News Channel's (FNC) The Greg Gutfeld Show (Saturdays 10-11PM/ET) and co-host of The Five (weekdays 5-6PM/ET). He joined the network in 2007 as a contributor. Click here for more information on Greg Gutfeld.