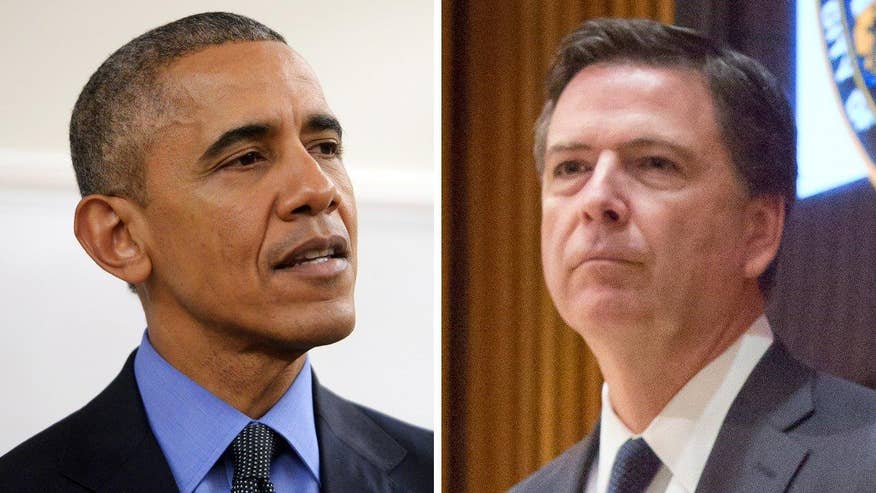 DISCLAIMER: THE FOLLOWING "Cost of Freedom Recap" CONTAINS STRONG OPINIONS WHICH ARE NOT A REFLECTION OF THE OPINIONS OF FOX NEWS AND SHOULD NOT BE RELIED UPON AS INVESTMENT ADVICE WHEN MAKING PERSONAL INVESTMENT DECISIONS. IT IS FOX NEWS' POLICY THAT CONTRIBUTORS DISCLOSE POSITIONS THEY HOLD IN STOCKS THEY DISCUSS, THOUGH POSITIONS MAY CHANGE. READERS OF "Cost of Freedom Recap" MUST TAKE RESPONSIBILITY FOR THEIR OWN INVESTMENT DECISIONS.
Comey vs. Obama
Steve Forbes: The president's efforts to continue to play it down unnerves the American people more. They know we are not doing enough in the Middle East. They don't feel we are doing enough at home. They hear about curtailing NSA and other agency activities. Director Comey said they couldn't find out what the people were saying. The American people are worried and they trust the FBI director more than the president who plays down the threat.
Bruce Japsen: These are certainly frightening times for people. I think what the president is doing is a little bit more measured and legal when you compare it to some of the GOP debates where they are talking about carpet bombing. I don't know if that violate it is war crimes or whatever. I think the president came out at the end of the week and talked about how this is going to be costly if we deploy troops. I think it was talking something on the order of 500 troops and $10 billion a month. Countless lives. People need to know these things before we go deeper into this.
Rich Karlgaard: I'm going with Comey. I don't know about you. President Obama said me need he needs to watch cable TV more to understand the fears of the American people. That's outrageous. Compare it to FBI Dreker to Comey who is straightforward and I'm heartened by his tech sophistication. ISIS is trying to unleash Manchurian candidates through encrypted communication and social media.
John Tamny: I find it horrifying that we would give up even more liberty to a political class that almost felt unanimously that we need to get rid of Saddam Hussein such that we have ISIS to begin with. I think we have to go back to the 80s and ask if our meddling in Afghanistan gave us Al Qaeda. At some point do we say that the federal government trying to keep us safe is actually making us less safe?
John Tamny: Comey and Obama are being dishonest in legitimizing thugs. You look at Israel surrounded by countries and terrorist groups that want to push it into the sea but they routinely slap them around. Yet we are supposed to believe ISIS is a threat to the most powerful and greatest military in the world not to mention that we have ISIS in the first place? I don't think this is serious.
Mike Ozanian: I think whether it's president Obama or Comey, blah, blah, blah.
Carrie Sheffield: But this president is the one who said the J.V. Squad was ISIS. He doesn't understand the depth of the risk. He said in Yemen that was the model of our anti-terrorism activity. Totally wrong. What Obama said is that it's Congress's fault and Congress needs to declare war on ISIS. I agree with John. That would legitimize ISIS, be a recruiting tool. The president has broad power to do what he needs to do to protect America under the congressional authorization after 9/11.
Should We Let The Saudis Lead The fight Against ISIS?
John Tamny : This is true whether or not we trust them or not. This is their part of the world. If they want to commit treasure and more important blood to vanquishing ISIS that's a good thing. I think we have hopefully learned from Iraq and Afghanistan that when you commit treasure, troops it's expensive. You can't commit the outcome. We should let them fix their part of the world.
Carrie Sheffield: We have left a vacuum in the Middle East. The Saudis and others are stepping up. I worry because those regimes don't respect human rights either. As a woman in Saudi Arabia I would be in bad shape. I want to trust them. When it comes to war there are only permanent interests, not alleys. They do fund terrorism around the world. The Saudis do as well.
Rich Karlgaard: They are rich. They are at over $10 a barrel making money. They are keeping prices low. Yes, they should be asked to pay for this.
Bruce Japsen: The good sign with the coalition, several stories said they did the coalition because the U.S. was prodding them. So the U.S. was prodding them to get more involved in the refugees, et cetera. Also maybe this is a good sign that maybe the U.S. can prod them to kick in money to help fight ISIS as well.
Steve Forbes: They are threatened by both sides and the Iranians want to be the dominant power. Isis wants to destroy the kingdom as well. You can't depend on Saudi Arabia to lead the coalition. Typical Barack Obama thinking he can get out of the U.S. obligations. If we don't take the leads New York City one will. You have a nuclear armed Iran, Saudi Arabia could fall which would have disastrous impact around the world. We can't ignore the world.
Mike Ozanian: They won't even arm the Kurds. What do you expect them to do? Hopefully Saudi Arabia will help. It's not going to be something to replace the U.S. Leadership.
EPA Conducting Covert Propaganda
Steve Forbes: It's like the white house. Everything is politics now in the federal goth including the regulatory agencies. You don't have to go through Congress. Just pass rules with the force of law by the agencies. They ignore science. They abuse the political process. They engage in political propaganda as the GAO points out. This reflects President Obama, this reign of terror. At the IRS they are still doing crazy things.
Bruce Japsen: I sort of thought the words were strong. We're talking about some tweets here that went out. If they were so bad, which i don't believe they necessarily were, in speaker Ryan's budget bill these rules were in there. They were poised to pass it this week.
Mike Ozanian: I think the EPA's time and money would be better spent tracking President Obama's carbon footprint as he flies around from climate summit to climate summit. It would be more useful.
Rich Karlgaard: The EPA damns itself by urging people who redistributed the messages not to identify the EPA as the source of these. We have to stop the EPA now. This whole climate change stuff since congress isn't going to approve it as a treaty it will be enacted through the EPA. We have seen only the beginning of the power grab.
John Tamny: It's a bad idea when the unelected bureaucracy does the political wielding of the administration in power. Democrats may like it now. They are not going to like it if it's a republican and vice server is a. These people should be neutral. It's probably a dream.
Carrie Sheffield: This is why trust in government is low, especially among people in my generation. We are cynical to see the government manipulating and trying to put out information that's absolutely just hidden and sinister in some ways to not say the true source. It's troubling precedent.
Holiday Bonus Picks
Mike Ozanian: Bemis (BMS)
Rich Karlgaard: CVS Health (CVS)