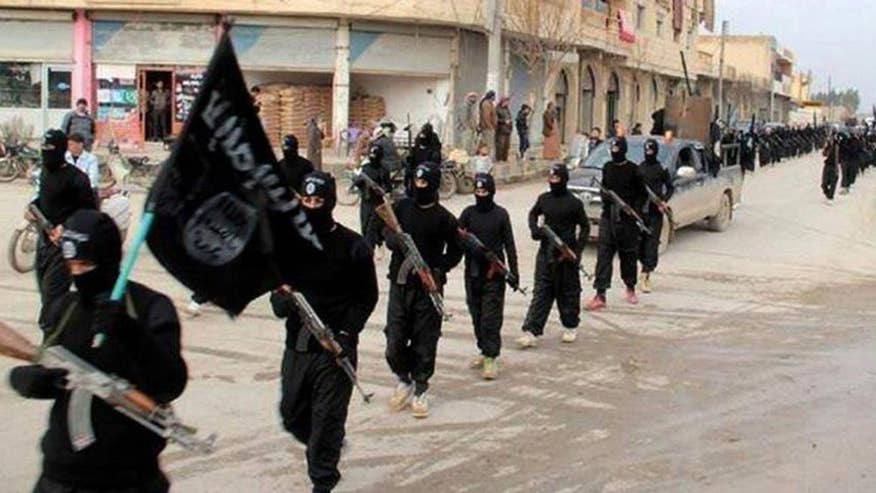 DISCLAIMER: THE FOLLOWING "Cost of Freedom Recap" CONTAINS STRONG OPINIONS WHICH ARE NOT A REFLECTION OF THE OPINIONS OF FOX NEWS AND SHOULD NOT BE RELIED UPON AS INVESTMENT ADVICE WHEN MAKING PERSONAL INVESTMENT DECISIONS. IT IS FOX NEWS' POLICY THAT CONTRIBUTORS DISCLOSE POSITIONS THEY HOLD IN STOCKS THEY DISCUSS, THOUGH POSITIONS MAY CHANGE. READERS OF "Cost of Freedom Recap" MUST TAKE RESPONSIBILITY FOR THEIR OWN INVESTMENT DECISIONS.
FBI INVESTIGATING CALIFORNIA SHOOTERS' DIGITAL TRAIL FOR MORE CLUES
Steve Forbes: It certainly puts the whole NSA's argument in a different context. Congress passed a bill which gutted what the NSA is doing in terms of metadata and did this confusing thing that even the phone companies don't understand. They were not bugging people's personal messages. This was just looking for patterns, so get rid of it. The other thing they have to do is have these devices, these computers be easy to unlock for law enforcement if they have a warrant because of suspicious activity.
Bruce Japsen: I think this could be an issue whether we have the tools we need to do this. Jane Harman, the former Democratic House Intelligence Committee Chair, she said, "Policy makers have been slow to adapt, spies would rather still squint at satellite photos than scrape Facebook posts and that's a big problem.
Rich Karlgaard: Since Steve is absolutely right about this, we've disembowel the NSA. We can thank Senator Cruz and Senator Paul for being on the wrong side of this issue. We also need to be better at propaganda. FDR and Reagan were really good at telling the story of the good guys, and we're not doing this.
John Tamny: I find it horrifying that we would give up even more liberty to a political class that almost felt unanimously that we need to get rid of Saddam Hussein such that we have ISIS to begin with. I think we have to go back to the 80s and ask if our meddling in Afghanistan gave us Al Qaeda. At some point do we say that the federal government trying to keep us safe is actually making us less safe?
Elizabeth MacDonald: Senator Dianne Feinstein said they needed the Senate Intelligence Bill that would have said to Facebook and Twitter, just tell us if you see terrorist activity on websites. We're not asking them to monitor it, the law absolutely did not say to Facebook, Twitter, and social media, you have to monitor. It just said, just like child pornography, if you see it, report it to us. This is no longer an Al Qaeda top down structure, a command control structure, they're self-radicalizing. ISIS is using social media to issue battlefield commands. That's a total new world we're in.
Sabrina Schaeffer: I think we need smarter roles, that's where there is sometimes a disconnect sometimes. Social media companies are not law enforcement agencies. It think we often forget how wonderful it is that ISIS and other terrorists are on these very cooperative companies that are open, transparent, and that are working with law enforcement. If we make it so difficult for them to use Facebook or Twitter or any of the other social media platforms, they will go underground to other social media platforms that are not as transparent, not mainstream and harder for us to monitor. I think we want to be careful not to sort of suggest that more data is necessarily better. We will find all sorts of correlations that's not real puzzle information for us.
NY DAILY NEWS RIPS GOP POLITICIANS FOR OFFERING 'PRAYERS' TO CALIFORNIA SHOOTING VICTIMS
Steve Forbes: This was thoughtless, insensitive, offensive and it shows just how out of touch some people are with the world today. You try to be thoughtful, offer prayers and you got smacked in the face like that, this just shows the sour nature of our times. Shame on the Daily News.
Bruce Japsen: I think people are generally frustrated. They want something done about gun control. They want something done about the mental health crisis in this country. I think we're talking about it. Maybe a conversation starter might not have been the way to go. We don't want to insult people.
John Tamny: The Daily News is rude, obnoxious and also misleading. This is what the left so often do. They turn anecdote and try to create fact or trends from it. In fact, the trend from the United States over the last 20 years is that gun violence has gone down. John Lott has made the point that the more there is gun ownership in places, the less there is gun violence. They're trying to make an argument that has nothing to do with the reality.
Elizabeth MacDonald: They're a real crass act over there. Really reckless and exploitive. This is the same newspaper that put on its front page at the moment of death the moment the journalist that was shot on camera by that fellow coworker in Virginia. This is a shame that they did this. It wasn't right, and it shows really poor judgement.
Sabrina Schaeffer: I think the real headline here is that a place like the Daily News continues to think of this incident in San Bernardino as if it was a random act of violence. More and more we're seeing at best it was inspired by ISIS and radical Islam and it may have been in fact directed by that. That's the real headline. That's the real atrocity of the Daily News this week.
Rich Karlgaard: On the ground as the shooting was still unfolding, people were engaged in prayer. To mock that I think is a low blow. But the secular left, including the Daily News and many of the competitors of this station. You could almost see them hoping when these things happen. It'll be Timothy McVeigh and they're so disappointed when it turns out to be Jihadists.
REPORT: WHITE HOUSE TELLS PENTAGON TO FIND CHEAPER WAY TO CLOSE GITMO
Rich Karlgaard: I'm totally pro Gitmo because I think Gitmo should be a symbol for the world to see. That America's civil liberties do not apply to enemy combatants of the U.S.
Bruce Japsen: I personally think we should close it because it reminds me of Bush, Cheney and Rumsfeld. I read this week that it cost $80,000 to house someone in a super maximum security facility a year. I think we need to look at this whole situation.
Elizabeth MacDonald: I'm with Rich, keep it open. These are enemy combatants. We are at war. We have to wipe these guys out. We have to get rid of ISIS. Congress just passed a law that said, you can't transfer these terrorists to U.S. soil.
John Tamny: What I don't think we should do is close it because we want to please people around the world or boost our standing. Let's close it only if it makes us safe for doing so.
Steve Forbes: The idea that President Obama would be concerned about a mere $500 million is preposterous. That's chump change in that town. What you have is election year politics. He's going to put off a decision until after the elections because he knows that it's going to be a bad one. He'll try to close it between November of next year and January of 2017. The other thing you have to watch for with this guy, even though it's against a treaty, is he might try to turn Guantanamo back to Cuba.
WORRY FREE STOCKS:
Elizabeth MacDonald: Medtronic, INC (MDT)
Rich Karlgaard: Amazon.com, Inc. (AMZN)